Whether we want to admit it or not, we've all experienced days where we've sat at our desk for what seems like hours just trying to get SOMETHING done. On those days it may feel like no matter how hard we try, the brain fog just will not shift. And distractions seem to be jumping out at us from every angle.  
This can be especially difficult when we're trying to learn something or are required to take in and retain a lot of information. Most people will have heard the term 'in the zone' often in relation to an athlete trying to concentrate in a game. But what they may not know is that there's a similar term that can apply to all of us in the workplace: 'learning in the flow.'  
In a recent presentation, Global Industry Analyst Josh Bersin, who coined the term, discusses 'learning in the flow' in relation to the learning journey that comes with any job.  
"In the early part of the job, there's a steep learning curve and then you reach a point in the job where there's a plateau and you go through a declining learning curve where you've 'got this under control' and you need something to keep you alive and growing… so you can keep going up the curve… we want to fill in the curve with micro and macro learning offerings that are timed to fit needs depending on where you are in the curve."  
The significant increase in the amount of discussion around the topic of learning in the workplace is undeniable. More and more workplaces are beginning to see the value of continual education for their workers. However, Bersin emphasises that, unlike in the past, "we don't have time to get away from our office or get away from our job for weeks on end and go to courses".
As he goes on to say, "we also need to reinforce the fact that everybody is always reinventing themselves… humans are, by nature, learning animals." This is just one of the reasons why learning in the flow rather than just keeping things as they've been in the past is so important. 
Almost more important than the education itself is that the workers participating in that learning are engaged in it and can maintain focus. Naturally, when workers are engaged in what they do, they're likely to care more about what they do and become aligned workers. Aligned workers are those that have a clear understanding of their company's goals, their personal goals and how the two relate to each other. A study conducted by business communication platform Slack, found that 90% of aligned workers know what they need to do to be successful. They're therefore far more likely to be able to maintain productivity. 
While aligned workers are no doubt beneficial to a company, the Slack study found that aligned workers are more likely than unaligned workers to have over 10 meetings per day. This can often mean a lot of switching between different apps as you navigate the day, such as jumping between your emails, messages, video calls, and livestreams. 
Businesses may initially struggle to see such a strong link between the use of multiple programs and productivity. Surely, switching between apps doesn't take that much time out of the day, right? Wrong. According to the Slack study, 64% of aligned workers spend more than 30 minutes a day switching between applications. That's a considerable amount of time when you think about it!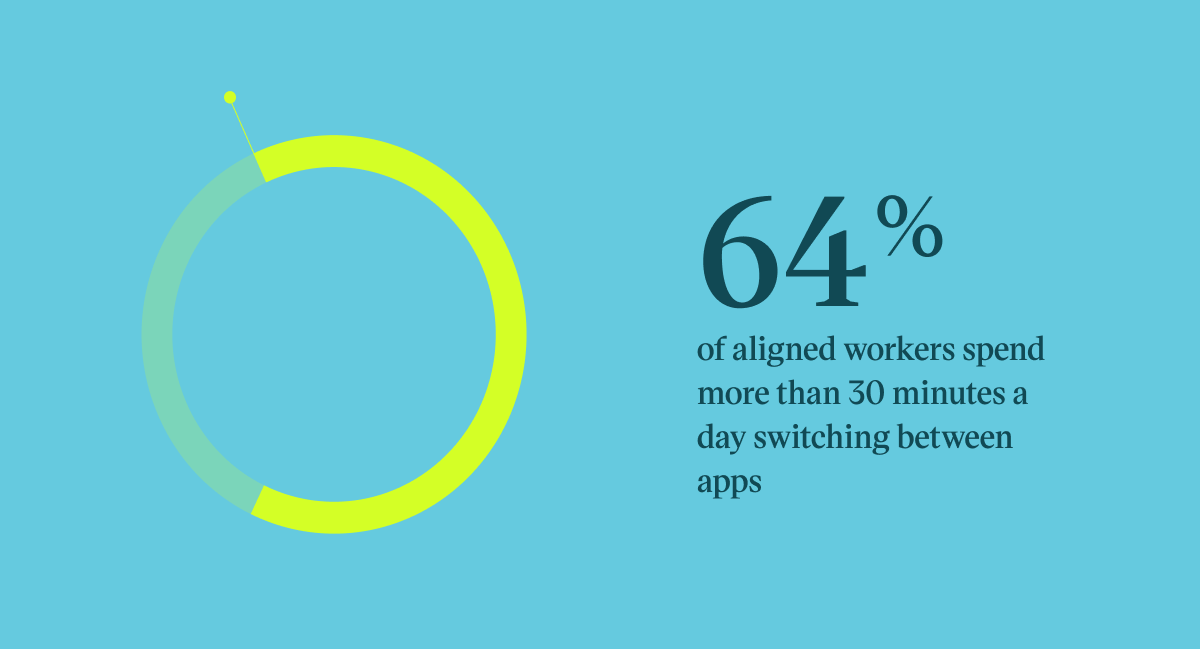 This context switching (changing between apps) disrupts the flow. If we didn't have to switch so often between apps, we'd in theory have up to 30 minutes extra per day to get things done, whether that be general work tasks or additional learning.
In a world where so many of our industries are ruled by deadlines, this is particularly important. This is exactly the issue that Slack and other communication platforms attempt to tackle. By providing users with the ability to install and access dozens of apps all in the one, Slack removes one of the barriers that disrupts the flow - and therefore paves the way for continuous and meaningful learning in the workplace.   
Furthermore, it's no secret that humans thrive on connection. The last 18 months, as we've all had to deal with the implications of a global pandemic, have forced us to look at connection and communication in the workplace in whole new ways. Workplaces have been forced to ask questions like: 'what will work meetings look like now that people work from home?' and 'how can we be sure to maintain the morale that we have in office and extend it to those that work remotely?'  
Applications like Slack, Microsoft Teams, and Workplace from Meta (formerly Facebook) attempt to remedy this and provide a platform that seeks to become an all-in-one solution to these questions. Whether it's through online chat, watching livestreams or video calls, workplaces beginning to actively push for these types of platforms have opened the door to more flexibility both in learning and in the workplace in general.
There really are infinite possibilities for the workplace when workers can learn together, then follow up that learning with discussion, all in the one place, even if they work remotely. 
At Go1, we have been keeping a close eye on this trend and believe learning should be a natural part of employees' days. That's why we developed our Microsoft and Workplace integrations, to decrease the switching between apps and assist with learning in the flow of work.
Our latest solution that will also help support learning in the flow is Go1 Connect. Go1 Connect enables L&D providers to distribute content directly to the environments their customers use, whilst still allowing them to have full control. If you're ready to learn more about Go1 Connect or have any questions, check out this page. We can't wait to hear what you think!
Whether your workplace's journey towards learning in the flow and minimising productivity barriers is just beginning, or you're already well on your way, there is one major point that Bersin wants us to take home: "the more time you can learn, the better. There is no limit or saturation point to learning."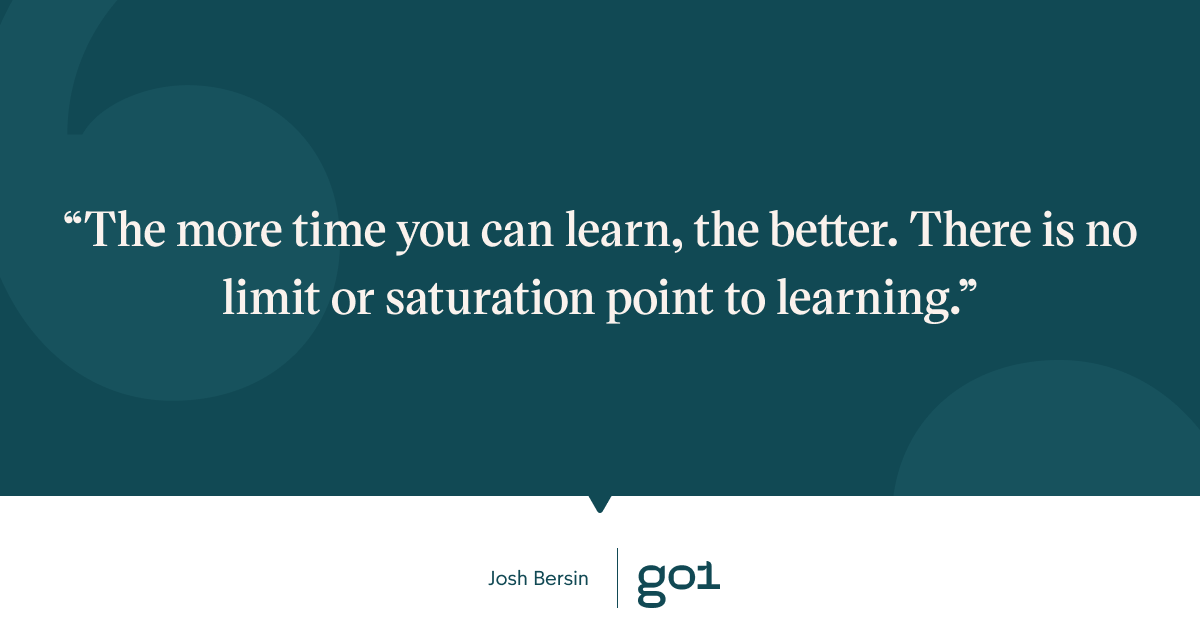 For more insights, subscribe to the Go1 newsletter to stay on top of all the latest L&D trends. Or, you can book a demo today to find out how Go1 can help with your team's learning needs.