As technology progresses, organisations are under increasing pressure to upskill their teams and equip staff with the necessary skills to thrive in the modern workplace.
Accordingly, building a robust learning and development program is a key challenge with which organisations must engage. Opportunities for workplace learning are crucial to engage employees and retain them long-term. 
Higher-order thinking skills, such as innovating, creating, and critical thinking, are now in high demand. We expect this trend to continue as the need to develop new products, ways of working, and technologies increases.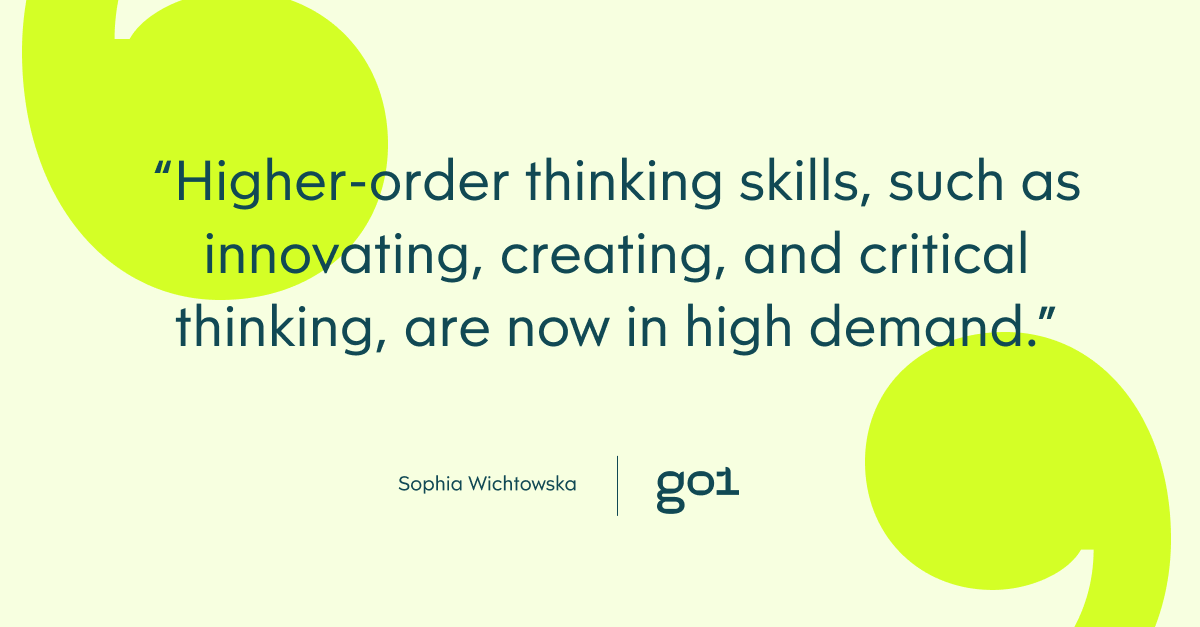 Despite this, there is a significant gap between the skills students are leaving school with and the skills necessary to succeed in today's workplace. According to Skillsoft's Mind the Gap report, 48% of L&D employees believe their team is underskilled to deliver what their business need.
The current structure, composition, and delivery of learning contributes to these skill gaps, particularly the types of skills students are encouraged to develop. These days, schools allocate little to focus on the creative, divergent thinking skills many organisations need to remain competitive.
We think it's about time that changed. So, in this article, we will explore the personal and professional advantages of higher-order thinking skills. We'll start by asking, 'what are higher-order thinking skills?' before delving into five benefits of developing higher-order thinking skills.
What are higher-order thinking skills?
Higher-order thinking skills are learning concepts such as analysis, synthesis, and metacognition that help learners consolidate knowledge and deepen their insights. In many ways, higher-order thinking skills are precisely what they sound like: skills that take your learning to a 'higher' level.
Indeed defines higher-order thinking skills as: "​the thought processes that help you connect information in meaningful ways and use those connections to solve problems. Sometimes the word 'innovation' is used for higher-order thinking skills because it also refers to thinking that synthesises knowledge in new ways. Critical thinking is one example of higher-order thinking skills, as well as synthesis and metacognition."
Similarly, Teachmint adds that "higher-order thinking refers to the ability and the skill to think above the information which was gained. In simpler terms, to think on a level that is above the memorisation and rote information. It is basically using your cognitive ability and doing something with the information shared with you and not just memorising it."
In the context of an online course, learning designers might encourage higher-order thinking by asking learners to come up with a unique way to solve a problem specific to their field or industry.
For instance, in a workplace health and safety training course, learners might be presented with a potentially dangerous scenario and asked to explain what they would do to meet workplace health and safety requirements. The learners might then be encouraged to share their thoughts and use communication tools to discuss the similarities and differences between their responses. 
Understanding Bloom's Taxonomy
Bloom's Taxonomy is a fantastic starting point to understanding the different thinking skills people draw upon for learning and work. In particular, Boom's Taxonomy is foundational to understanding higher-order thinking skills.   
Developed by Benjamin Bloom and his team in the 1950s, learning and development professionals continue to implement Bloom's research today, finding it as relevant now as it was then. 
According to Simply Psychology, "Bloom's Taxonomy is a hierarchical model that categorises learning objectives into varying levels of complexity, from basic knowledge and comprehension to advanced evaluation and creation."
In a recent article, we looked into how learning and development professionals can use Bloom's Taxonomy to choose engaging learning content. The following diagram shows the ranking of different thinking skills in Bloom's Taxonomy, with higher-order thinking skills such as designing, building, constructing, producing, inventing, judging, and critiquing appearing at the top: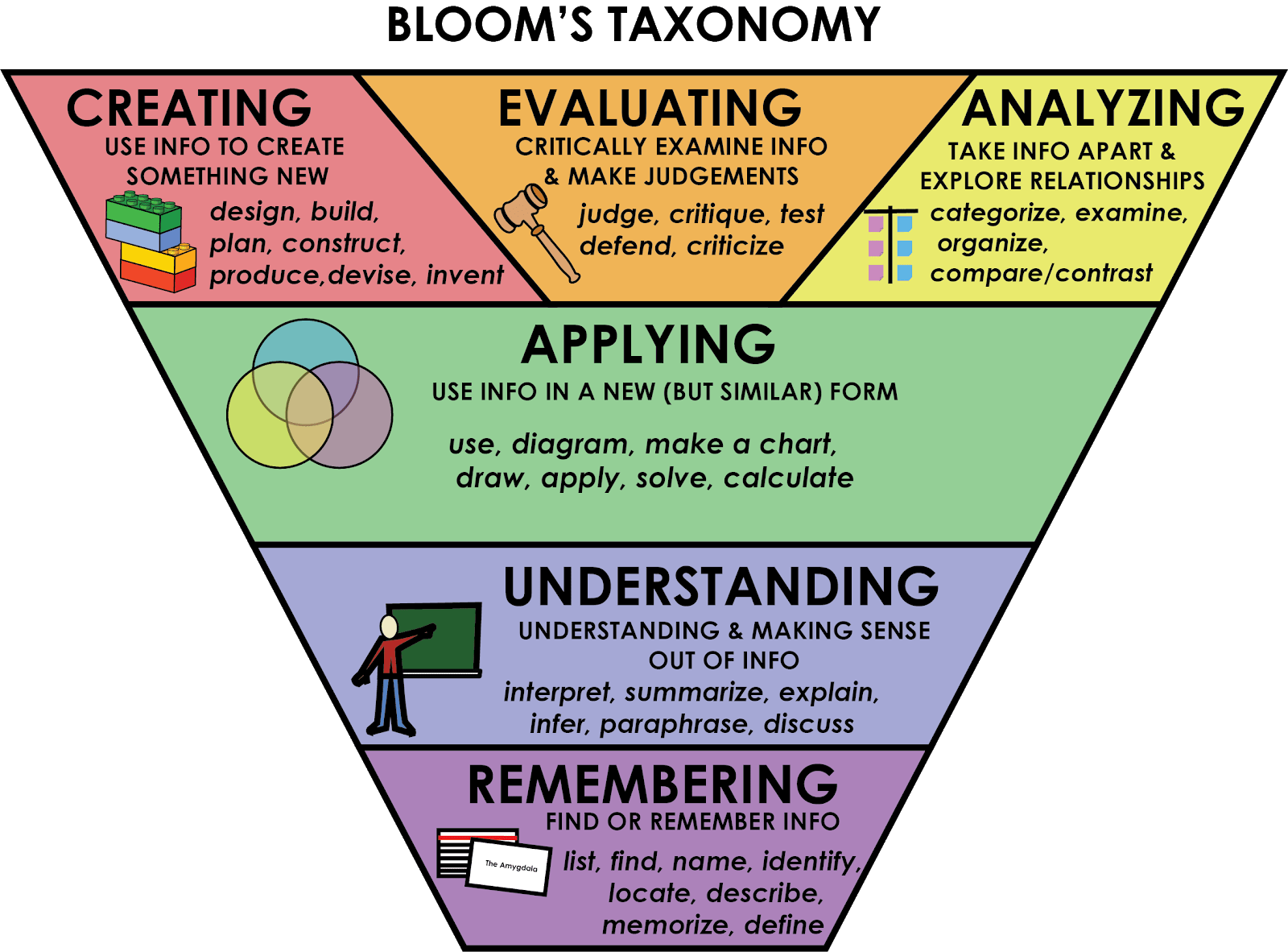 Image credit: Rawia Inaim
Examples of higher-order thinking skills
Now that we have defined higher-order thinking skills, let's look at some examples. Common higher-order thinking skills include:
Innovation
Creativity
Critical thinking
Analysis
Problem-solving
Comprehension
Synthesis
Application
Designing
Building
Constructing
Producing
Inventing
Judging
Critiquing
Evaluation
Inference
5 benefits of developing higher-order thinking skills
For L&D professionals and organisational leaders alike, understanding which courses and activity types will help learners develop higher-order thinking skills is vital.
To emphasise this point, LinkedIn's Workplace Learning Report identified the highest and lowest priority skills for L&D professionals, based on the percentage of surveyed L&D professionals focused on developing these skills. At the top of the list were leadership management (57%), creative problem solving and design thinking (42%), and communication (40%). Unsurprisingly, many of the highest-ranking responses were examples of higher-order thinking skills. 
More than ever in the digital era, employees must use their knowledge to create, innovate, or design to add value. Learning to develop these skills via workplace training is especially valuable.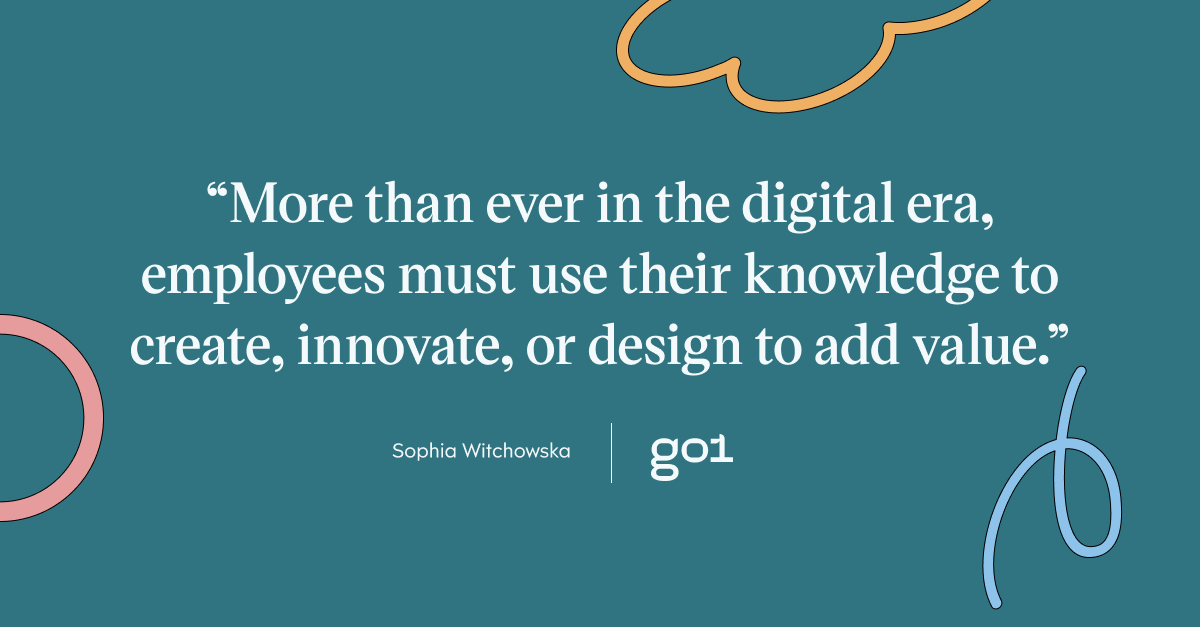 With this in mind, we'll explore the broader benefits organisational benefits of developing higher-order thinking skills:
1. Participants build skills for creativity and innovation
The ability to create and innovate are among the most critical skills that employees require today. As technology advances, organisations and employees need to adapt to rapidly changing environments to keep up with the pace of innovation. 
Thinking creatively and innovating comes naturally to some people. However, for others, these skills need to be developed. Unfortunately, as creative thinking is not currently a focus in schools, many new graduates enter the workforce without any chance to develop these vital skills. This lack of creative skills becomes an issue when graduates enter the fast-paced modern workplace and feel unprepared. 
According to research by Deloitte, fewer than four in 10 millennials (36%) and three in 10 Gen Z (29%) graduates believe they are fully prepared and have all the skills and knowledge they need to succeed in the modern workplace. What's more, 32% of millennials expect to have fewer opportunities for a fulfilling career, compared to 46% of Baby Boomers.
Notably, millennials only credit school/university studies with 23% of the skills, knowledge, and experience they use at work. In contrast, on-the-job training from employers and continuous professional development contribute to 52% of what millennials use at work. In the future, approximately eight in 10 millennials say that on-the-job training, continual professional development, and formal employer-led training will be crucial to help them perform at their best.
2. Learning becomes more interesting
Encouraging learners to engage with higher-order thinking skills requires far more attention and utilises more of their brain capacity. As a result, learning becomes more interesting, and learners are more invested in their professional development. Online learning courses that implement these activity types are often far more applicable in real-life scenarios.
Better engagement in workplace learning can also improve staff retention. Staff retention is a problem across organisations and directly impacts productivity.
3. Increased potential for innovation 
When employees engage with learning tasks that give them the confidence to innovate, the potential for new ideas in an organisation skyrockets.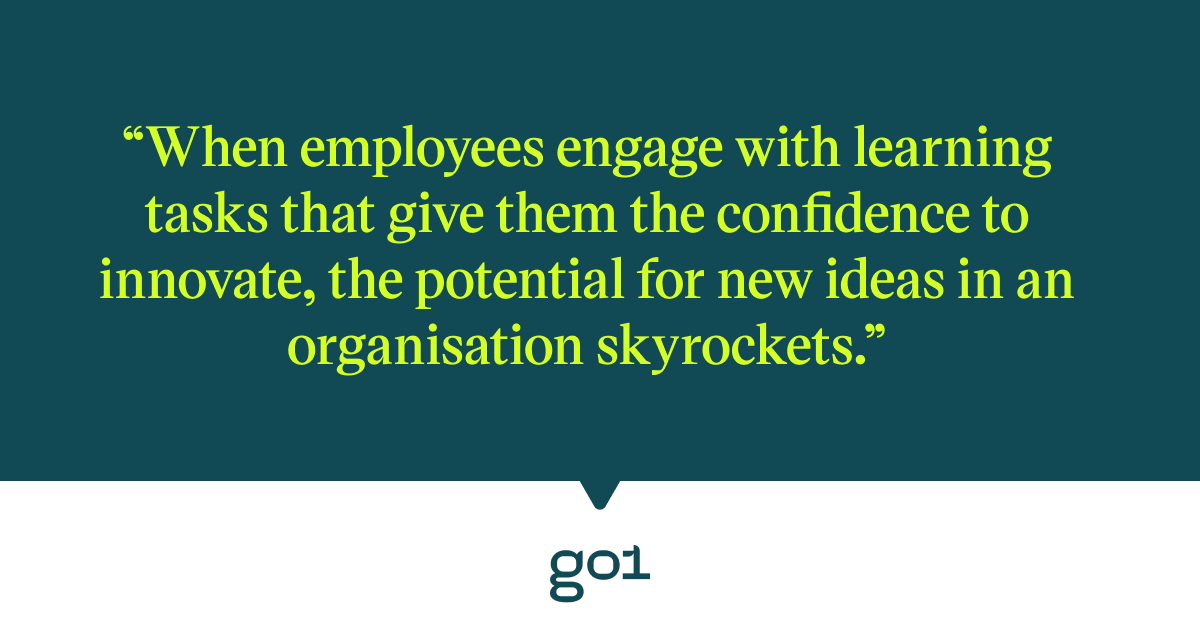 As technology progresses more and more rapidly, innovation will become a key advantage for organisations to remain competitive. Already, those who can quickly adapt to market shifts are more likely to survive digital transformation. 
4. Learners build transferable skills for real-life scenarios
Learners who engage with higher-order thinking skills through online courses are more likely to apply this knowledge after the training concludes.
Learning tasks that encourage divergent thinking skills that apply to a broad range of situations (and are not bound by specific topics or job requirements) are ideal for building transferable skills and engaging learners.
5. More opportunities for collaborative learning 
Learning activities which encourage higher-order thinking skills are often more conducive to employee collaboration. While finding ways for learners to collaborate can be challenging with online learning, tools such as discussion boards and information sharing allow participants to share their ideas throughout the learning process. 
For more insights on developing higher-order thinking skills, subscribe to the Go1 newsletter to stay on top of all the latest L&D trends. Or, you can book a demo today to find out how Go1 can help with your team's learning needs.