It was a typically cold, rainy day in the Melbourne CBD where the design team of Go1 gathered outside the Forum theatre. It was the initiative from Michelle Bell and Luke Brooker who brought us all together to experience the NO BS conference of 2022 as a team to grow both personally and professionally in our design thinking.
The Forum is a spectacular venue. With carved gods and goddesses peering down at us from balconies above, we filed into seats, eager to listen, learn and see how gems could be absorbed and taken into our lives and work.
The NO BS conference was marketed as exactly that, no BS - an open space where speakers could literally talk about whatever they wanted without a filter. Speakers were invited to be blunt, brutal and honest about the industry ranging from agency work, branding, selling, emotional wellbeing, AI and social media platforms.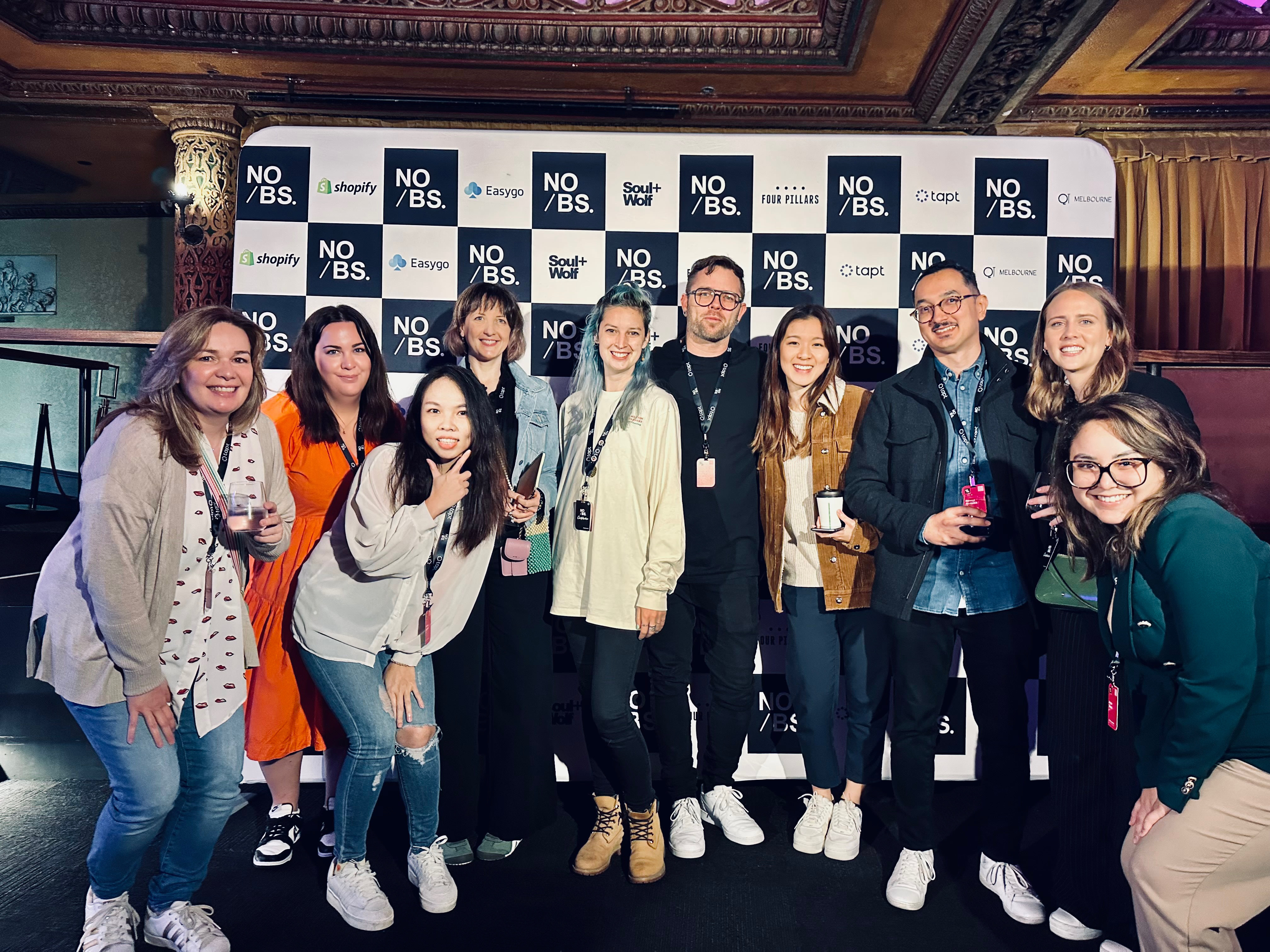 Day one
We were introduced to our Master of Ceremonies, Ben Sorenson, who set the tone for the event. His dry, quite dark humour sometimes echoed to no laughs through the venue and other times elicited a stifled giggle from us or a "woo" for sharing trauma. A short meditation was held by Megan who allowed us to find anchor points within ourselves as we were exposed to all this information.
Prue Jones
Day one started with a bang. Prue Jones talked about how she was the "first pancake" in the batch - meaning the one that you kinda get wrong but it's okay, it's just the first one. She captivated us with her explanation of "thirst traps" on social media and how horrifying the data mining is with retina recognition technology of 40 feet away. We laughed at the hilarity of it all which turned to uncomfortably squirming in our seats at the truth that "instead of making things that people love to use, we're making things that love to use people."
Prue was definitely a stand out due to her engaging energy, vast knowledge and grounded reality of a call to action that we "use things, and love people."
Sponsored speakers
Our team discussed afterwards that although interesting, hearing from speakers who were key sponsors of the event felt detached from others. The way in which speakers held the attention of those in crowd felt inflated due to the fact that they were part of the sponsorship team. Panel discussions that included sponsors avoided answering any sticky questions and had us questioning the intention; was this to inspire us? Or were we there to buy into these products?
Agency talks
The speakers on day one that weren't affiliated with sponsors spoke well, however, their area of expertise were in the digital agency space. As product designers, this didn't interest our crowd as much. Others who attended this conference who were in that area may have really enjoyed these talks. Especially those graphic designers who are self started and freelance, which I predict a fair few may have been. Kevin Finn spoke about "don't build a brand" and how a logo does not create a brand, but rather the brand gives the logo its meaning. Great advice for those asked by companies to "make me a logo." Kevin also spoke about a powerful process as to how success is measurable by the impact that it's able to make. The equation plasters on the screen read "Impact = Relevance = Revenue". As product designers, we know how to take this away and apply this to our work to measure how we iterate and if we are designing the correct solutions for our customers.
Michael Ventura
Day one finished off by a brilliant speaker, Michael Ventura. It was very much a TedTalk style experience which spoke about empathy. The poetic analogies he used spoke to our creative souls and illustrated points around how to see ourselves in others to foster connection and relation. A great UX tool he presented to us that mirrored a common matrix we've used before, had a unique twist on it in order to cut down work and focus on immediate goals and needs. Finishing off with a poem, he asked us, "what do you plan to do with your wild and precious life?" How inspiring.
Day two
Jay Demetillo
Every single one of us in the design team were blown away at the start of day two with a brilliant speaker called Jay Demetillo, the lead designer of Grab. Not only did he talk about his experience with Grab, a ride sharing app giant of South East Asia, but he spoke from deep within his heart about the exclusion he has experienced in the tech leadership and conference space that is ultimately, white washed. A memorable quote that sunk into us was "English does not equal intelligence". By excluding non-english speakers from speaking roles, we are limiting our ideation and inclusive spaces. I think this is such an important point that many companies fail to see. I like to say that if there's not enough seats at the table, build a bigger table. Lead by example in creating inclusive spaces and letting those voices be heard. It's not a performative online training that is sent out company wide. It's having open conversations with people in minority groups that can trigger our awareness to real actions that need to be taken. Then we can be the leaders that other companies look towards as a source of inspiration, creating a new benchmark in order to lift everyone up to as standard.
Product talks
The rest of day two was sprinkled with all types of product related talks. From Alex Antolino who spoke about attention being the new oil as the most valuable resource, Nichole Burton from Google who spoke so cleverly about the design process which we all drew inspiration from and Jasmin Bedir from F*uck the cupcakes, lifting and elevating the point of inclusivity stating that "purpose comes at a price. If it's free, it's performative".
The overall tone of the NO BS conference was inspiring. Even the speakers we didn't feel a connection with, still had important stories to hear of their success path and lessons learnt along the way. Everyone who spoke had a point to make which all of us could take away to think further on how it applies to us later on.
Overall review of NO BS
The speakers that we did all really connect with, were the ones that were, actually, no BS. They spoke from the heart about things that mattered, whether they were funny, innovative, heartbreaking or downright terrifying. Topics of mental and spiritual healths, technology not being used for good and diversity within design solutions made us all sit up and listen, cheer when we wanted to encourage a point to the speaker and others and take mental notes that have kept circling within us days and days after the post-conference party.
Speaking of, that was a very fun time. A live band who sung us 90's rock songs and a front man who had his family on video call rounded the whole experience off and created a beautiful bonding experience between everyone on our beautiful design team.
For more insights, subscribe to the Go1 newsletter to stay on top of all the latest L&D trends. Or, you can book a demo today to find out how Go1 can help with your team's learning needs.