In 2019 some big changes are coming to the Go1 platform.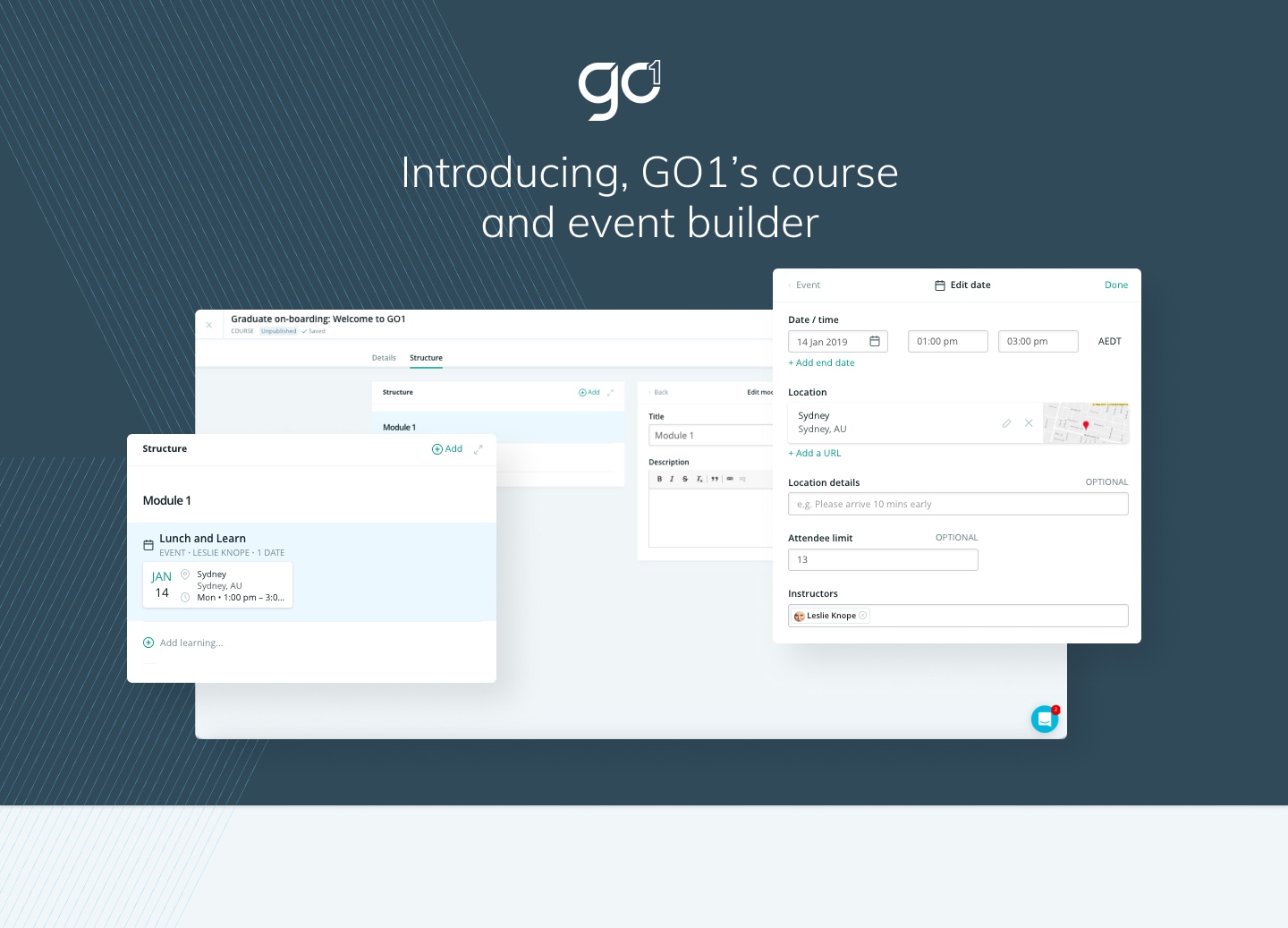 Look forward to an advanced course builder including new Go1 Events functionalities:
What's new?
Build better courses
Access a sleek split screen course editor. This means less clicks for you to create modules and content, and more intuitive to use when you are editing courses.
Quickly re-use your own standalone learning resources across courses (for example PDF documents).
You will also be able to include Premium interactive files (if you are a subscriber), within your courses, to compliment your business content.
Easily deliver training with Go1 events
Embed events within your course, and add specific pre-learning and post-learning.
Experience streamlined event development; so you create the location once and our system remembers it.
Create single events that occur at different locations and/or different dates.
We now better support variations in training types, with the option to elect the event as being online.
Tried these new features? Let us know your thoughts ....
Release Highlights
Highlights from the new course builder release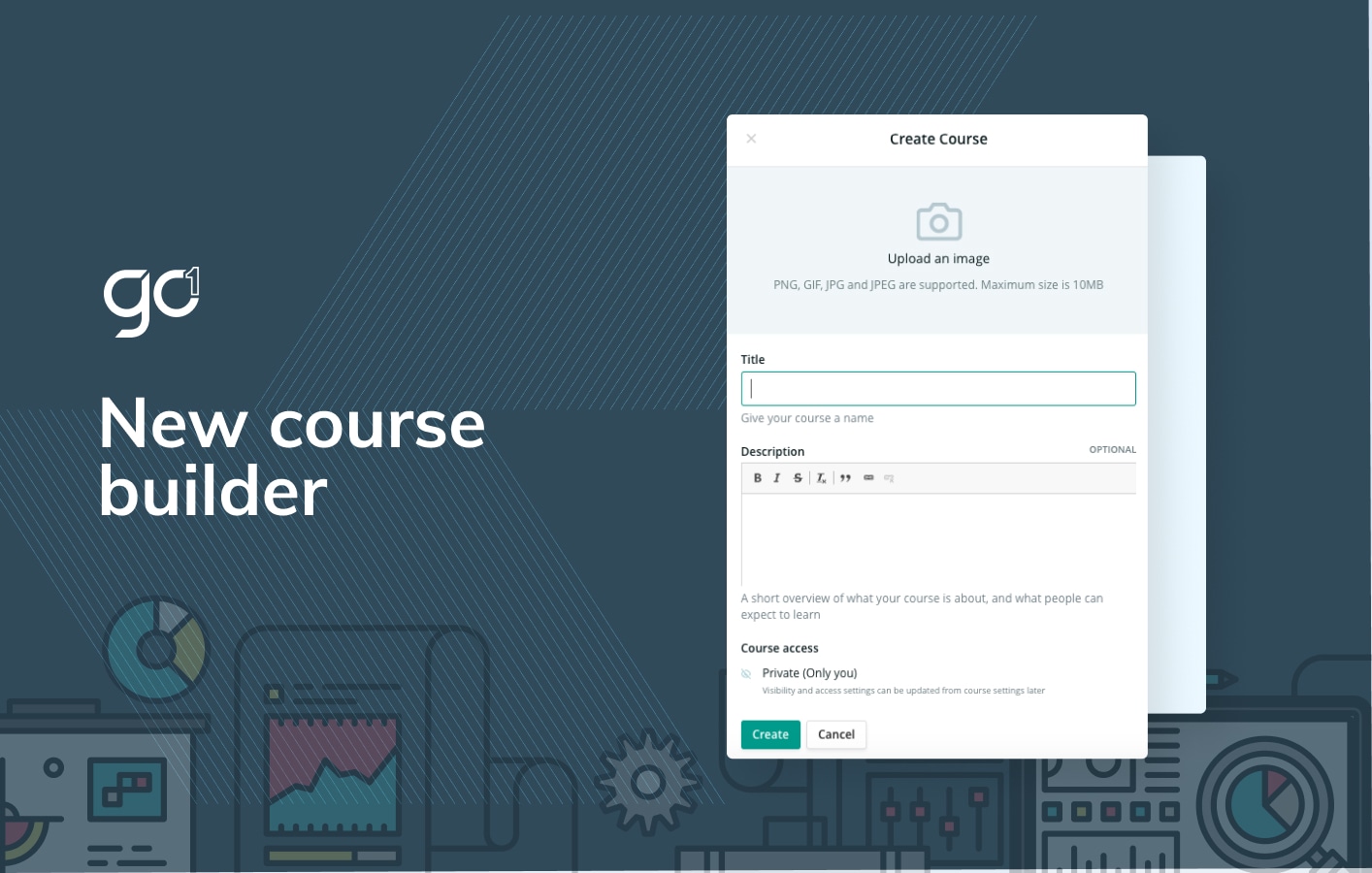 Create new learning resources
Select to + Add Learning, and select the resource type you want to add from the drop-down list (eg Document). Enter a title and select Create.
Edit the resource via the split screen. The resource edit format is similar to the old version, just add a description, banner image and upload your content.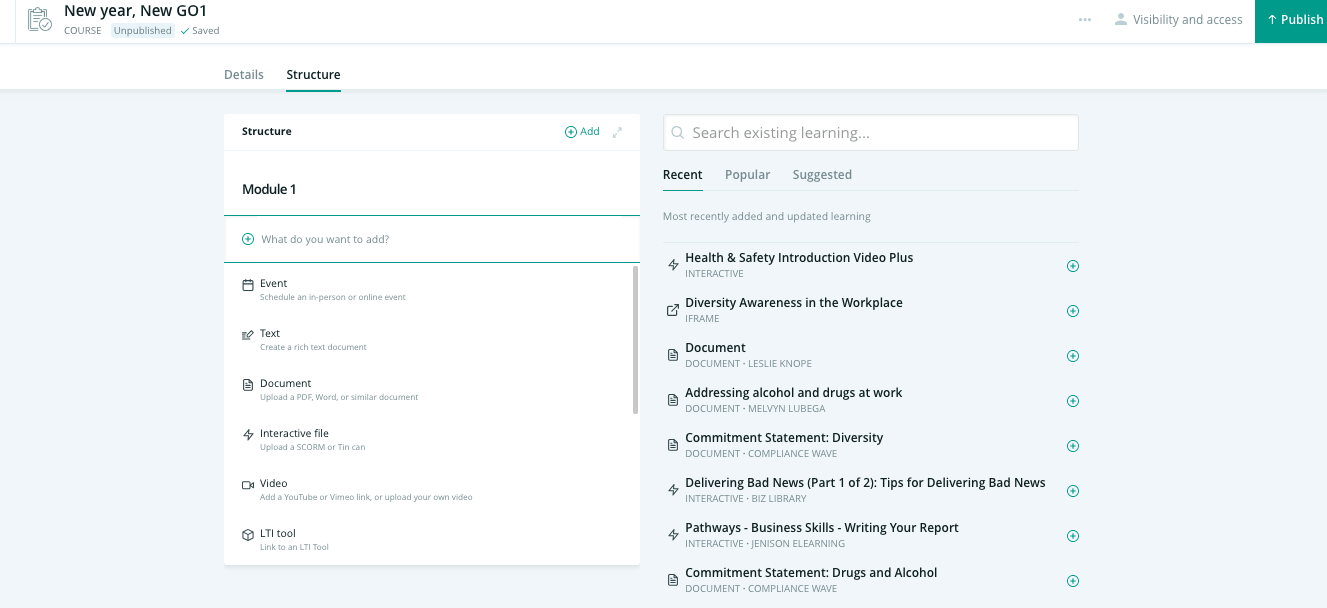 Re-use your existing resources
-Select + Add Learning, and select the resource type you want to re-use.
The re-use feature only applies to documents, text, Links, Uploaded Scorms and Video's (you have created outside the context of a course).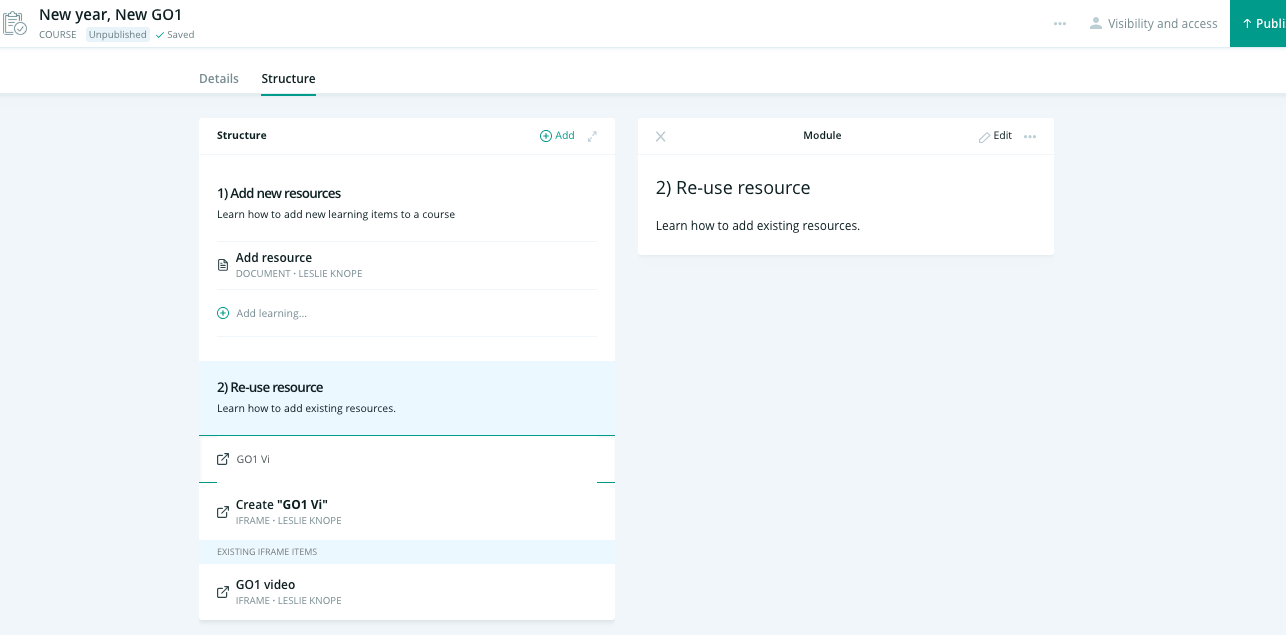 Start typing the resource title, and the search will offer to create a new resource, or if there is an existing resource with the same name it will suggest you use that.
If you update the resource or its sharing settings within your course, it will update this instance of the learning resource inside this course and all other instances where the resources exists.
Updated Course overview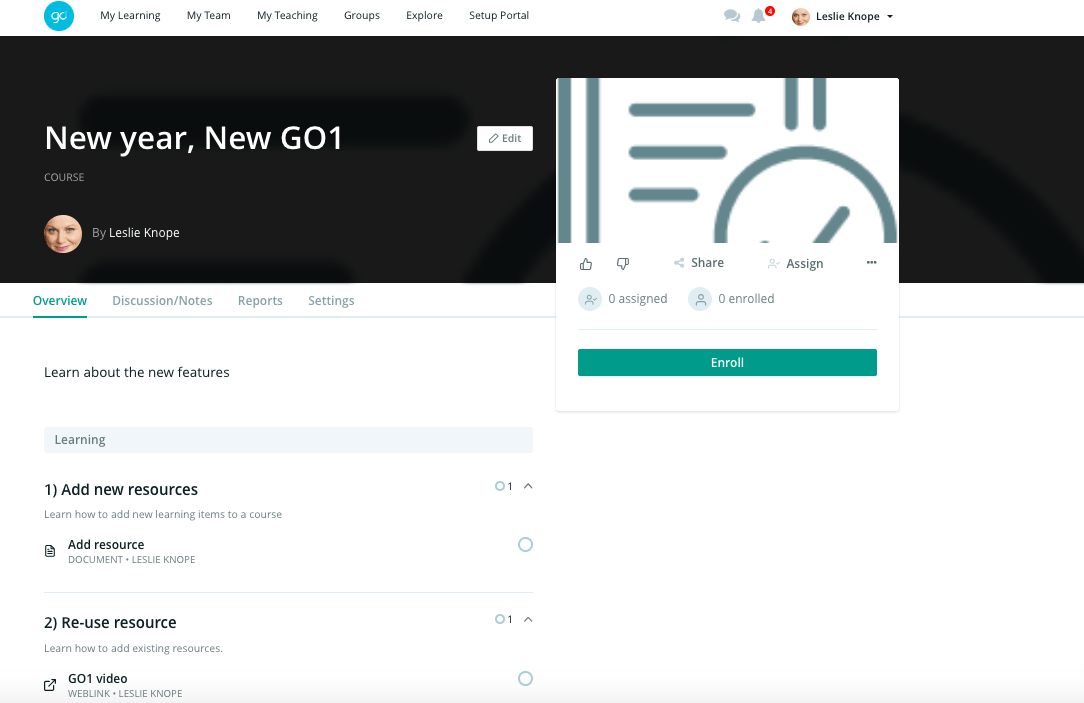 The format of the course overview page has been updated for every course in Go1.
Now you will easily be able to view all the content (including all resources and descriptions) that sits inside a course, separated via modules.
Content completed will be marked by a green completion circle.
Courses will no longer have a banner image.
Other updates
Where you would have previously added meta-data such as duration, tags and authors from the course overview settings tab - now you can do this within the course edit mode under the details tabs.
Sharing to the marketplace: read how to do that here.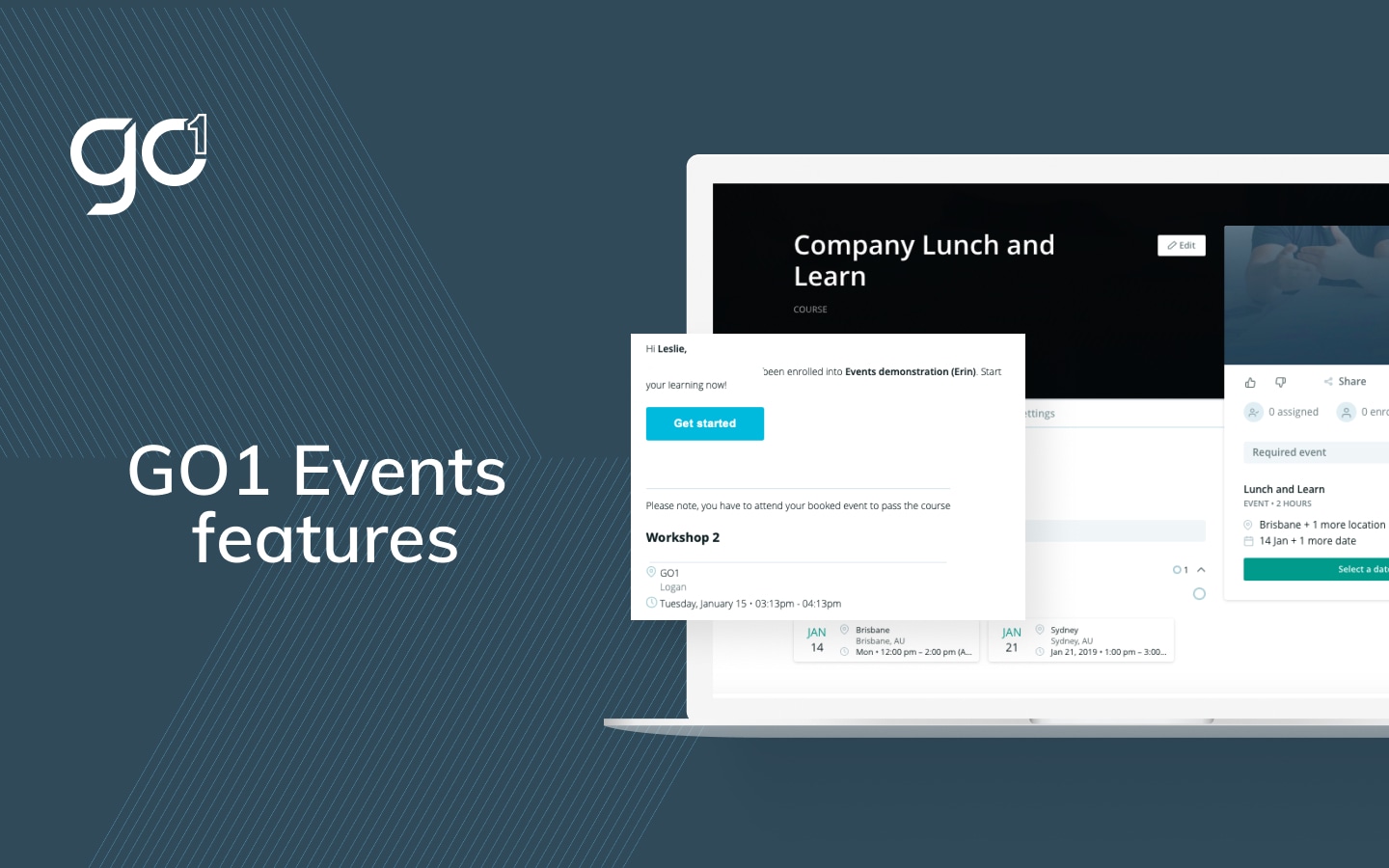 Now it's easier than ever to find, book, deliver and track face to face, blended, and online events through Go1!
Streamlined event creation process
Add an event by selecting + Add Learning and enter your event name.
Create your location (or re-use a location you have already created!)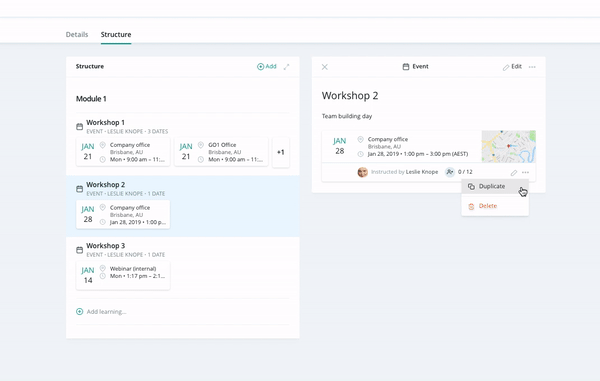 Add a date
The event timezone will be the same as the portal locale, but will update based on the event location, with country and state used to detect timezone automatically.
Add or duplicate a date
This means you can duplicate a single event across different date sand/or location, giving your user the option to choose the event that suits them. This is useful for businesses with staff who are in different timezones and locations.
Add an Attendee limit if you wish. If you apply a limit to an event date, once that limit is reached, no further users will be able to enrol, or be enrolled, into that Date.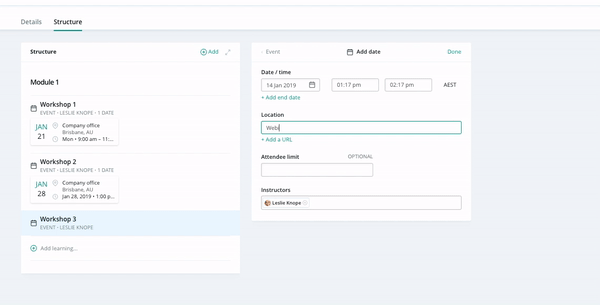 NEW: A field when creating an event, allowing you to specify it is online. The tip is to create the location first and select online and save, then add your event URL.
User-friendly Explore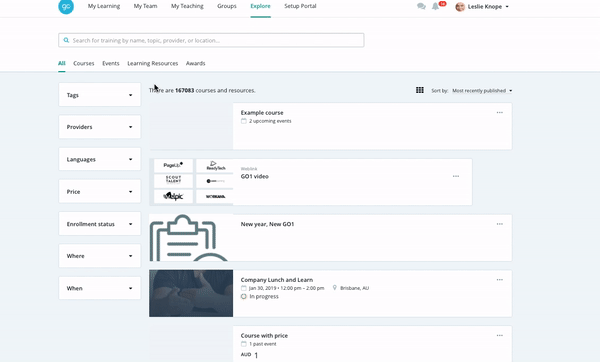 The format is still familiar, but now it is easier to search through Explore via the: All, Courses, Events, Learning Resources and Awards tabs.
The Course tab will be now show all courses available on the portal, based on the settings of content portal selection and if marketplace is enabled.
The Events tabs, shows all events available in the portal. Users can find an event using the location and date filters. After selecting the event you will navigate through to the course and see it's overview and if there is additional learning that must be completed before booking into the event. 
To find past events, use the custom date filter. Click through to view the course and it's event(s), you can mark event attendees from here. 
Refreshed booking flow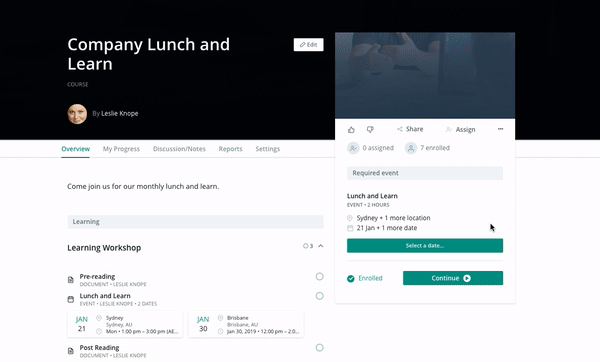 Book straight from the overview page.  Select which date (and location) you would like to attend and view all dates by clicking through from the event title and Book Now.
For paid events, you will spot a refreshed payment flow. We still support manual payment.
Upon enrolling into the course, users and Admins will receive a notification, with calendar attachment.
You can view a more detailed explanation of the booking flow and notifications in our help docs here.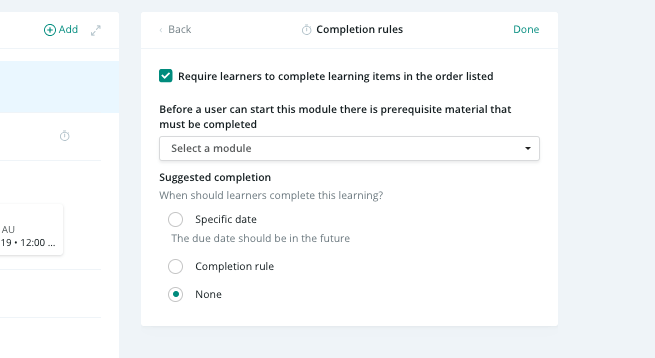 If you specify the content must be completed in the order listed, users will not be able to book into an event until they have completed pre learning. Completion rules explained here.
Managing your event:
The Event Overview page, will show all events (with the ability to search) and access attendees tab.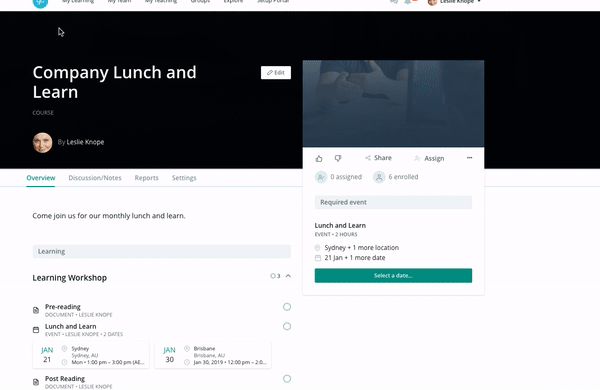 To acces the Event Overview page;
Select on the event name from the course overview page.
Via Administer, Selecting the Event name from Events report
Via course report of the specific event, select the Title of any record where the type is Event
Managing attendees (via Event Overview page attendees tab)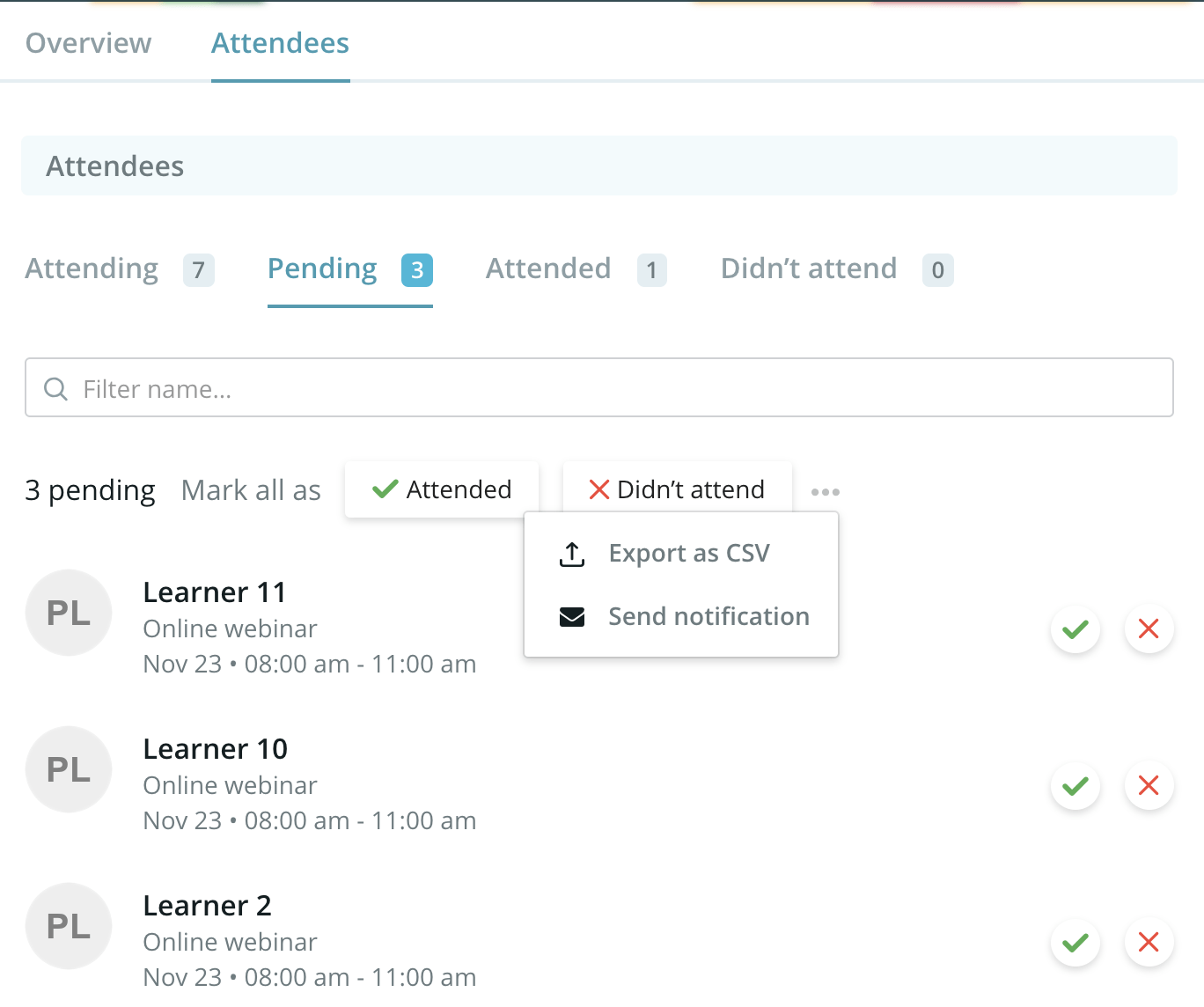 From here you can bulk update attendances (only for past events)
Send email/in-app notification to attendees (via bulk notification feature)
Export CSV of attendees
Important: Attendees page, shows attendees from all of Dates of an Event, be careful when you do a bulk updating as this will update all attendees from every date. It helps to search for an attendee and select the bulk action, it will then perform only on filtered attendees.
More information?
Read more detailed user guides, on the new releases here.