The rise of the smartphone hasn't just changed the way we communicate and enjoy entertainment, but it now serves as one of the most convenient platforms for learning. Mobile learning is the latest way we can support eLearning experiences, with a range of benefits for today's workforce. Here are some of the top advantages of using mobile learning at work.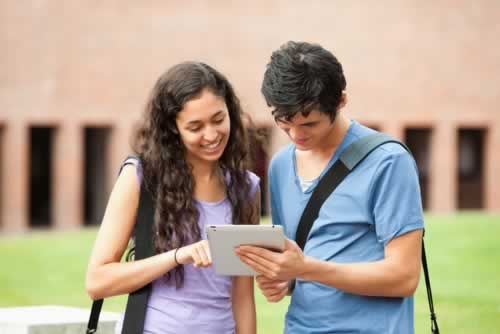 With the growing mobile device market penetration and the increasing need for digital learning, mobile learning has recently seen exponential growth. Both academic and corporate industries are certainly utilizing this modern format of learning, but those looking for an edge in the workforce may find it particularly useful.
Whether you're on the hunt for a new job or wanting to get ahead in your current position, mobile learning at work is one of the smartest ways to do so. Digital learning on the go means you have more and freedom to learn as you please… and experts have shown that you can actually retain the information easier when it's served in this bite-sized format.
Mobile Learning For The Job Seeker
Unlike traditional learning methods, mobile learning can be enrolled in and accessed virtually within minutes. For the job seeker, having this edge over competitors means you can stay up to date with training and stay informed on whatever may be relevant to your potential employer.
Here's a case in point:
Say you've just found an advertisement for your dream job and the employer mentions the importance of knowing a particular software (one that you have limited knowledge in). This could be the deal breaker that clinches the position for you, and you definitely don't want to let it slide that easily!
With mobile learning, however, you can enroll in a course within a matter of minutes and get trained in just a few days - setting you apart from your competition.
Even if you don't get that particular job, you've just added another skill to your resume that suits the line of work you're interested in. Now there will never be a need to fall behind your competitors just because you didn't have the correct training, and you can confidently discuss your new skill during your interview as well!
How Mobile Learning At Work Can Get You Ahead 
Mobile learning is the perfect platform for those who are already employed and looking to get the most they can out of their current position. Whether the training is being offered by your employer themselves or you take it upon yourself to do some up-skilling with a mobile learning module, there tons of benefits to this particular style of training.
With mobile learning, you can learn virtually anywhere you go so that you're mentally at your sharpest when it's time to study. Not only will this help you to retain information better, but it also gives you flexibility that you simply can't get with other methods of training.
By showing your employer that you're self-motivated and have the initiative to take on additional training to succeed, you'll be placing yourself in a good standing when compared to others who only take on the training that's offered to them. In fact, many times an employer will be more than happy to take on the cost of your mLearning modules, provided you can show them how it will make you a more valuable worker. It's really a win/win for you both.
The Importance Of Mobile Learning For Your Employees
For employers, mobile learning really is a no-brainer. When considering how you will train your staff, there are several ways that mobile learning is the better option for employees of all ages and backgrounds.
1. It Addresses All Learning Styles.
Traditional corporate training may not suit everyone's learning styles, causing some staff to shy away from getting involved in the first place. A solid mobile learning plan ensures that a range of learning styles are covered with lectures, podcasts, videos, text, and social collaboration so that everyone's unique requirements are catered to.
2. Making The Most Of Your Employees' Downtime.
One of the key benefits of mobile learning at work is its convenience, giving your staff access to training literally any time of the day and from anywhere on earth. Rather than spending their downtime socializing or surfing the web, your staff can take in bite-sized portions of learning in their down-time. Studies have even shown that over 50% of employees have participated in mLearning while lying in bed, somewhere you would never have been able to engage them previously.
3. Ensures Your Staff Stay On Top Of Technology Trends.
A workplace that keeps its employees in the past will have a hard time making a difference in the real world - thus the importance of staying on top of trends in technology. By giving your staff access to mobile learning, you're building on their technological skills and ensuring they don't fall behind with upcoming trends.
4. The Flexibility Promotes Motivation.
Rather than having a scheduled training session on a specific day and time, mobile learning allows your staff to study at their own pace. When they're actively engaged at a time of their choosing, they're far more likely to retain information and stay motivated.
How To Get Started With Mobile Learning 
Since it's predicted that by 2018 70% of professionals will do some form of work from their mobile devices, there's never been a better time to invest in this technology. The first step is to consider your current skill set and areas where you might like to improve and then do your research on which course might suit you best.
For those who are already employed, having a chat with your supervisor about potential mLearning ventures at your workplace will not only show initiative on your part but also help to keep your entire workplace on top of current industry trends and skills.
With so many benefits to both companies and their staff, mobile learning at work is the smartest way to utilize the growing trend of smartphones and the eagerness for digital learning. By getting ahead in this movement, you're guaranteeing yourself an edge in the workforce and you're also giving yourself a huge stepping stone in your career at the same time.