Here at Go1, we work to bring our customers the highest quality training content from some of the best content providers throughout the learning industry. That is why we are excited to announce that Mindscaling, Marcom, and Vital Learning have all recently joined Go1 as Content Partners.
You can now access training from Mindscaling, Marcom, and Vital Learning through your Go1 Premium subscription at no additional cost.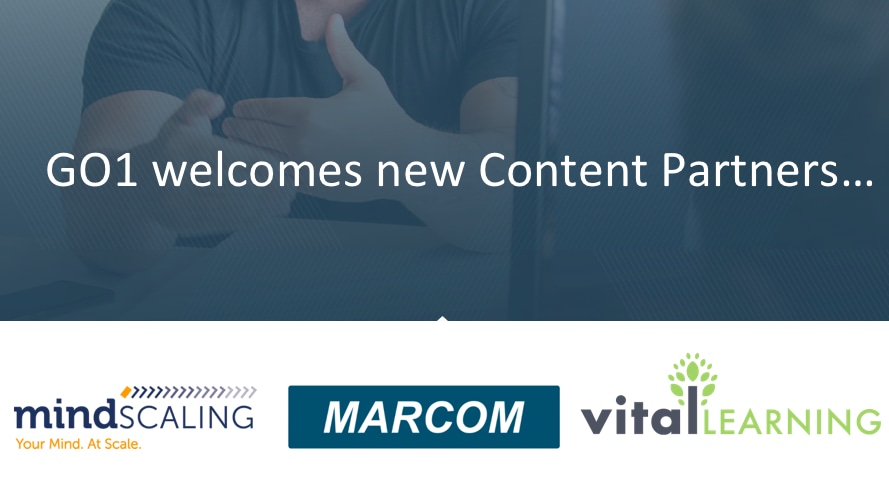 Learn more about our new Content Partners below!
Mindscaling

Mindscaling is a US-based content provider founded by Shawn Hunter, best-selling author on leadership and innovation, who has partnered with Go1 to provide more than 60 of their interactive personal and professional development online courses.
Over the years, Mindscaling has worked with hundreds of business best-selling writers, authors, and speakers to capture, translate, and convert their ideas into actionable learning experiences. They are committed to bringing organizations short, actionable, and high-impact digital learning that drives real, measurable change.
Marcom

Marcom is a leading workplace safety, regulatory compliance, and human resources training provider with over 30 years of experience in the industry.
Marcom has brought reliable safety and regulatory compliance training to various clients, including AT&T, Mobil Chemical, and the U.S. Army, Air Force, and Navy. They have even been the trusted training provider for OSHA itself to train inspectors, and will now be providing Go1 with over 1,000 of their microlearning courses and more than 150 of their full-length courses.
Marcom uses full-motion video to produce both interactive and video streaming learning content to satisfy all employee training needs, from entry-level to management.
Vital Learning

Vital Learning is a US-based content provider who has partnered with Go1 to offer over 70 of their interactive courses, including their award-winning Leadership Essentials series.
Founded from the training division of leading educational publisher McGraw-Hill, Vital Learning has been bringing learners engaging leadership and management training since 1989. In addition to being named one of Training Industry's 2018 Top 20 Leadership Training Companies to Watch, Vital Learning offers an impressive Leadership Essentials series that has won various prestigious industry awards, including a Stevie Gold Award for Best New Product for Managerial Training.
Vital Learning's content is ideal for any front-line and mid-level managers looking to improve their leadership and communication skills.