Ever wondered who keeps track of all the content in Go1's expansive content library? Look no further than the content curation team, led by Head of Content Curation Shannon Herrera. 
Now an L&D expert, Shannon started her career in a different industry – banking. She spent 10 years working for Silicon Vally Bank (SVB), joking that "not everybody knew who Silicon Valley Bank was until about six months ago, but now everybody knows who they are!" 
Part of Shannon's role at SVB involved training colleagues to use the bank's systems, and she quickly fell in love with this aspect of her work. "Training was always something that I ended up doing as kind of the job on top of my job," she said. "I found that the days that I got to train were the days that I really loved, and that was the part of my job that I was passionate about." 
After discovering this passion, Shannon decided to go back to school and earn her master's degree in instructional design. She completed her master's program while working at SVB, then pivoted into L&D and got a job creating custom content for Fortune 500 companies. Shannon worked in this role for more than three years – and then the pandemic hit. 
"I joke that the pandemic hit and I got a headhunter call and it was like, I could either talk to a headhunter or bake bread," Shannon said. "And so I took the headhunter call really early in the pandemic. I started with Go1 on May 5, 2020." 
Shannon started in an individual contributor role at Go1, then moved into a manager role. Now, Shannon leads the content curation team who, she says, are "the expert librarians of Go1."  
The content curation team is made up of L&D professionals with diverse backgrounds. Some have worked as teachers, while others have backgrounds in information science. "Their experiences are quite different, and their skillsets are really different, which is such a valuable thing on a team," Shannon said. 
As Go1's expert librarians, Shannon's team acts as the source of truth about all things content. They're Go1's internal content consultants, collaborating with marketing, product, customer experience, and other teams to ensure all communications regarding content accurately reflect the Go1 library. Content curation also plays an integral role in the sales process as they work with salespeople to help meet prospects' content goals and build learning plans, playlists, and competency maps for new and current customers. In addition to these responsibilities, the team also creates thought leadership pieces that can be used by sales to help them better serve prospects and customers. 
When asked to describe her team, Shannon said they are, first and foremost, helpful. "They like helping other people and they like it when other people are succeeding," she said. "All of them get personal satisfaction seeing the deals closed that they're a part of and seeing that playlists are being utilized. It's really about building other people up." 
Shannon also finds joy in helping others. In fact, it's what drew her to L&D in the first place. "The thing that I like about L&D is helping people find their 'aha' moments – those things that kind of click," she said. "Whether that's helping them do their job better or being able to meet a customer request, that's the thing that brings me personal joy at work. And in this role, I get a lot of opportunities to do that."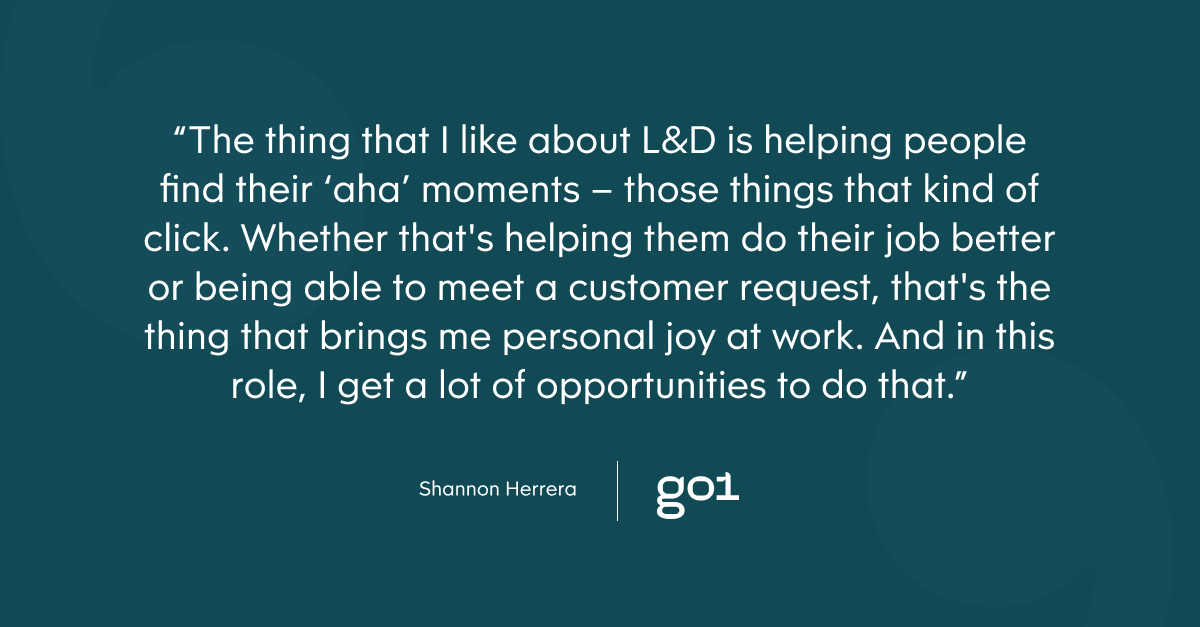 While Shannon's role has provided plenty of personal fulfillment, she has also learned a lot from it. Go1 has helped Shannon challenge her assumptions about what makes content good. "I created training for an agency and we had a very strict... way we [did] things," she recounted. "We thought we were the best and we would tell everybody that we were the best." 
"It was interesting coming here and getting more perspective on what customers were actually consuming versus what I would have deemed as 'good,'" Shannon said. "Hearing customers say, 'My entry-level employees only have this much time per day, and they're gonna have to be in an open space taking this training. What kind of training do you have that is really quick, like less than 15 minutes?' It's really expanded my mentality on what good is and how that can be really different depending on who that end learner is, versus this attitude of, all adult learners are the same." 
Shannon's openness to new perspectives enables her to stay curious in her role and challenge her assumptions. "We make a lot of assumptions about who our customers are and what they need and what they're doing," she said. "It's good to check in on those assumptions, whether it's talking directly to customers or talking to our CSMs about what they're experiencing, getting more feedback on that." 
By approaching her role with an attitude of openness and curiosity, Shannon finds she can try new things and experiment. For example, the content curation team found that when it came to choosing content for their teams, many customers simply didn't know where to start. In response to this problem, Shannon's team created "Skills for Business Success," a tool that maps competencies that are consistent across most small to medium-sized businesses. While the content curation team spent a lot of time building the tool, they didn't know how it would be received. "It was a gamble," Shannon said. But the risk paid off. "It has been our most successful asset and we've gotten really great feedback on it."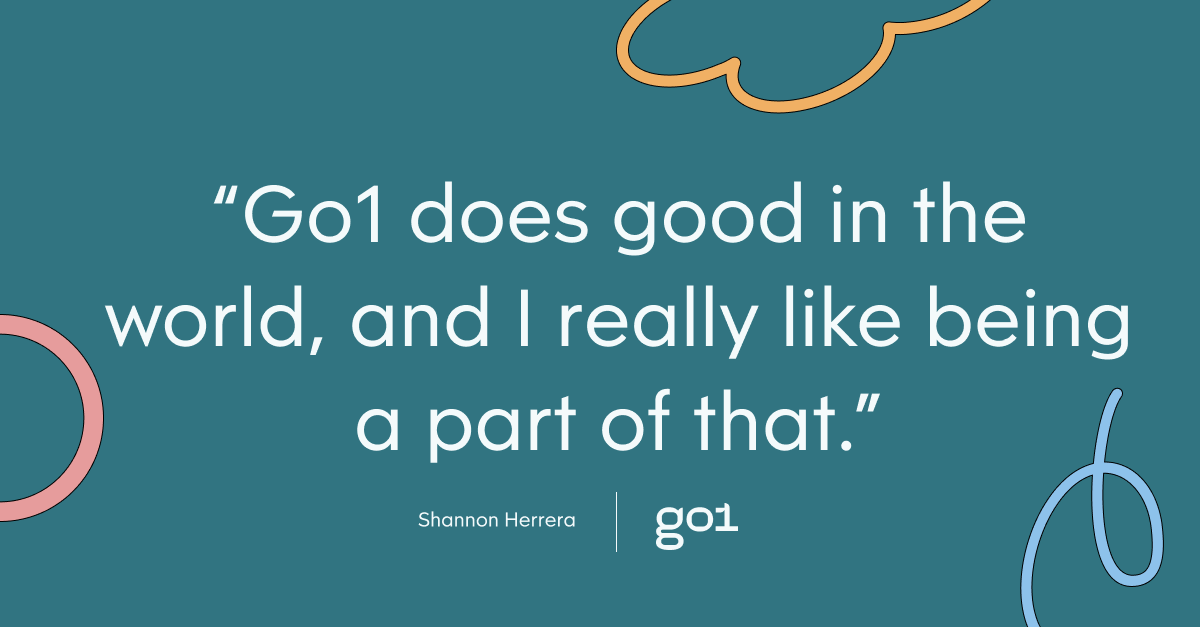 Whether she's helping customers meet their goals or educating colleagues about where and how to find content, Shannon loves that Go1 enables her to make a difference in people's lives. "Making it so that [customers] feel more equipped for their jobs or maybe they're more prepared for a promotion – Go1 directly helps our customers do that for their employees," Shannon said. "Go1 does good in the world, and I really like being a part of that."  
For more insights, subscribe to the Go1 newsletter to stay on top of all the latest L&D trends. Or, you can book a demo today to find out how Go1 can help with your team's learning needs.