Amy Wheldon has many skills and interests. She's a wife, a mom of three, a dog mom of one, a baker, a quilter, a backpacker, a Master Gardener – and she's the head of customer success at Go1. 
Amy's multifaceted talents are a great match for the fast-paced and versatile world of startups. In fact, Amy has worked in tech startups for the last 15 years. She grew up in the Bay Area on the cusp of Silicon Valley, went to school at The Ohio State University, where she studied accounting and business, and eventually returned to the tech scene. 
Her wide-ranging experience has given Amy a solid understanding of customer success and how it has changed over time. "I've done marketing, SaaS, EdTech, HealthTech, and FinTech," Amy said. "I have a pretty robust knowledge of SaaS-based businesses as a whole. Customer success has evolved the last 15 years that I've been doing this – it's really dynamically shifted." 
So, what does customer success look like today, and what does a Customer Success Manager (CSM) do? 
"I think businesses see [customer success] more as a support role," Amy said, "but really our job is to enable people [to be] successful with our software to help them reach their desired outcomes. Being a customer success manager or leading a customer success team lets us really dig deep into, 'What are the challenges that our customers are facing?' And then build solutions to help them have really, really good outcomes." 
Go1's CSMs are "the face of all things Go1 to the customer," according to Amy, and they act as guides to customers who are navigating Go1's content library. "We need Sherpas to take us up Mount Everest," Amy said. "Well, Go1 has this [ecosystem] of content, and we're a guide." 
A CSM's typical day begins with them checking Gainsight, a customer success tool that gathers information about Go1 customers. It lets CSMs know whether customers have tickets open, how they're using the product, how often we're communicating with them, when their contracts are scheduled to renew, and other useful information. These insights prompt the CSM to take action. For example, if a customer hasn't logged into Go1 in the past month, the CSM might reach out and see if they have any issues or need help accessing the product. 
CSMs also spend time in meetings with customers, where they help customers launch the Go1 product and curate content for their organizations. The remainder of their time is spent solving tickets, sending resources to customers, and engaging in other activities to provide support. 
A key part of Amy's role as the head of customer success involves finding out what customers need and then building solutions to help them succeed. "My job is to help L&D professionals step back and say... 'What are the learning outcomes that I'm trying to drive inside my company? What are the objectives that I want to get out of this?'"  
If, for instance, a customer wants to inspire a culture of radical honesty in their organization, Amy and her team will help them ensure everyone at their company has access to training on topics like emotional intelligence, giving and receiving feedback, and the value of transparency. 
"Helping customers reach their desired outcomes is like leveling up institutional knowledge," Amy said. "It's identifying where there might be places for improvement and then helping them find what's in our library that supports their goals." 
Amy also played a pivotal role in advocating to change the Go1 product to better meet customer needs. Four years ago, Amy noticed that many customers were asking for a way to use Go1's content within their existing learning platforms. She and another coworker wrote up a business case regarding this request, flew to Australia, and presented the case to the Go1 team. As a result of these meetings, Go1's standalone content library was created. 
"I just love that Go1 pivoted and built something that our customers truly needed," Amy said. "Listening to customers and hearing what they need and then being part of building that for them has been incredibly fun. I'm proud of the work that we do, and it keeps me coming back day after day."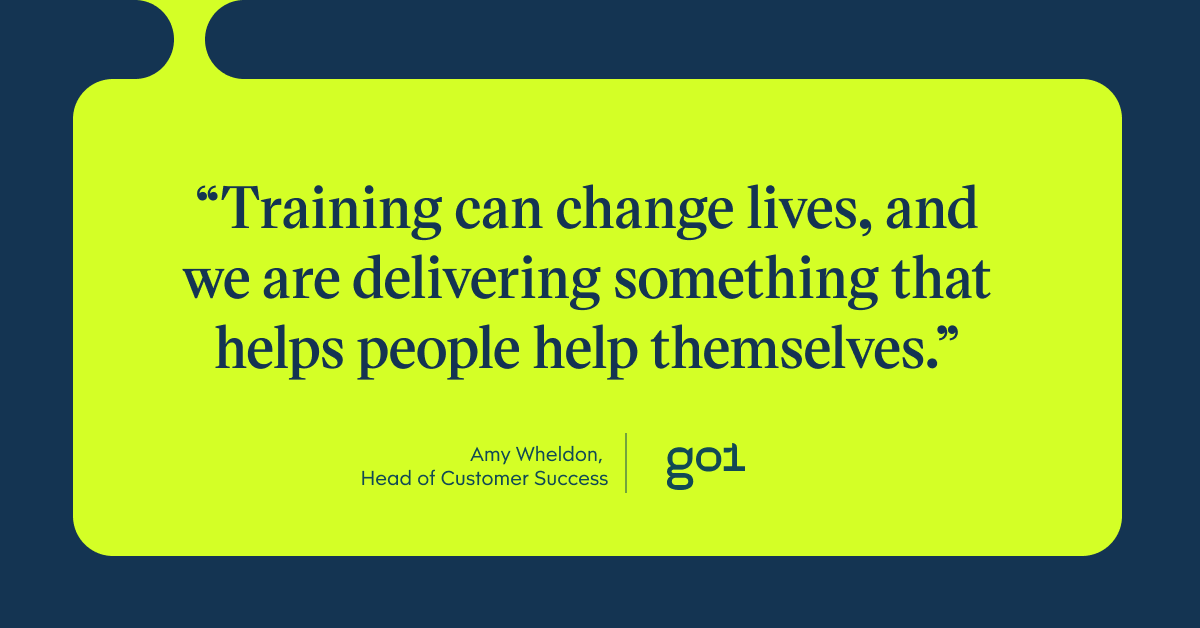 For Amy, the best part of her work at Go1 is that it's impactful. "Training can change lives, and we are delivering something that helps people help themselves," she said. "We're doing revolutionary work. AI and VR training and all the things that customers are asking for – we're continually bringing those onto our platform. The fact that we're always seeking out what's latest and greatest in training and the science behind it is super cool." 
In addition to the work itself, Amy also loves collaborating with her colleagues. "The people that I work with at Go1 make this place just phenomenal," she said. "This is the best team I have worked with in my entire career." 
And it's not just her coworkers that Amy loves working with – she also loves working alongside Go1's customers. "The customers that we work with are so incredible," Amy said. "They are the people at organizations that are deeply invested in seeing their internal employees grow and develop professionally, so for me, it's incredibly powerful to be connecting with people that genuinely care about their employees."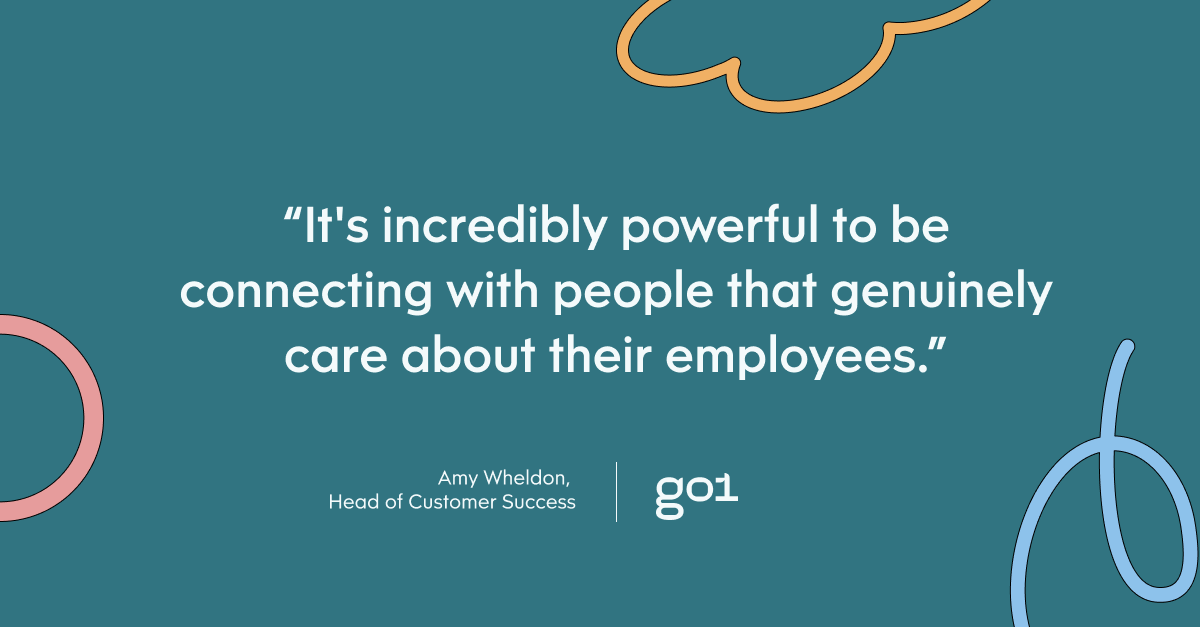 Through her role at Go1, Amy gets to help people find success every day, which is exactly what she loves to do. "I'm really passionate about this," she said. "I know it sounds super cheesy, but I've loved every minute of what we're building here." 
For more insights, subscribe to the Go1 newsletter to stay on top of all the latest L&D trends. Or, you can book a demo today to find out how Go1 can help with your team's learning needs.