Tiger king. Homemade sourdough. Zoom trivia nights. And...the great resignation? For all the twists and turns of COVID-19, at face value, the great resignation has been one of the most unexpected. However, dig a little deeper into the nuances of this trend, and it begins to make sense. 
By now, you've probably heard many explanations for the great resignation, ranging from 'lazy millennials' stereotypes to claims that people were happy to live on COVID unemployment benefits, such as JobSeeker. In many cases, these explanations are more like excuses. In reality, the truth is far more nuanced, with many experts believing that the great resignation hinges on how organisations treated their employees during the pandemic. 
For example, according to Gallup's State of the Global Workplace 2021 Report, 57% of workers experienced daily stress, while the global rate of workplace engagement is just 20%. With numbers like these, it should come as little surprise that employees have resigned en masse. 
With this in mind, we thought it was the perfect time to analyse L&D's role in addressing the great resignation. To do so, we'll answer three vital questions: what is the great resignation, why is it happening now, and how can L&D teams help address this? 
What is the great resignation? 
The great resignation is exactly what it sounds like: in many countries and industries, employees are resigning in record volumes. In America, 4.3 million people, or 2.9% of the national workforce, quit their jobs in August 2021. In Britain, the number of open jobs surpassed 1 million for the first time that same month. Now, 94% of US retailers say they are having difficulty filling positions. 
What's more, research by Microsoft shows that 41% of the workforce are considering leaving their jobs this year. Similarly, a study by Personio found that 38% of surveyed employees planned to quit their jobs within the next six months to one year. 
The term 'the great resignation' was coined by Texas A&M University Professor Anthony Klotz in late 2020. According to Klotz, "​​when there's uncertainty, people tend to stay put, so there are pent-up resignations that didn't happen over the past year." As such, he predicted that workers would resign in large numbers following the pandemic "as burnout and working remotely trigger a shift in people's identities." So far, these predictions have borne out. 
In a recent article, Forbes defined the great resignation as "a sort of workers' revolution and uprising against bad bosses and tone-deaf companies that refuse to pay well and take advantage of their staff. Millions of workers voted with their feet and walked out of their jobs—many without having another position already lined up. They no longer want to feel like victims. The quitters are making a powerful, positive and self-affirming statement saying that they won't take the abusive behaviour any longer."
So far, the great resignation hasn't really reached Australia. While it's true that 1.1 million Australians left their jobs between February 2020 and February 2021, these figures are relatively standard, signalling a healthy labour market. If anything, Australia has so far experienced the opposite trend. In the 12 months preceding February 2021, the proportion of Australian workers switching jobs fell to an all-time low of 7.6%, down from a peak of 19.5% in 1988-89. 
While some experts predict that the great resignation will soon reach Australia, it's worth noting that to this point, the trend has been felt most keenly in the US and UK.
Why is it happening now? 
While the COVID-19 pandemic has played a significant part in the great resignation, it has not been the sole cause. Rather, it has helped accelerate the great resignation and bring many pre-existing tensions to the surface. 
If you asked the average person, most of them could probably guess the leading causes of the great resignation. Fatigue, burnout, bad bosses, mental health struggles, and inflexible working arrangements, to name a few. All-too-common factors that most of us have probably experienced in a job at some point. As such, it makes sense that many people have been looking for greener pastures. 
For instance, 54% of people feel overworked (rising to 60% of Gen Z and 64% of new starters), while a massive 95% of human resource leaders admit that employee burnout is sabotaging workforce retention efforts. Moreover, 62% of employees feel overwhelmed by work responsibilities, and 32% say they are emotionally drained. Plus, 69% of people say they feel fatigued at work. If that isn't bad enough, these statistics are only the tip of the iceberg, reflecting a broader trend where employees feel unsupported, unappreciated, and, most importantly, unhappy at work. 
According to senior lecturer Jay Zagorsky in an interview with the BBC, "I do believe there are thousands of individuals who are just fed up. They are overworked, they feel underappreciated. Because many workers are in high-wage industries and are working incredibly long hours, there is a significant number of people who are just quitting." 
Or, as Inc puts it, "workers aren't just looking for higher pay, more time off, or more days at home (though those things would surely help in the short term). They're actually questioning the whole meaning of the daily grind. Why do we put so much of ourselves into our careers? And are we getting a fair deal from our employers in return for all this stress and heartache? 
Holding on to employees then isn't just about scheduling. It's about showing them their work has meaning and that the company actually cares about them as human beings." 
To quantify these feelings, Limeade ran the numbers and identified the top causes of the great resignation. According to their research, 40% of employees left their jobs due to burnout during the great resignation. Other common reasons include their company going through organisational changes (34%), a lack of flexibility (20%), contributions not being valued (20%), insufficient benefits (19%), and well-being not being supported by their company (16%).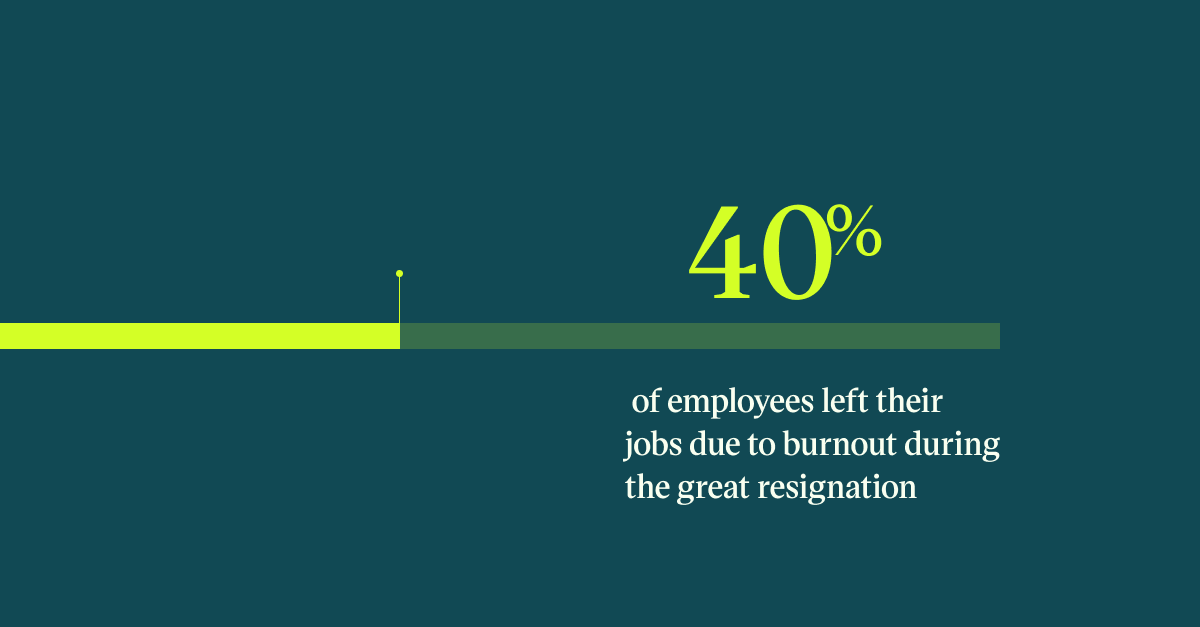 Those that did take the plunge and seek a new job didn't regret it, as, on average, respondents reported a 22% boost in feeling cared for by their new employer compared with their previous employer. Likewise, they noticed a 22% boost in how comfortable they feel disclosing a mental health condition to their new employer compared with their previous one.
These findings should send a clear message to employers about what areas they need to focus on to either reverse this trend or lose top employees for good. 
How can L&D teams help address this trend? 
Work Institute recently found that 77% of that turnover is preventable, and the great resignation is no exception. As ever, L&D teams have a substantial role to play. By addressing employees concerns, boosting flexibility, and offering employees more of what they want (hint: targeted learning opportunities), L&D teams can play a central role in reversing the great resignation and boosting employee satisfaction. 
For starters, Limeade has crafted a veritable to-do list for businesses during the great resignation, identifying the following common reasons that job-changers were attracted to a new position:
Ability to work remotely according to personal preference (40%)
Better compensation: (37%)
Better management: (31%)
Better company reputation (29%)
Better work-life balance (26%)
Flexible work schedule (​24%)
By offering these benefits, companies can create healthier work environments that employees will be reluctant to leave.
No surprise, flexible working arrangements come out on top. 76% of employees want flexibility for where they work, and 93% want flexibility over when they work. What's more, 41% of employees say they would look for another job if they were forced to return to the office full time. For further insights on how your organisation can offer more flexibility, check out our recent article on how to deal with returning to the office. 
So, where exactly do L&D teams come in? We've mentioned it time and time again, but L&D has a massive impact on boosting employee retention. 94% of employees say they would stay longer at a company if it invested in their professional development, plus, ​employee retention rates increase by 30-50% on average for companies with strong learning cultures. Basically, if you want to retain employees during the great resignation, building a strong learning culture should be your number one priority.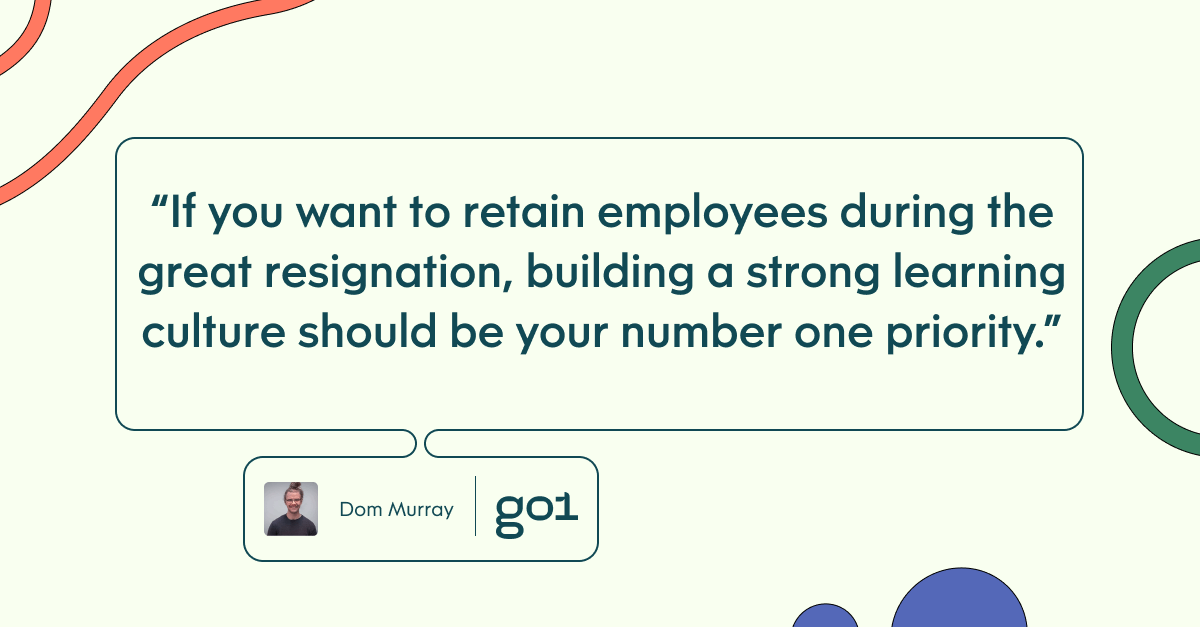 For a closer analysis of how L&D can boost employee retention — particularly during the great resignation — see our recent article on 5 tips for long term employee retention. 
Additionally, studies show that 80% of employees think learning and development opportunities would help them feel more engaged at work. Unfortunately, as things stand, many organisations are falling short. 50% of employees say they are dissatisfied with the learning and development opportunities at their organisation. No wonder employees are leaving in their droves — this lack of growth opportunities is adding more fuel to the great resignation fire. 
Finally, in a recent survey, ​​69% of L&D professionals said supporting the mental health and well-being of employees is a new part of their role. This is yet another area where L&D teams are vital, as mental health has broadly taken a hit during the pandemic, with burnout being one of the key contributors to the great resignation. To reiterate, 57% of employees experience daily stress. 
Going forward, L&D teams will play a crucial role in supporting employees' well-being at work. To demonstrate this, McKinsey finds that most employees would feel less stressed if they were offered things such as additional time off (62%), flexible work schedules (60%), and hybrid work arrangements (57%).
The message is clear: from retention to engagement to mental health support, L&D has an indispensable role to play in addressing the great resignation and reengaging employees. There's no need to resign yourself to the great resignation. Instead, just focus on L&D. 
Does your L&D team need some extra support during the great resignation? Go1 can help. Start your free trial today to access dedicated courses such as our Employee Retention Bundle, Developing a Learning Culture, and many more. 
For more insights, be sure to subscribe to the Go1 newsletter to stay on top of all the latest L&D trends. Or, you can book a demo today to find out how Go1 can help with your team's learning needs.