June: customer service
It's customer service training month at Go1. This month, we're focusing on all things customer service training - so keep an eye on the blog over the next few weeks to read more about Go1's relevant training content!

Whether they are known as your customer support, success or service team, they are your employees that interact with and manage customers. Customer service teams directly communicate with customers, problem solve for them and these are often the interactions that leave the lasting impression in your consumers mind. We've dedicated the month of June to look at how Go1's Premium training for your frontline staff can drive sales and give businesses a strong competitive advantage.
With the evolution of customer service towards tech, it only makes sense to take your customer service training online as well. Generally customer service training is the training employees undergo to improve the soft skills most used during customer interactions and learn the tools needed to better support customers and their satisfaction. Any employee that interacts and deals with customers needs customer service training.

Taking your customer service training online can strengthen your team's skills.
Through training, employees improve their customer service skills, knowledge and competencies whilst acquiring new ones. Training gives customers a more consistent and professional experience - which greatly increases customer satisfaction and leave your customers feeling respected. Of course, no training is as cost-effective as eLearning. Online training is easy to deliver to employees no matter where they are based.
Where to begin with your customer service training?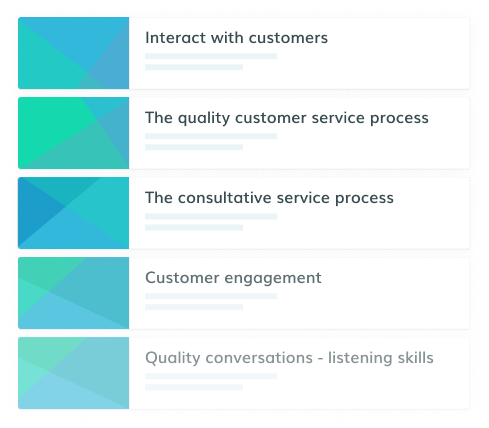 Let's start with your understanding of customer service, and how it can influence you workplaces customer service strategy. This week we've suggest two Go1 courses created by experts in customer training.
Introduction to quality customer service - by Interaction Training.
This course underlines how, irrespective of what industry you are in or what function your team performs, you are in the business of providing a service and this means learning to go above and beyond the call of duty as a matter of course. This is a great introductory course for managers and training coordinators to understand how to approach customer service training.
Create a Culture of Great Customer Service - by Creative Live.
This is also useful for managers to help you identify the key aspects of optimal customer service so you can teach it and instill it in your teams. This course emphasises how customers should come first, and how you can learn how to ingrain those ideals into your company culture to ensure that they're heeded each day by all of your team members.

Want to learn about more Go1 courses to support your customer service training? Come back to the blog next week!