Go1 is excited to announce our new partnership with JobReady, a leading provider of people management systems for education and employment, to deliver a new generation of learning and support for its Australian education sector clients.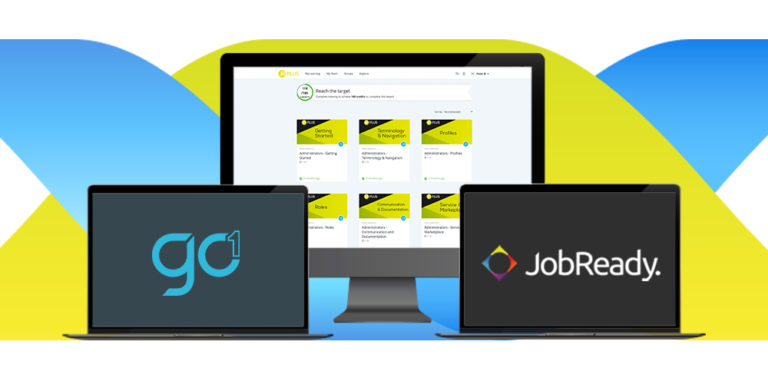 Beginning in 2019, JobReady will use Go1 to deliver integrated online training for new and existing clients of student management system JR Plus. JR Plus is currently used by leading brands in the higher education, international education, enterprise training, and RTO markets.
Through Go1, JobReady will ensure users can access a full online library of in-depth training and resources on JR Plus, allowing them to take better advantage of the system's full suite of evolving features, while also helping them to deliver on their primary education mission.
"JR Plus is a complete student management system for education that continues to evolve to ensure our clients stay in front of the pace of change," JobReady commercial director James Hourn said.
"After 20 years helping our clients adapt and grow, we're taking this exciting step forward to allow them to take advantage of online product training delivered when and how they want it."
Mr Hourn said Go1's advanced online delivery model will mean clients will receive unrivaled learning and support throughout the customer journey, whether they are currently implementing JR Plus, or are looking to realise more business value from the system as a long-term JR Plus user.
"By giving clients the learning vehicle they need to unlock JR Plus, we are supporting them in running a better business and helping them provide the best possible education for their students as well."
Go1 CEO and co-founder Andrew Barnes said the partnership with JobReady was a natural fit for both companies who both strongly believe in the power of education to advance Australia's future.
"Go1 has a track record of partnering with innovative providers like JobReady to deliver education and training that makes the possibilities of online delivery real for their users," Mr Barnes said.
"By helping facilitate the growth and utilisation of JR Plus across Australia's globally renowned education sector, we believe we are doing what we've always set out to do at Go1 – allowing people to achieve their career dreams and live more fulfilled working lives now and into the future."
About JobReady
JobReady is the leading provider of people management software for education and employment. Bringing together student management systems, apprenticeships systems, vocational education and training systems, employment services systems and behavioural science, we represent a powerful software continuum for managing the complex human journey through study, work and career transitions. Trusted for over 20 years, JobReady works with education and employment clients to co-create intelligent technology that helps them oversee, control and drive the business outcomes they need to succeed. In doing so, we ensure more people are fulfilled through meaningful work.
About Go1
Go1 makes it easy for businesses to train their staff, with the world's largest compliance, professional development and general training marketplace. By providing a single platform that extends from first aid training through to degree bearing courses, Go1 makes it easy to find and compare the best training options available. The marketplace features over 500,000 courses and other learning items created by local and international experts. Customers include SEEK.com.au, Oxford University, State and Local Governments and St John Ambulance.
Since launching in 2015, Go1 has grown to be a world leader in online learning and education. Local and overseas investors include Y Combinator, SEEK, M12, Tank Stream Ventures, Black Sheep Capital, and Our Innovation Fund.