On International Women's Day, it's important that we take the time to acknowledge and empower women working in traditionally male-dominated industries.
In both the tech and startup industries, there has long been an imbalance of gender, with the number of male employees outweighing women. In 2018, we hope to see more startups and tech companies doing their best to address this gender imbalance.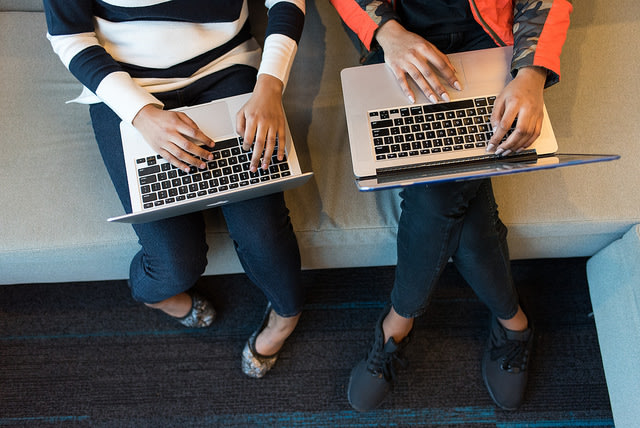 While we're seeing global action in addressing diversity, gender parity, and sexual harassment in the workplace, driven in part by the #MeToo and #TimesUp movements, more work is needed to dismantle the unconscious bias that often exists towards women in male-dominated industries.
We talked to three women about their experiences working within the startup industry, to hear what advice they have for other women entering this space.
Lydia O'Sullivan, Digital Marketing Manager – Go1
Throughout her marketing career, Lydia has seen first-hand some of the challenges facing women in the workplace, particularly the under-representation of women in leadership and executive roles.
When she moved over to the startup industry, she was quite conscious of the fact that she was entering a traditionally male-dominated environment. However, working with Go1, she's seen how startups and tech companies can take positive action to address this gender imbalance.
"It's great to see more women entering the company all the time, and being hired and promoted by Go1. Each month, I look around and see more female employees working in the office than the month before. I can see Go1 consciously working to address gender inequality, doing their best to move towards a more equal and diverse workforce."
Within her own sphere of influence, Lydia aims to continue to Press for Progress and actively celebrate and support the achievements of women around her.
"It's important to me that women feel comfortable and welcome in the startup industry. I actively maintain a strong network and regularly support and attend events organised and led by women.
I also think it's important to encourage my male friends and colleagues to support these events, so they can become better champions and allies for gender parity."
Georgia Green, Head of Marketing, APAC & Americas – Head of Marketing, APAC & Americas – Totara
Georgia knows the importance of having a strong support network of women within the industry.
"My sphere of influence is really these groups of women who work together to press for progress. We act as mentors, sounding boards, and cheerleaders.
 "We push for gender parity, develop empowerment, challenge stereotypes, and work out how we can influence change or challenge prehistoric beliefs in our workplaces. If all of us can accomplish this, in whatever size, shape or form, then we're expanding our reach to make change, and that's a great thing."
When asked for her top tip for women who are entering the startup/technology industry, Georgia says:
"I think it's critical to do your due diligence on an organisation before you jump in head-first. Look at the leadership and board structure; are there women? What's the ratio? What kind of culture does the organisation have – does it look too blokey?
Use LinkedIn to see how many women work there, do a Google search to find any relevant news, read Glassdoor reviews, talk to former employees and find out what the culture is like, what leadership is like (because tone starts at the top), and make an informed decision. Do your research, determine what's important to you within an organisation, and find your match."
Pru Turnell, Associate Director – Kicker Communications
When working in male-dominated environments, Pru believes it creates a strong sense of solidarity between women workers.
"Working in a male-dominated industry is definitely not without its challenges, but working alongside brilliant women in the industry is extremely motivating and powerful. We all tend to stick together and empower each other because we have to stick together."
Pru's top tip for women getting into the startup or tech industry?
"The best piece of advice I can give to women just entering the tech industry is to be yourself, own your accomplishments, speak up, and have confidence in who you are. Find a mentor you gel with who is further along in their career than you and you will both learn from each other."
Pru encourages women to not be deterred by traditionally male-dominated industries.
"If you are hesitating joining the industry because it is underrepresented by women, don't. There are so many options open to you when you go into a tech career and the more females in startup and tech companies now, the more females we will see in CEO and leadership roles."
We thank each of these women for taking the time to talk to us about International Women's Day and their experiences of working within the startup industry. By creating strong, supportive networks and celebrating women's achievements, progress can continue to be made in this area.