Robots are coming for your job. This prediction is both a time-honoured sci-fi trope and a valid fear that many workers hold. However, like many bold visions of the future — from flying cars and hoverboards to space colonies and robot uprisings (fingers crossed that one isn't real) — it's worth taking a step back to ask how realistic these predictions are. Is AI going to replace our jobs? Or, will the future of work just be different, much like the current workforce is vastly different from 30 years ago?
With these questions in mind, we'll continue our deep dive into the future of work by asking the question on many workers' lips: is AI really coming for your job? We'll start by asking whether you should be fearful of AI coming for your job, before looking at biases in AI and offering tips to future-proof your skills. 
To set the scene for this topic, check out our latest article on The foundational skills you'll need in 2022 where we go into detail on the role automation will play in the future of work. 
So, are robots really poised to take over? Let's find out. 
AI: friend or foe? 
Predictions of job loss due to AI have varied wildly over the years. Some say that robots will take over entirely, while others believe this is an exaggeration. So, is AI coming for your job, or is it here to help?
At this stage, visions of an all-robot workforce are greatly exaggerated. Nevertheless, 49% of companies currently use AI in some fashion. What's more, the global market for AI will reach $267 billion by 2027, while the number of businesses that use AI has grown by 270% over the last four years.
Additionally, 90% of 'leading businesses' have ongoing investments in AI, with a recent survey finding that 76% of respondents cite AI as fundamental to the success of their organisation's strategy. 
Expect these numbers to continue rising, as there are currently 2.25 million industrial robots in use worldwide, while the number of industrial robot jobs has increased by 14% yearly in recent times. Accordingly, 37% of workers are worried about losing their jobs due to automation.
To break this down further, the World Economic Forum finds that as of 2021, 71% of total task-hours are completed by humans, compared to 29% of total task-hours completed by machines. However, if current trends continue, these numbers will shift to just 58% of total task-hours completed by humans and 42% completed by machines within four years.
So, what does this mean in practice? One often-quoted report by McKinsey claims that by 2030 "375 million workers — or roughly 14% of the global workforce — may need to switch occupational categories as digitisation, automation, and advances in artificial intelligence disrupt the world of work." 
Other estimates fluctuate regarding exactly how many jobs will be lost or displaced by AI. For example, one report believes that one-third of current jobs will no longer exist in 25 years. Another report places this number at 57 million jobs lost by 2030, while additional estimates suggest that automation could eliminate 73 million jobs in the US by 2030, equating to 46% of the current workforce. Therefore, while exact numbers vary, the overall consensus is that a significant number of jobs will be lost or replaced due to automation.
Thankfully, the news is not all bad. Many predictions also find that automation may create as many new jobs as it displaces. While workers will need new skills to thrive in these jobs, they will not be lost entirely. In 2020, estimates showed that AI created more new jobs than it supplanted — creating 2.3 million new jobs while replacing 1.8 million jobs. In the coming years, AI and automation may create as many as 133 million new jobs in the US alone, with similar trends expected globally. 
In fact, Zippia finds that by 2022, AI will create 58 million jobs, and by 2030, AI is forecast to benefit the economy to the tune of $15.7 trillion. Again, estimates vary on the precise number of jobs AI may create worldwide. But, the bottom line is that fears that AI will lead to total, widespread job loss seem to be overblown. There is a good chance that AI will create as many new jobs as it replaces. Of course, these new jobs may require different skills, which is where upskilling and reskilling will become vital for employees to future-proof their careers.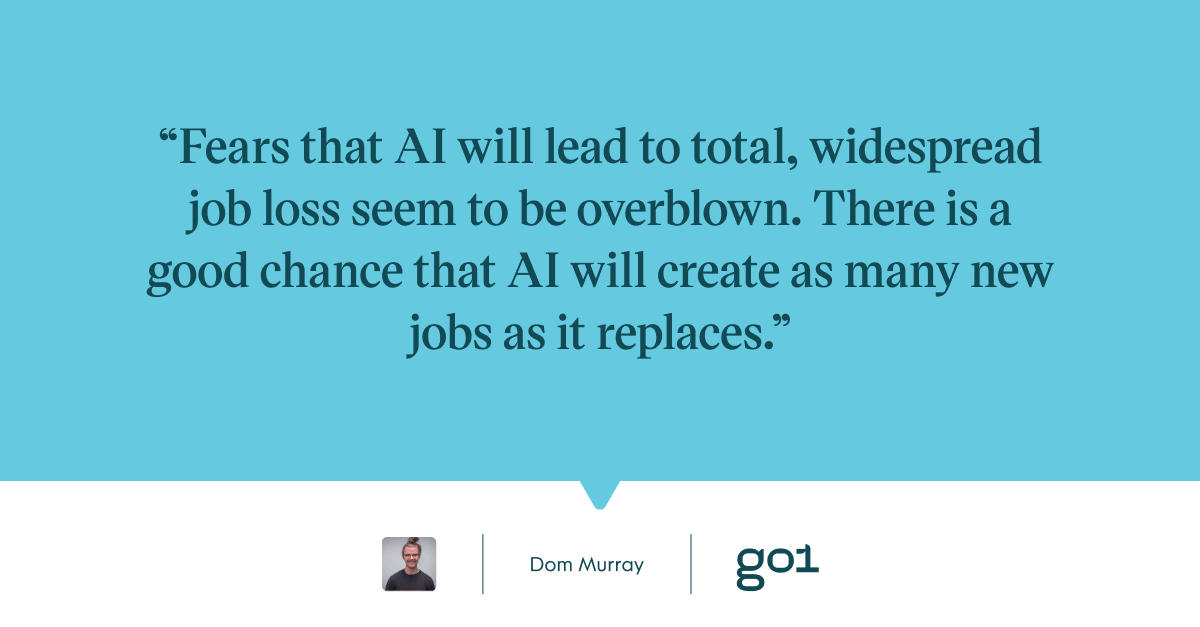 Additionally, to contextualise potential job loss figures, it's worth noting that a certain amount of churn is normal, regardless of the influence of AI. In response to an estimate that automation will replace 9% of jobs, one Slate article points out that "nine percent of jobs is still a lot. But the optimal number isn't zero. The White House automation report notes that about 6 percent of jobs in the American economy are eliminated every three months through the normal process of some businesses shrinking or shutting down as others start up and expand." Thus, when some, more alarmist headlines claim that AI is on track to replace all of our jobs, we should remember that a certain amount of churn is normal. 
Slate provides a perfect analogy to ease fears that AI will make your job obsolete anytime soon, explaining, "machines will perform an increasing share of boring, rote tasks, and people will move to more human work. When hundreds of thousands of ATMs were deployed in the 1980s and 1990s, the number of bank tellers went up, not down, because reduced labour costs allowed banks to open more branches."
Biases in AI
While many depictions of AI show them as flawless, calculating decision-makers, the reality is AI are often as biased as the humans who program them.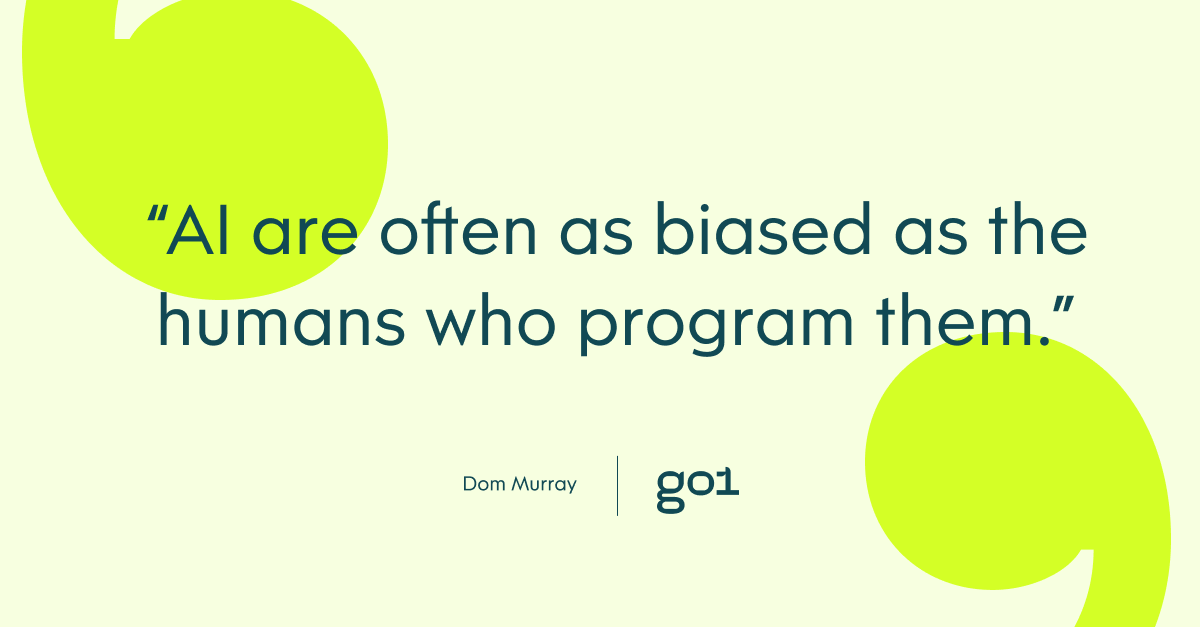 For instance, McKinsey found that an image search for "CEO" returned only 11% images of women, despite women making up 27% of CEOs at the time. Further, in 2018, a facial recognition tool used by the police misidentified 35% of dark-skinned women as men. On the other hand, the misidentification rate for light-skinned men was only 0.8%, as most of the people who created the tool came from this demographic. 
These unconscious biases are another reason why it is unlikely AI will take over completely. Rather, AI may automate mundane tasks, freeing humans to focus on more creative and fulfilling work. 
To read an in-depth analysis of unconscious biases in AI, check out our article on Recognising unconscious biases in L&D technology.
Future-proofing your skills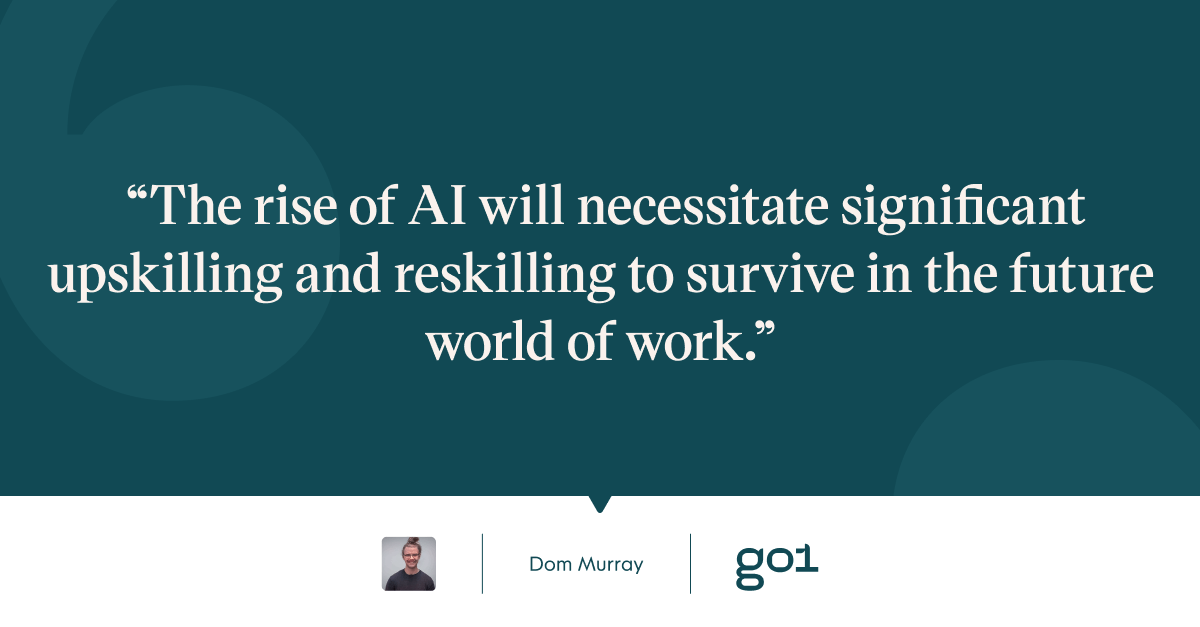 While it may not replace jobs entirely, the rise of AI will necessitate significant upskilling and reskilling to survive in the future world of work. As Slate puts it, "automation is more likely to change jobs than destroy them." To find out the skills you'll need to survive the rise of AI, see our article on Skills for the future, today. 
For more insights, be sure to subscribe to the Go1 newsletter to stay on top of all the latest L&D trends. Or, you can book a demo today to find out how Go1 can help with your team's learning needs.