Choosing a learning platform, finding content, and designing a new learning program are all fantastic steps toward building a learning culture at your company – but your work doesn't end after your learning program has been created. Once you have a new learning program in place, you'll need to support employees as they start using it. Luckily, we've gathered some tips from Go1 customer Orbus Software on how to help employees adapt to a new learning program. 
Orbus Software partnered with Go1 to create a brand-new onboarding program for their team. However, rather than requiring employees to learn an entirely new system, Orbus launched their onboarding content within the learning platform they already used. "We integrated Go1 into our LMS to make the transition to utilizing Go1 content easier for our team," said Penny Simpson, Global Head of Learning and Enablement at Orbus. 
If your company is already using a learning platform, adding new content directly to this platform can save time, reduce stress, and minimize the learning curve for employees. A seamless integration reduces friction for your L&D team and drives learner engagement via easy content consumption. 
Speaking of ease of use, Orbus ensured their team had the training they needed to confidently navigate the onboarding program. "We created a 30-day and 90-day tailored training for account managers and SDRs with clear objectives, role alignment, and capstone projects for performance management," Penny said.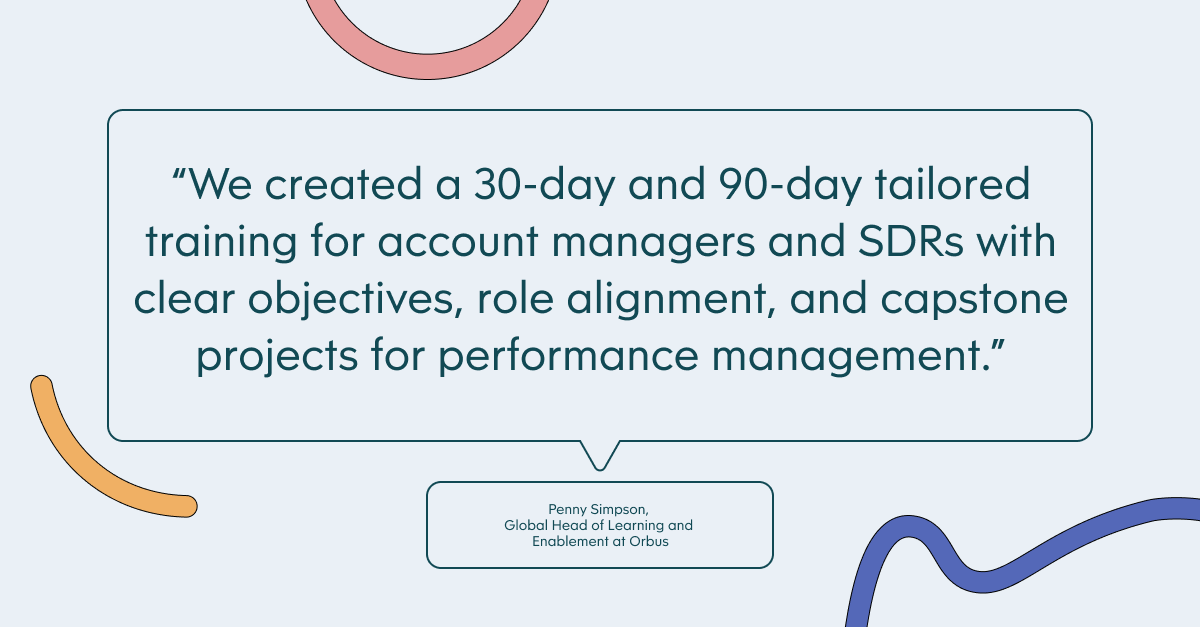 Managers at Orbus are also trained to help direct reports use the learning program, track their employees' progress, and have regular check-ins. Providing managers with training on a new learning program means employees aren't left to figure out how to use the new program on their own. Instead, they have someone they can reach out to for help with any issues that arise. This also allows managers to be directly involved in their employees' growth and development. 
"This structure helped prepare our managers for the new onboarding program but also ensures that managers are hands-on during the preboarding stages," said Penny.  
"The program provides them with checklists, touchpoint emails, and a timetable for course completion throughout the 30- or 90-day program." 
New hires at Orbus are set up for success, too, as the business automatically enrolls all new employees in the learning program. Automatic enrollment makes the learning process even more accessible, as employees don't have to search for a sign-up link or the name of the learning program or platform – they receive all this information as soon as they join the company. "This allows for a self-service approach, which drives scalability internally," Penny noted. 
Although Orbus offers a simple self-service path to learning, they also created a learning enablement team that meets with new employees to answer their questions about the onboarding program. Orbus ensures every learner has a path to success, no matter how much or how little help they need with the learning program. 
Orbus put a lot of effort into launching their new learning program – and the good news is, their efforts paid off. "Since launching the onboarding program with Go1, we have achieved an 82% completion rate for compliance-related content. Not only that, but people are commenting that the compliance training is interesting," said Penny. "Employees now also feel they understand company values, mission, and role expectations and have reported a strong sense of belonging. This has also been a time saver for middle managers and has helped them focus on coaching and team development."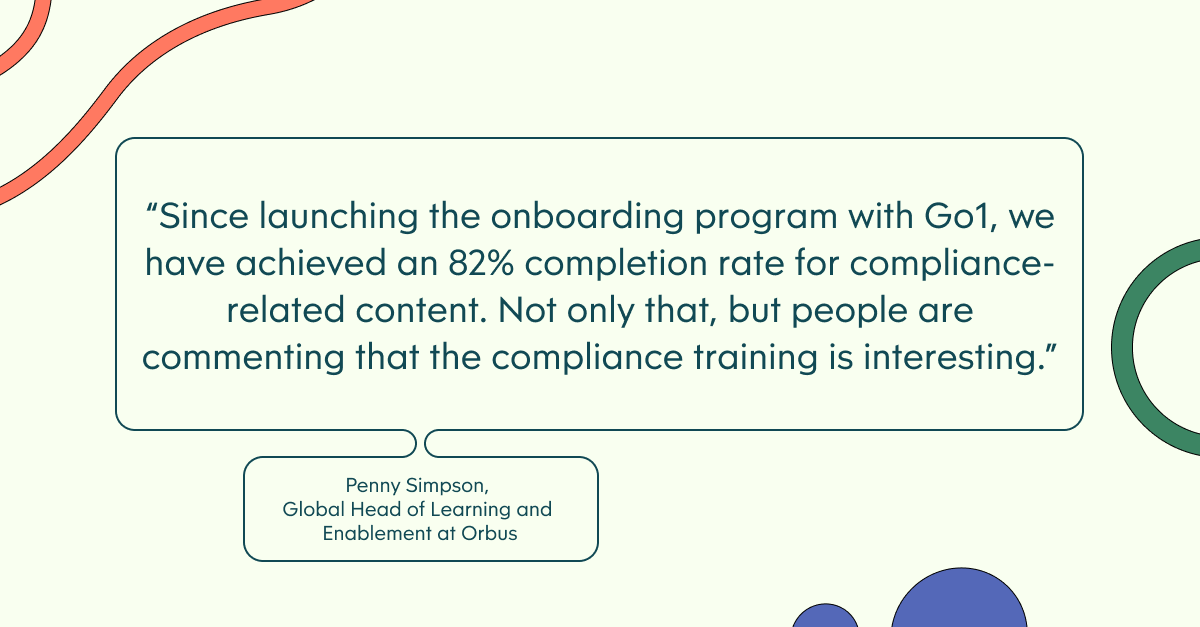 The new learning program has been such a success that Orbus is now working on expanding it. "We have received requests for employees to continue their learning journey, which is invaluable," Penny said. "With this feedback, we plan to expand the onboarding program beyond account executives and SDRs, as well as beyond the first 90 days of employment." 
For more insights, subscribe to the Go1 newsletter to stay on top of all the latest L&D trends. Or, you can book a demo today to find out how Go1 can help with your team's learning needs.