While new employees' first introduction to a business is often during the recruitment process, the induction of an employee to a company becomes their first impression of what it could be like to actually work for the business. Therefore, it's extremely important for businesses to ensure that their onboarding process covers all bases and becomes a positive experience for all involved, whether that be the employee themselves, the company's HR department or the employee's manager. 
In a recent survey, it was found that a staggering 88% of new hires would rate their employer's onboarding process as poor. One of the simplest ways to ensure that your onboarding process is not part of that 88% and represents a positive experience is to create and use a staff induction checklist.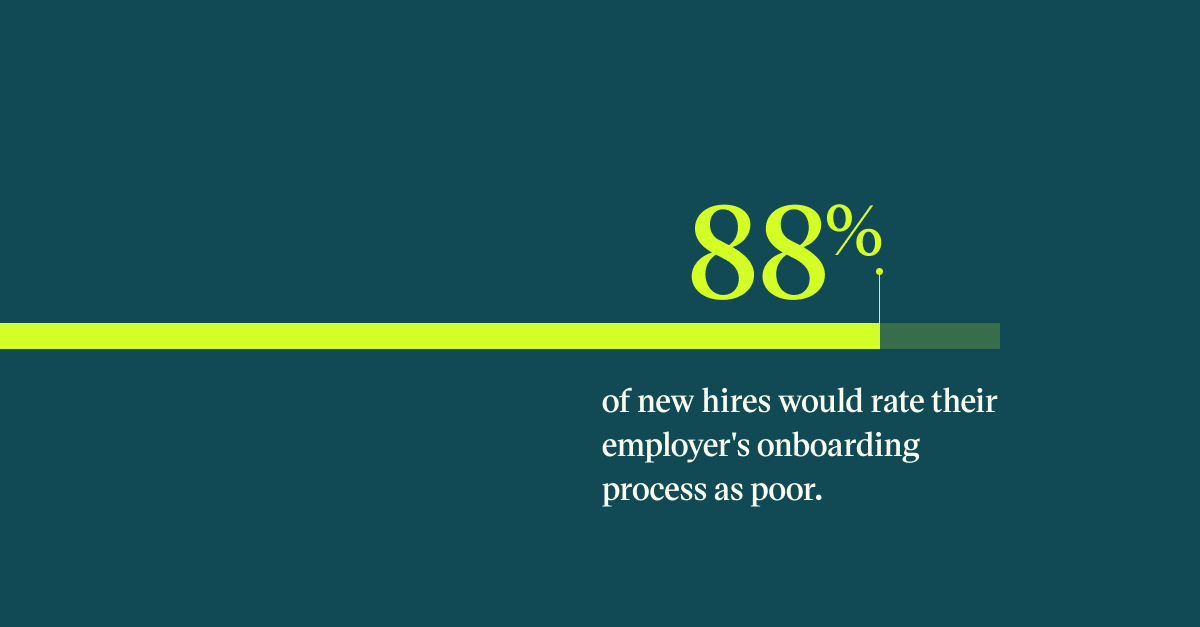 Purpose of an induction checklist
Those who've had a lot of experience with staff onboarding may think that an induction checklist wouldn't really benefit them. They might think that's it more for people who have less experience or that making the checklist will take up too much time but whether they're ready to admit it or not, even the most experienced people can forget things.  
Using an induction checklist doesn't necessarily mean that those responsible for onboarding staff don't know what they're talking about or that they're regularly forgetful. It just acts as an insurance policy of sorts. Putting time and effort into it now, means that if a complication arises later, it doesn't derail the process or cause important things to be missed.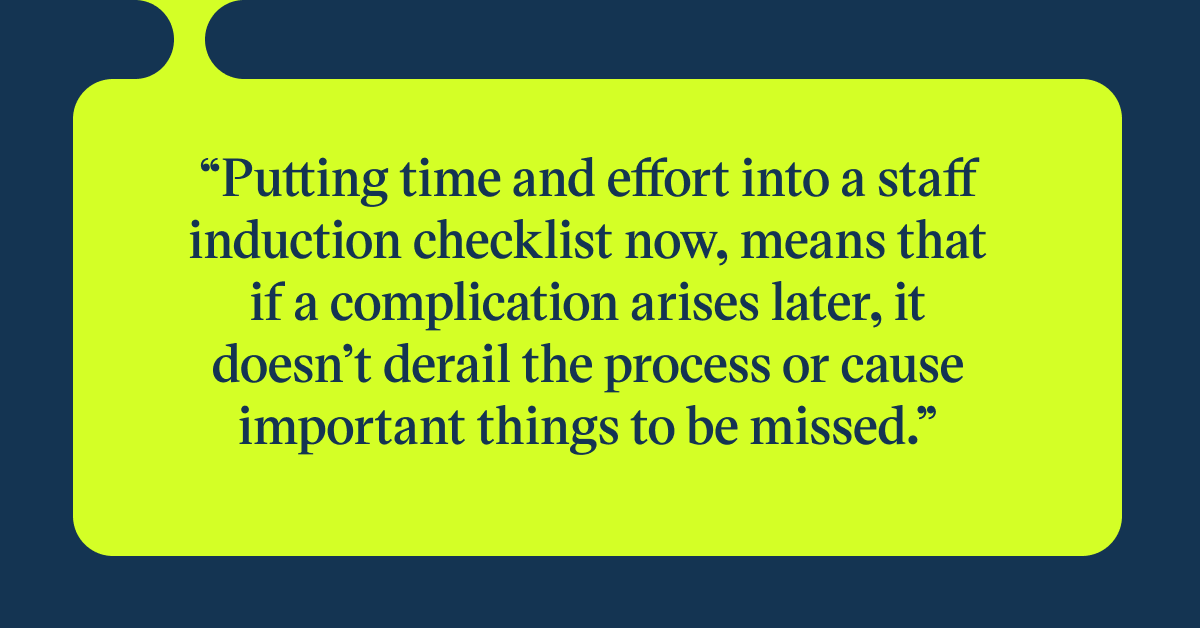 An induction checklist has benefits for the company overall, beyond individual employees. By having a concrete checklist that is used for all employees, it creates a standardised process for onboarding, ensuring that new hires start their time with the company on an equal footing. No one is missing out on something that someone else got.
Furthermore, people who had a negative onboarding experience are twice as likely to look for a new job in the immediate future which just goes to show; first impressions count!
What your induction checklist should cover
While the specifics of an induction checklist are likely to vary between companies, there are a number of onboarding tips that are essential for ensuring a smooth onboarding process. 
A major one is providing a general overview about and explaining the goals of the business. While candidates may have done their research about the company during the interview process, there's a good chance they applied for multiple jobs so it can't hurt to give them a refresher. You should also take this time to introduce new team members and provide them with an overview of significant figures in the business and their roles. This primarily includes people that they will interact with regularly as well as executives and key figures in the business overall.  
It's likely that every new employee will want to know the answers to these questions but may be too nervous to ask early on and that is questions around pay. While it will likely be listed in their contract as well, take the time to go over what their pay will be, exactly when they will get paid, any other extras they may be entitled to as well as any steps they may need to take on their end to ensure that pay runs smoothly. When a company addresses pay early in the onboarding process, it also helps to build trust with the new employee. They feel reassured that the company is committed to compensating them for their work in a timely manner.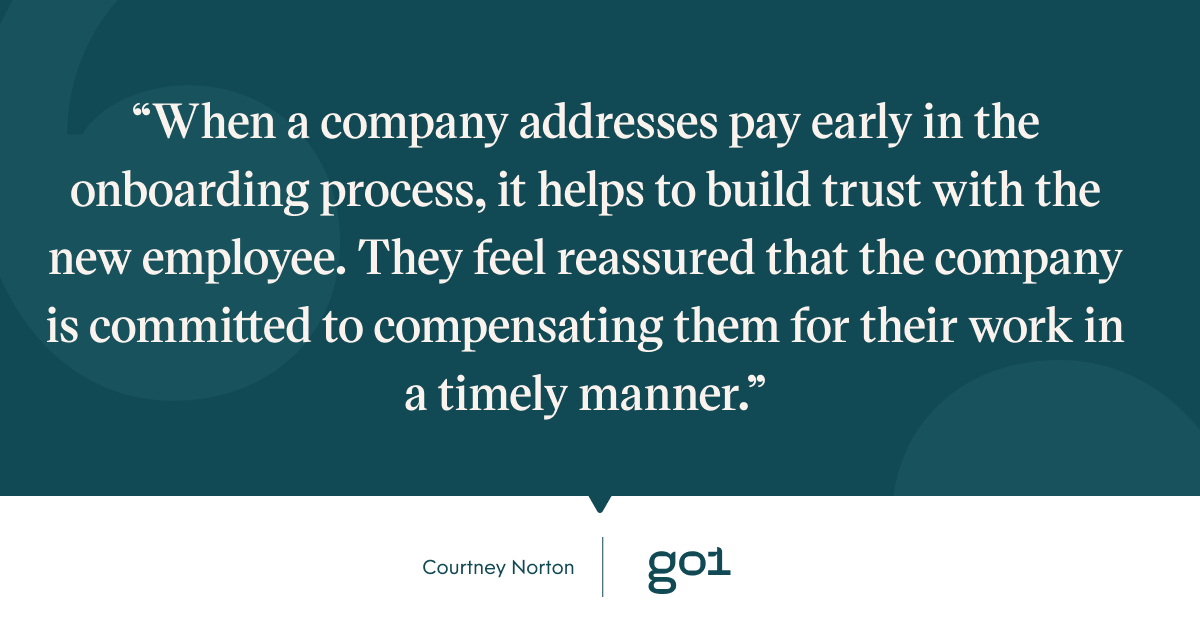 Though it's not always the most exciting part about welcoming a new employee to the company, one thing that cannot be missed is going over health and safety policies and procedures. Doing this ensures that new employees know what not to do in the case of an emergency. Not only that, it also helps protect the company from a number of potential legal consequences relating to health and safety. 
What to avoid when onboarding new staff
While having a staff induction checklist that includes a lot of the things we mentioned earlier is an excellent first step towards making your employee training awesome, a checklist alone is not the only thing needing for a positive onboarding and training process for new employees. There are certainly some common onboarding mistakes to avoid as well. 
For instance, while it may be tempting to treat the onboarding process as simply 'filling out paperwork' and just trying to get through the list as quickly as possible, this removes a critical human element. It may lead the new employee to feel as if they are just a number hired to fill a spot, rather than someone who is valued by the company.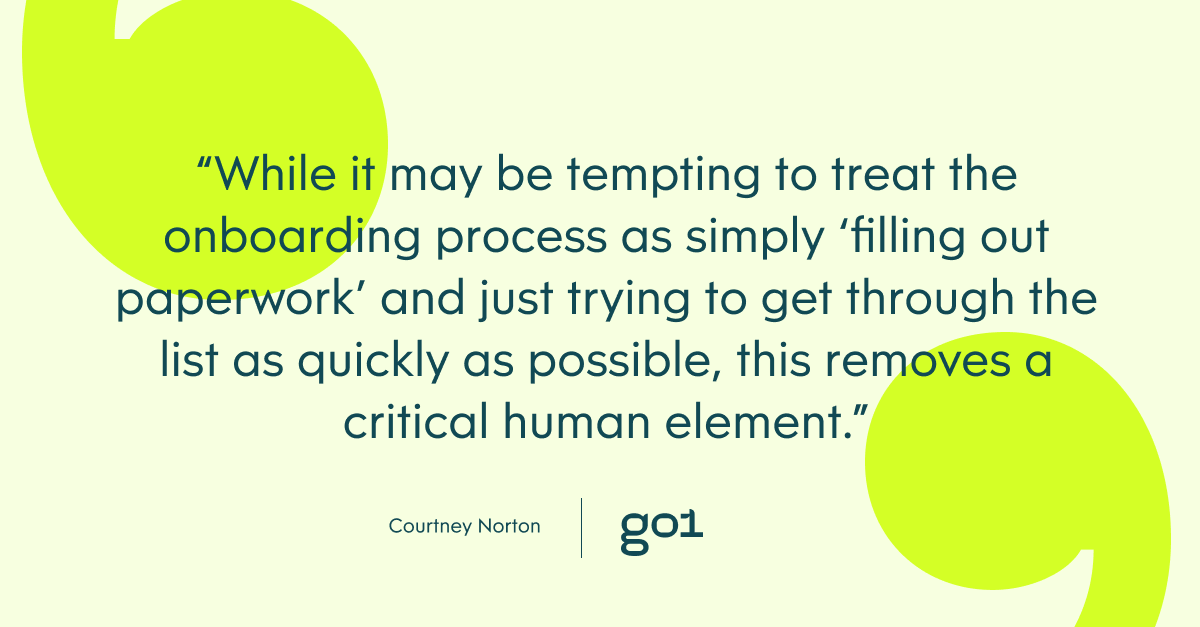 Along the same line, not checking in with new employees throughout the process is something to avoid as well. They might have questions they want to ask about the process, they might have made a mistake at one of the stages that needs fixing, or they may just be feeling unsure. When you check in with an employee throughout the onboarding process, this reassures them that those responsible for their onboarding as well as the company overall, are invested in their onboarding experience. 
For more insights, be sure to subscribe to the Go1 newsletter to stay on top of all the latest L&D trends. Or, you can book a demo today to find out how Go1 can help with your team's learning needs.