We know that strong employee training and development is key to a company's success and growth.
However, when a business expands its operations across multiple countries, maintaining consistent training standards can be challenging.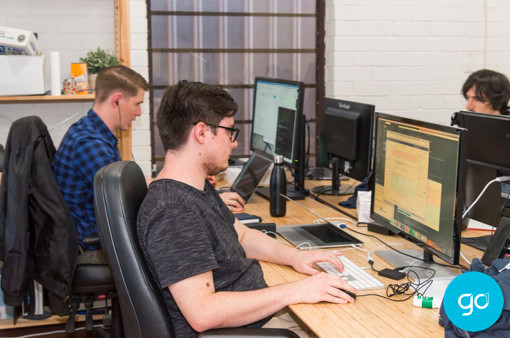 With global teams, you need to have an effective global training strategy, to make sure the learning needs of your employees are consistent and in line with the company's specific needs. This is why it's a good idea to standardise employee learning and development through consistent global training.
How can this be achieved? By investing in one training provider, instead of various learning tools and courses across the market.
These days, technology has made this a whole lot easier for employers, allowing training to be effectively coordinated and deployed for global teams. Let's look at this now.
Global training for a diverse audience
When we refer to 'global training' it's likely that your company's training content and strategies have been created for a diverse audience, rather than a small and specific demographic of workers.
After all, your learners probably speak different languages, come from different cultures, and live in different time zones.
eLearning professional Nikos Andriotis, says that when designing training materials for a global workforce, it's important to make sure the content and development strategies are "attuned to address the learning needs of all learners."
"This is the point where issues arise – designing effective training and development approaches for a diverse workforce," he says.
Andriotis believes that the first thing you need to do is implement one learning approach for all topics that will apply to all regions. This means your course delivery and design will follow one standard method – online learning, for example. Moreover, all courses will use one language and will all have the same content.
"This approach makes content creation easier and less costly because a team from global headquarters can take care of the entire training process," Andriotis explains.
The benefits of consistent global training
Companies that employ a multinational workforce need global training and development strategies to be an integral part of the business.
One of the key benefits of consistent global training is that it helps employers to build up and engage with a solid talent pool that stretches right across the world. Implementing a global training strategy also allows organisations to address the key development needs of the business while still remaining sensitive to the specific learning needs and challenges of the local markets.
And with the same training program in place worldwide, you can be sure that your company is achieving consistent standards in management, service, customer experience, and employee development.
Susan Bowles, Director of Client Strategies for Local Concept, has helped hundreds of clients launch global initiatives smoothly.
"Developing training for global audiences should not be painful. It should be a smooth process," she says.
"A global training initiative can be developed smoothly and successfully with the right information, good planning, smart resourcing, and making informed decisions."
Using online learning for global training
As said above, using one learning approach will greatly help to simplify course delivery and design for a global workforce. And online training is a great example of this.
"When it comes to global training and development strategies, an LMS solves issues on location, time, and even language," Andriotis says.
Using an LMS such as the Go1 platform will help you save huge amounts on employee training costs, moving all your learning content online instead of spending a fortune on different trainers, venue hires, catering and transport worldwide.
If you've recently expanded your company's operations across multiple countries, and are looking for consistent training for your global workforce, take a look at Go1's online training courses today.