One of the most significant benefits of earning a first aid certificate is you can use it virtually anywhere. Whether at home, at work, or out in public, there's always a need for first aid skills when someone sustains an injury or becomes ill.
In high-risk work environments, such as chemical processing, manufacturing, and construction, injuries are common, thereby making first aid training indispensable. However, a first aid certification is equally valuable for other professionals, such as daycare providers, nursing home employees, school bus drivers, babysitters, coaches, teachers, and even office workers. 
With a first aid certification, you have the chance to make a difference, dramatically reducing the risk of permanent injury and perhaps even saving someone's life. In fact, a recent report released by St John's Ambulance found that around 140,000 people die each year from incidents where first aid could have potentially saved their lives.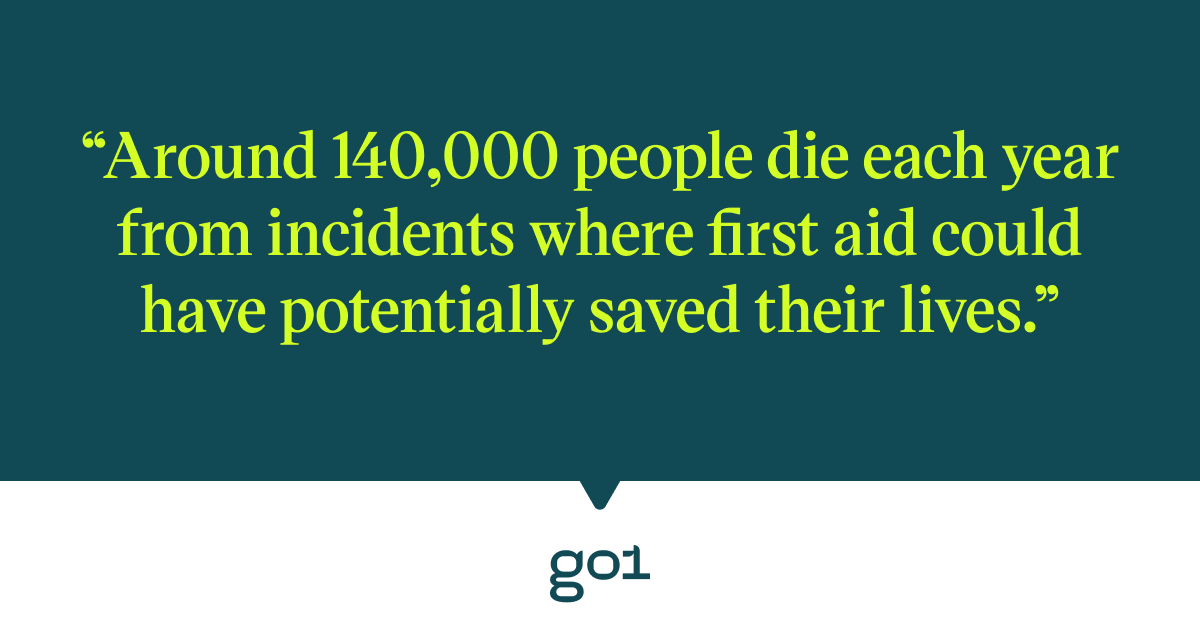 So, we've decided to dig deeper into the topic, examining how long first aid certificates last. We'll also explain the different kinds of first aid certificates and what they entail.
Before we go into further detail, here's a quick summary. 
5-second summary: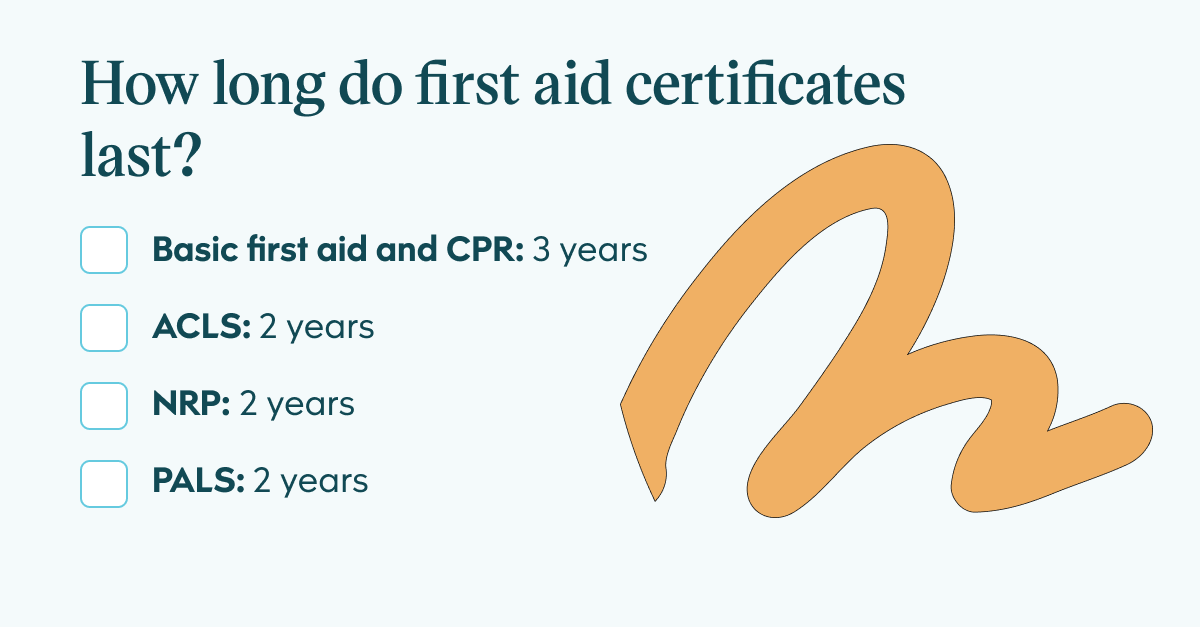 What does first aid entail?
For starters, earning a first aid certificate means you can help other people —  and even animals — who are in need. Unfortunately, more than 140,000 people die each year from incidents where basic first aid knowledge could have been life-saving, underscoring how critical first aid training is. 
Although the exact topics covered depend on the type of course you take, for the most part, a first aid certification will teach you how to respond appropriately to cuts, burns, allergic reactions, and heart attacks while waiting for first responders to show up on the scene. You should also learn how to administer CPR and use an automated external defibrillator (AED).
That's not all, as the American Red Cross suggests that a high-quality first aid course should teach you how to respond to the following situations: 
Asthma emergencies
Anaphylaxis
Choking
Diabetic emergencies
External bleeding
Environmental emergencies
Heart Attack
Poisoning
Neck, head and spinal injuries
Stroke
Seizure
They add to this, explaining that "when you understand first aid, you'll gain the ability to help those in need…you'll learn how to respond to specific situations, which will help you care for people in crisis as they wait for medical professionals to arrive. This gives them the best opportunity for a positive outcome – and gives you the opportunity to change someone's life for the better."
Although multiple organisations provide first aid training via in-person classes, these days, you can also learn everything you need to know to earn your first aid certification online. You can also gain first aid certifications through a mixture of online learning and in-person instruction, thanks to blended learning.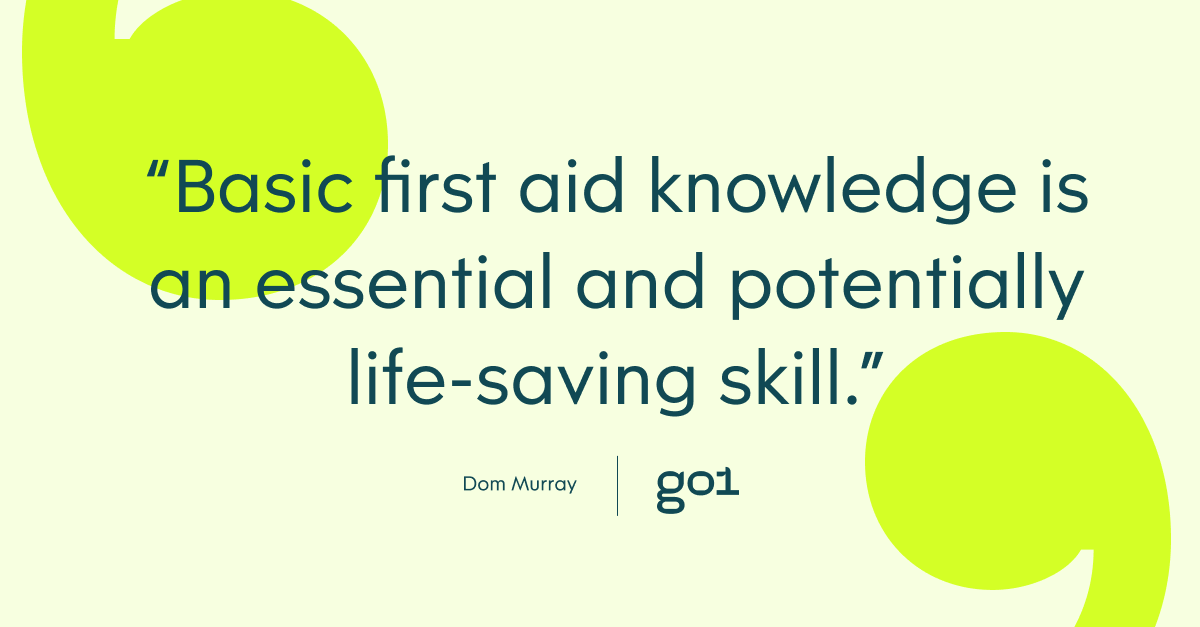 To summarise, having your first aid certificate allows you to take the correct course of action to yield a positive outcome in an emergency. Even seemingly simple injuries can quickly turn deadly. Without someone around who knows how to respond, an incident can swiftly escalate into a fatality. Therefore, basic first aid knowledge is an essential and potentially life-saving skill. 
Types of first aid certification
In general, there are four types of first aid certification. These are: 
Basic First Aid and CPR 
As the name suggests, this is the everyday variety of first aid that most non-medical professionals would require. 
Healthline Australia explains that this certification typically teaches the 'DRSABCD' first aid method. To remember this method, think Doctors ABCD. 
DRSABCD stands for: danger, response, send for help, airway, breathing, CPR, and defibrillation. This acronym is a checklist of the steps you should take if someone requires first aid 
According to Healthline Australia, you should take the following steps when following the DRSABCD first aid method: 
Danger: Check the area for any immediate danger. Do not put yourself or others at risk. 
Response: Look for a response from the patient — loudly ask their name, squeeze their shoulder, etc.
Send for help: If there is no response, call emergency services or get someone else to. Never leave the patient unattended. 
Airway: Check if the patient's mouth and throat are obstructed. If something is obstructing their airway, roll the patient onto their side and clear the airway.
Breathing: Check if the person is breathing abnormally or not breathing at all after 10 seconds.
CPR: Start CPR - 30 chest compressions followed by two breaths. Continue CPR until the patient starts breathing or until help arrives.
Defibrillation: As soon as possible, attach an Automated External Defibrillator (AED) to the patient and follow the voice prompts.
For a more detailed insight into this method, see St John's Ambulance's DRSABCD Action Plan Fact Sheet. 
This knowledge is vital, as one survey found that in the event of a child choking, 53% of parents would try to get the object out using their fingers. However, placing fingers into a child's throat can cause further damage. Additionally, a 2009 survey found that 82% of UK parents with young children would not know how to respond if their child started choking, was burned, or even stopped breathing.
ACLS 
An Advanced Cardiovascular Life Support (ACLS) first aid certification teaches the most up-to-date CPR technique. ACLS certification targets people in the medical field, including physicians, nurses, paramedics, and respiratory therapists.
According to the American Heart Association, an ACLS certification is most suitable for "healthcare professionals who either direct or participate in the management of cardiopulmonary arrest or other cardiovascular emergencies and for personnel in emergency response." 
NRP 
Healthcare professionals who help deliver babies require a Neonatal Resuscitation Program (NRP) certification. There are two options to gain this certification: self-paced online training and in-person classes taught by an expert instructor.
The American Academy of Pediatrics explains that an NPR certification "conveys an evidence-based approach to care of the newborn at birth and facilitates effective team-based care for healthcare professionals who care for newborns at the time of delivery. NRP utilises a blended learning approach, which includes online testing and hands-on case-based simulation/debriefing that focus on critical leadership, communication, and teamwork skills.​​"
PALS 
PALS stands for Pediatric Advanced Life Support. This first aid certification is for medical personnel and healthcare professionals who work with pediatric emergencies.
The American Heart Association notes that: "PALS is geared towards healthcare providers who respond to emergencies in infants and children and for personnel in emergency response, emergency medicine, intensive care and critical care units. Upon successful completion of the course, students receive a course completion card, valid for two years."
How long does a first aid certificate last?
Depending on the type of qualification, your first aid certificate will be valid for different lengths of time. Most of the time, a first aid certificate is valid for two to three years. However, it pays to be aware and double-check how long your specific certification lasts.
For example:
ACLS: An Advanced Cardiovascular Life Support (ACLS) certification usually takes one day to complete and requires renewal after two years.
Basic First Aid and CPR: A basic online first aid training certification takes roughly an hour to finish. This certificate lasts for three years.
NRP: As a self-paced program, there's no completion time. An NRP certification lasts for two years.
PALS: Most PALs certification courses take approximately two days to complete. In two years, you'll need to renew your PALS status.
The benefits of first aid certification
The benefits of first aid certification are manifold, ranging from saving lives to increasing patient comfort and encouraging healthy living. 
Despite this, the Red Cross found in 2017 that fewer than 5% of Australians have first aid training —  one of the lowest first aid training rates in the world. As a result, when faced with an emergency 44% of Australians said they panicked, while 46% didn't know what to do.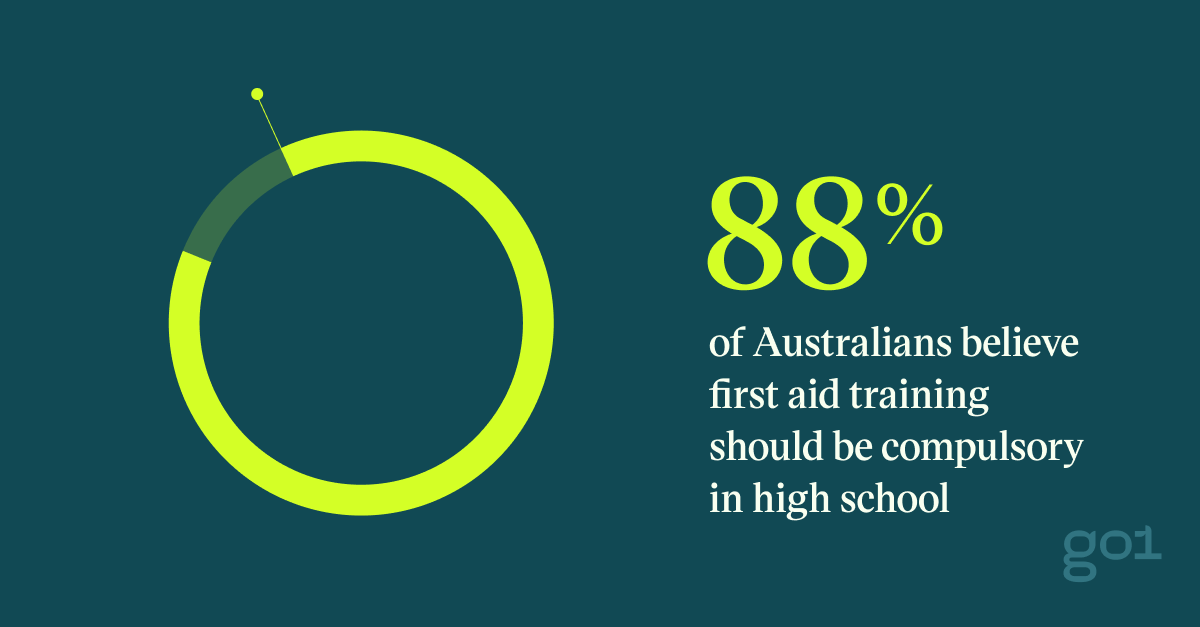 Accordingly, a recent study found that 88% of Australians believe first aid training should be compulsory in high school. Similarly, 70% support teaching first aid as part of the driver's license application process.
Completing first aid training
When completing online first aid training, a board-certified doctor, medical professional, or certified instructor will help develop every course. Depending on which certification you complete, the developer may also present the training.
Something else to consider is when you complete a first aid certification online from a reputable platform, you can retake your test as often as needed. Many courses also include animations or models that make learning more engaging and enjoyable.
Real-life heroes
To understand how valuable a first aid certification is, it's worth reading a few of the millions of stories involving real-life first aid heroes who put their knowledge and skills to work.
As the Seton Blog puts it: "many fatalities resulting from accidents and emergency situations result from lack of immediate medical treatment. First aid doesn't just facilitate recovery. It helps save lives."
Online first aid certification with Go1 
Hopefully, you will never have to use your first aid skills. However, knowing you have these skills should an emergency occur can offer tremendous peace of mind. 
As such, Go1 offers a massive library of courses to help you earn your first aid certification, ranging from this course on basic first aid to this one on first aid for medical emergencies and many, many more.
To access these courses and more, you can book a demo today to find out how Go1 can help your team's learning needs. Or, subscribe to the Go1 newsletter to stay on top of all the latest L&D trends.