A robust, well-planned L&D strategy is essential for businesses of all sizes. Whether you're a multinational organisation or an enthusiastic five-person team, your business can probably benefit from a strong L&D presence. 
Unfortunately, L&D is often overlooked and underappreciated among smaller, fast-growing businesses. The Federation for Small Businesses finds that 91% of business owners recognise the value of investing in staff training and development. Yet, less than half (43%) actually invest in L&D. 
When resources are scarce and there are hundreds of other priorities, it's easy to understand how teams can become overwhelmed and neglect L&D. However, we believe this is an error. 
With this in mind, we've decided to show why fast-growing businesses can't afford to ignore L&D, by outlining five reasons why L&D is crucial for a fast-growing organisation. 
But first, here's a sneak preview. 
Snapshot: 5 reasons L&D is crucial for a fast-growing business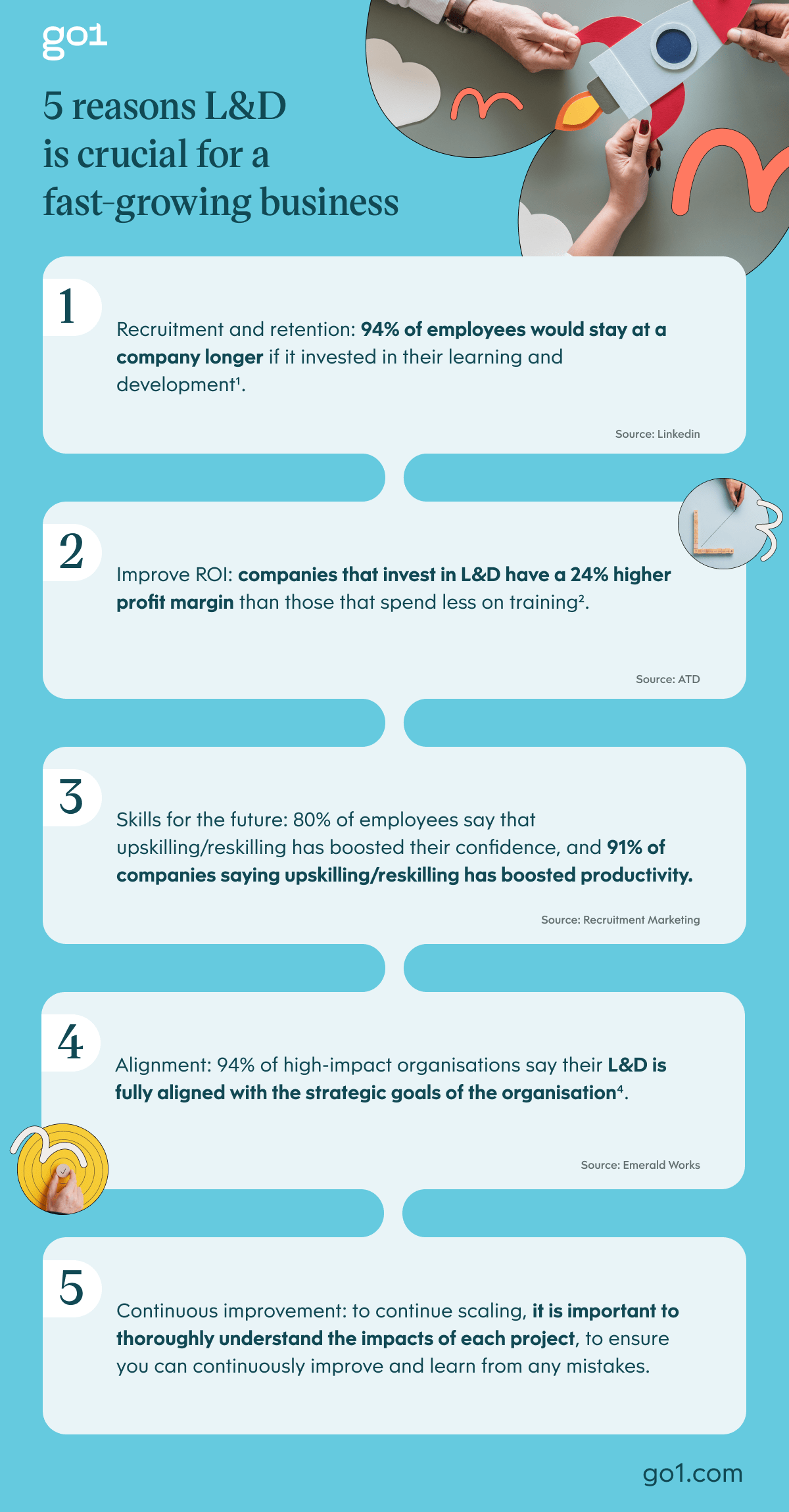 Recruitment and retention
Recruitment and retention is the backbone of any fast-growing business. If you cannot attract and retain the most sought-after talent, then your growth will eventually plateau. Luckily, L&D can have a meaningful impact on recruitment and retention. 
According to LinkedIn, 94% of employees would stay at a company longer if it invested in their learning and development. Adding to this, 56% of employees say career growth and opportunity is more important than salary. These statistics show how critical a well thought out L&D program can be in retaining employees.
To emphasise this point, 68% of employees say training and development is a company's most important policy.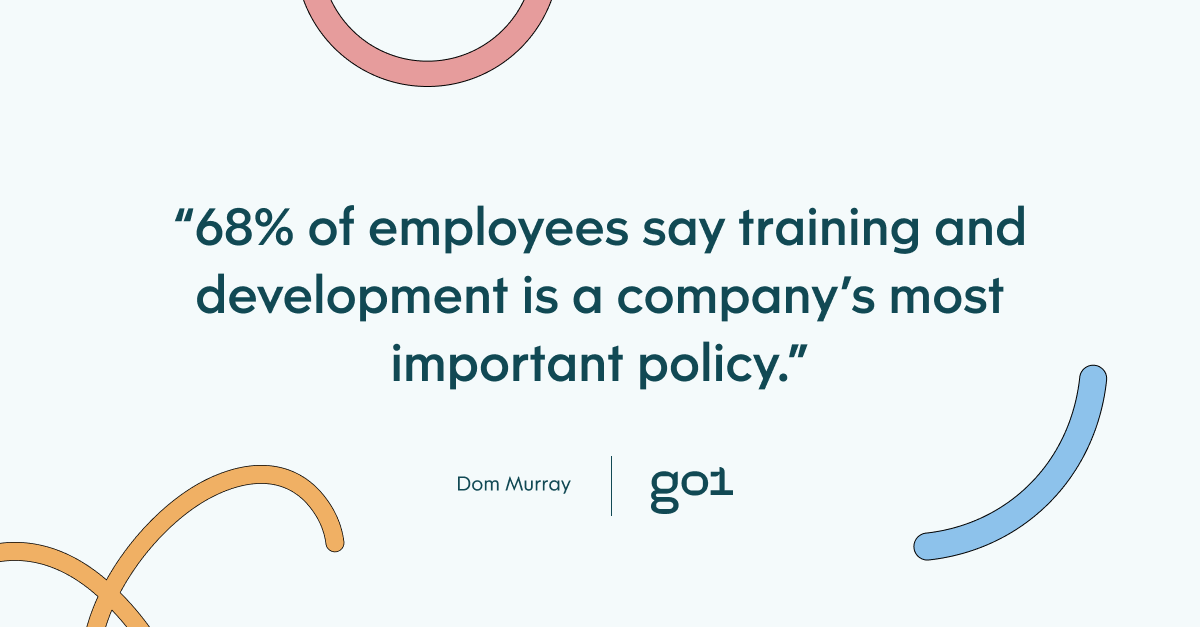 In terms of retention, employees are 12 times more likely to leave a company that doesn't offer learning, development, and career growth opportunities, while 74% of employees feel they aren't meeting their potential due to a lack of L&D opportunities. Given this, Rapt Media finds that $500 billion is lost every year due to employee disengagement.
The good news is that 42% of workplaces where employees engage with L&D also say their employees are highly engaged overall. Companies with more engaged employees outperform those with disengaged employees by 202%.
In other words, a strong L&D program makes your business far more attractive to top-level talent. Without an L&D program in place, you are likely to miss out on highly skilled employees as they accept more enticing opportunities elsewhere. 
Improve ROI 
ROI is another key metric for fast-growing businesses. Without a continually increasing ROI, your organisation's growth will be limited. Again, L&D can have a major impact on ROI.
Put simply, companies that invest in L&D have a 24% higher profit margin than those that spend less on training, according to the Association for Talent Development.
If that isn't enough to convince you, companies with comprehensive training programs also have a 218% higher income per employee.
Further, 42% of companies enjoy an increase in profits after investing in digital learning. A study by IBM puts this into perspective, finding that every dollar invested in online training results in $30 worth of productivity.
Given these numbers, it should be no surprise that 72% of organisations think their business gains a competitive advantage by investing in L&D.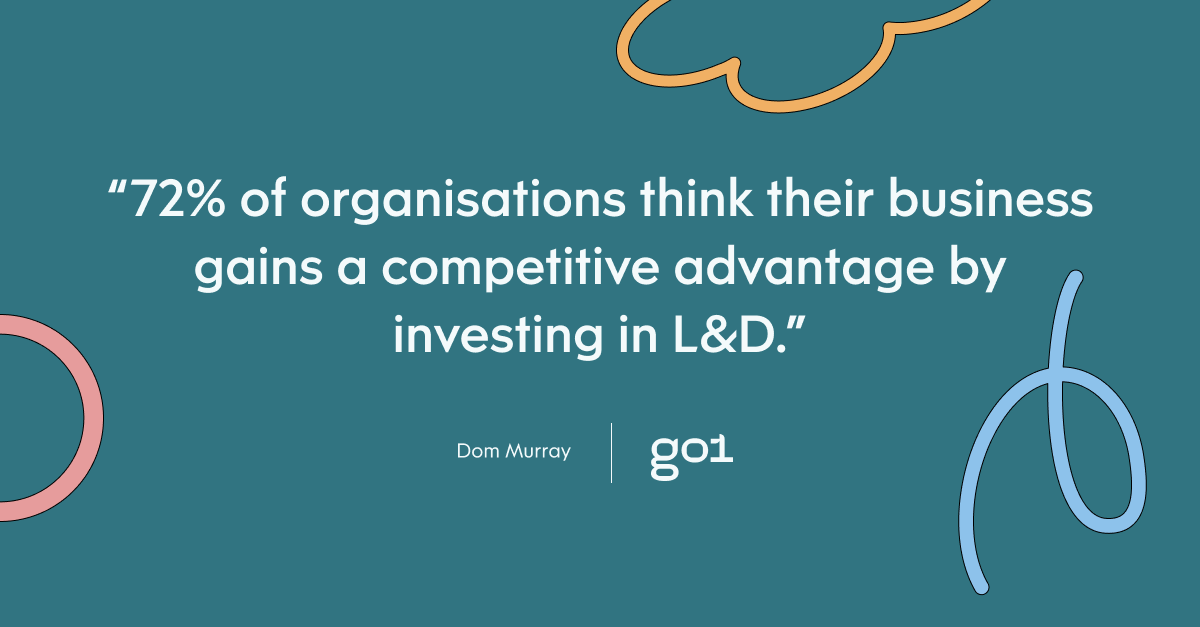 Essentially, numbers like these mean fast-growing businesses can't afford not to invest in L&D.
Skills & futureproofing
For fast-growing businesses, skills and futureproofing are vital. For L&D teams, this is bread and butter.
According to research by Deloitte, 88% of companies believe that reorganising and futureproofing is central to business success. To achieve this, upskilling and reskilling will be imperative. 
According to the 2021 L&D Global Sentiment Study, upskilling & reskilling are the number one priorities for L&D teams, taking 13% of the vote. 13%  was the highest vote share since 2016, showing how urgent this priority is among L&D teams. 
These findings should come as little surprise, given estimates show that 54% of employees will require extensive upskilling or reskilling by 2022. Thus, to maintain their growth trajectory, fast-growing businesses must invest in skills training for employees. 
Failing to upskill employees can harm productivity, as 41% of workers say their tasks take longer to complete when they don't have the right skills. On the other hand, 80% of employees say that upskilling/reskilling has boosted their confidence, and 91% of companies say upskilling/reskilling has boosted productivity. 
For further insights on how upskilling can support a fast-growing business, be sure to read our article on closing the L&D skills gap. 
Alignment 
Alignment is a crucial skill that L&D teams can offer to a fast-growing business. We've discussed previously how aligning L&D to a businesses' overall strategy can improve performance, but it is worth reiterating.
Alignment is particularly important for fast-growing businesses, as the cost of misalignment can be stark. 
Emerald Works 2020 Back to the Future Report spells out the impact that L&D teams can have on alignment and how this usually leads to better overall business performance. 
For starters, only 49% of organisations say their L&D activity fully aligns with their organisation's strategic goals. However, this increases dramatically to 94% among high-impact learning cultures (defined as the top 10% of organisations), showing what a difference a well-resourced L&D team can make to alignment. 
Similarly, only 52% of organisations say everyone on their L&D team understands their business' strategic goals, but again, this jumps to 97% among high-impact learning cultures. 
Finally, only 34% of teams say they have a communication plan for all key stakeholders. Once more —  you guessed it —  this skyrockets to 91% among high-impact learning cultures. 
The message here is clear: a savvy L&D team can have a big impact on alignment, taking you from just another business to a high-performing team.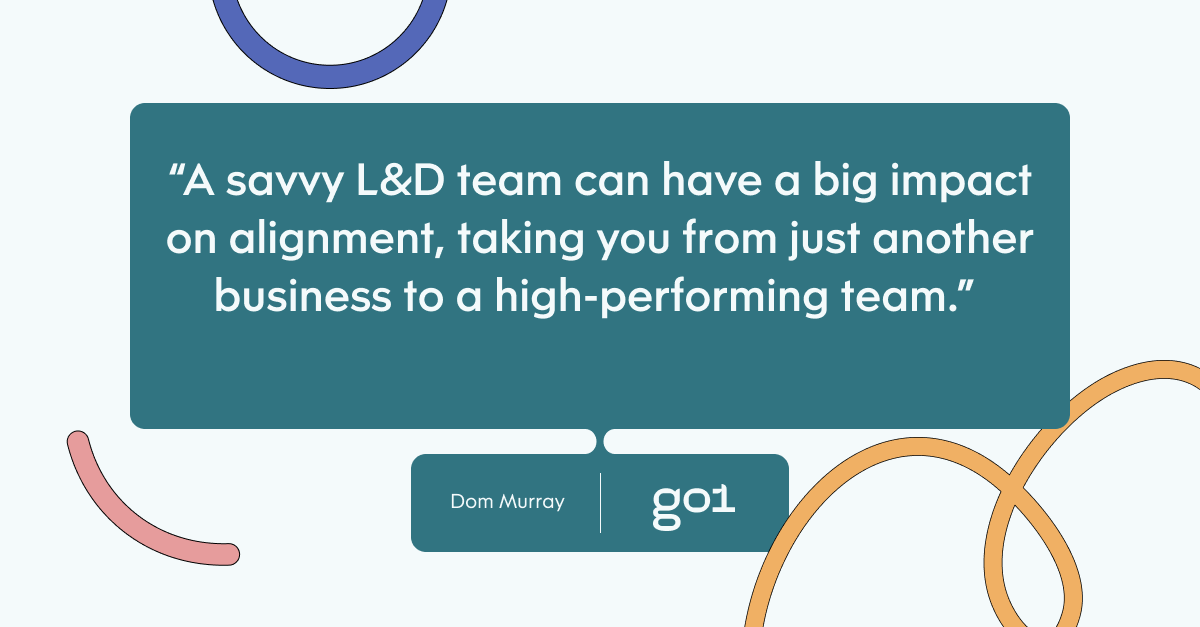 You can see a concrete example of this in action in our CityFibre Case Study, which details how Go1 helped CityFibre build an L&D team from scratch to support their rapid growth. 
Continuous improvement
Finally, L&D teams can be excellent drivers of continuous improvement — especially within a fast-growing business. In a fast-paced environment, it's easy to lose track of various projects as you quickly move on to the next thing. However, it is important to thoroughly understand the impacts of each project to ensure you can continuously improve and learn from any mistakes. After all, repeating the same mistakes over and over is the definition of insanity. 
Most teams already know the importance of continuously improving, as 98% of L&D teams say that 'program evaluation' should be a priority. However, only 38% of organisations currently have this capability, down from 45% in 2018. 
While this is a concerning trend, it can also be an opportunity. Going forward, teams that can continuously improve will have a distinct competitive advantage. 
The question is, how? Teams should have clearly defined outcomes before engaging in a learning project, then gather data to measure the success of your initiative against these desired outcomes. Without measurable performance indicators, it is almost impossible to continuously improve your learning projects.
For an in-depth look at how L&D can drive continuous improvement, read our article on how to continuously improve your learning projects, including a 10 step checklist of questions to improve your next project. 
For more insights, be sure to subscribe to the Go1 newsletter to stay on top of all the latest L&D trends. Or, you can book a demo today to find out how Go1 can help with your team's learning needs.