We pride ourselves at Go1 for providing the very best learning content from across the world, and we're excited to announce more great content providers have joined Go1 as content partners.
Our new partners include:
Enspark
Leadership HQ
Mind Channel
Skillshub
Verticle Horizons
Learn IT Anytime
This means that you will be able to access training from our new partners above as part of your Go1 Premium subscription for no additional costs or purchase their courses individually through the Go1 Course Marketplace.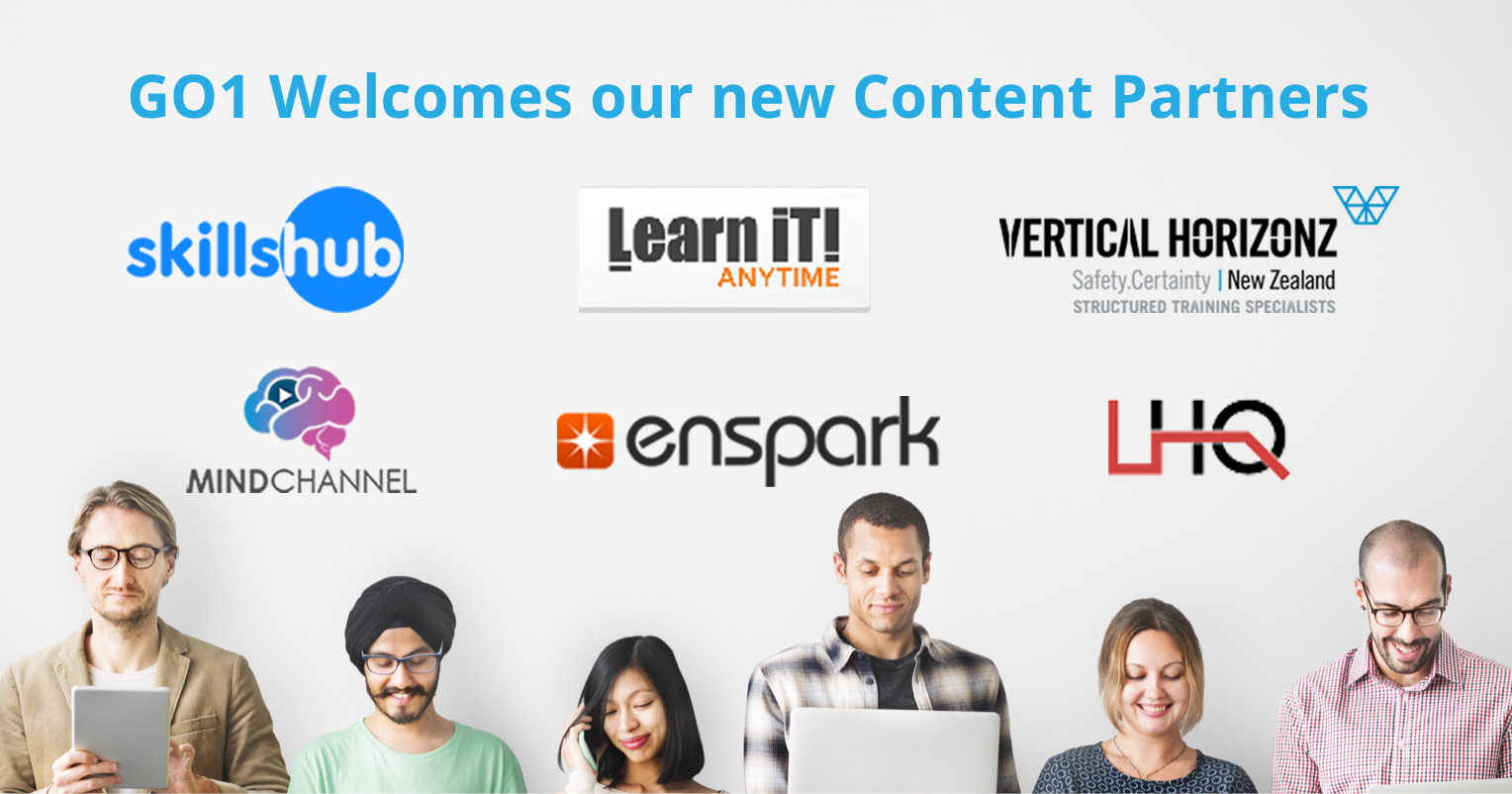 Learn more about each of our new Content Partners below!
Soft skills:
Enspark is a provider of 50 soft-skills and personal development courses, all available in Go1 Premium, including two anti-harassment courses for US customers. Enspark is based in the US, however, all of their content is globally relevant. They offer a great range of training from communication, leadership and teamwork through to customer service and sales.
See all 50 courses from Enspark here
Leadership HQ's primary offering, the Leadership Attitude Toolkit, is now available in Go1 Premium. It is a four-part (module) series of training that helps individuals who may not currently be leaders in their workplace, transition into a leadership position by teaching them essential tangible and non-tangible skills to help them stand out. The training consists of videos, PDF resources, theory and quizzes - together they are an effective toolkit for turning anyone into a leader.
See the Leadership Attitude Toolkit from Leadership HQ here
Mind Channel is a provider of 60 soft skills and professional development microlearning videos. Their videos are all available in Premium, and come in either English or Portuguese language. Mind Channel offers a wide range of topics developed by world-renowned experts in the areas employees need the most, including, leadership, personal development, time management, mindfulness, communication, project management, customer services and sales.
See all 60 courses available from Mind Channel here
Skillshub has 350 microlearning 'sessions' each focusing on a different skill, ranging from management and leadership, project management to finance for non-finance professionals. Each session contains a video, workbooks and other resources which help learners keep track of what they have learned after their microlearning video has ended.  Skillshub are a well-recognised provider in the UK/Europe, and Skillshub courses are all CPD certified for UK learners. You can find all of their courses in GO1 Premium.
See all 350 courses available from Skillshub here
Compliance:
Vertical Horizonz are an established in-person trainer of blue collar professionals in New Zealand, and now have an excellent library of practical, high quality, health and workplace safety online courses intended for blue collar workers. There are seven compliance courses available, all in GO1 Premium.
See all 7 courses available from Vertical Horizons here
IT skills:
With over 20 years experience teaching software to industry leaders, Learn IT Anytime now has 199 courses available in GO1 Premium. Specialising in Microsoft, productivity, web and graphics training, all courses are instructor-driven, meaning subject matter experts speak directly to students through video.
See all 199 courses available from Learn IT Anytime here
For more insights, subscribe to the Go1 newsletter to stay on top of all the latest L&D trends. Or, you can book a demo today to find out how Go1 can help with your team's learning needs.