BRISBANE, 25 FEBRUARY, 2019:  Go1, the world's largest onboarding, compliance and professional development platform, has signed a new partnership with one of the world's leading digital learning specialists Kineo.
The partnership enables Go1 users to purchase the best of Kineo's elearning courses or packages directly through Go1's Marketplace*.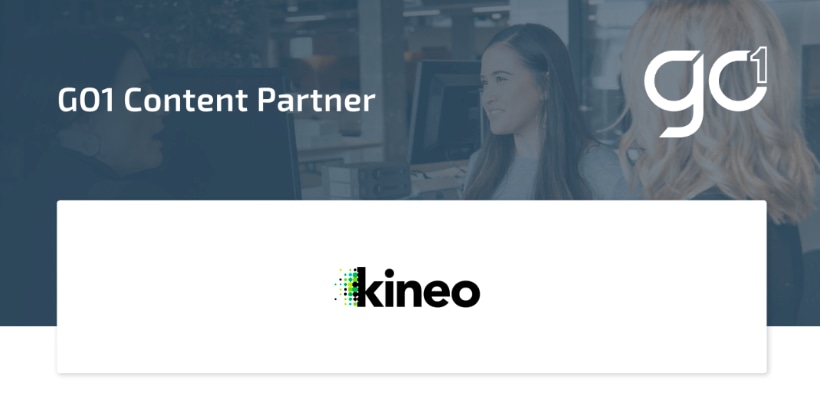 Kineo was founded in 2005 and quickly grew a global footprint including Australia, New Zealand, UK and the US. As part of the City & Guilds Group, a global collective of learning first businesses who are celebrating their 140-year anniversary, Kineo is dedicated to preparing people for the future of work.
Go1 offers more than 500,000 courses and reaches 22 million users through its platform and integrated partners. Go1 CEO and co-founder Andrew Barnes says the partnership will further drive eLearning in the APAC region and globally.
"Kineo and Go1 share a philosophy of making learning accessible and engaging. We're delighted to make their courses available through the Go1 platform. We now offer well over half a million courses created by experts, from first-aid training through to university-led courses," Mr Barnes says.
Kineo has a wide range of professional training courses and the only provider to have endorsement by the National Safety Council Australia Foundation (NSCA). Look out for added value benefits with NSCA co-branded digital credentialing coming soon to 30 work health safety course titles.
The most popular Kineo courses cover workplace safety:
1.     Bullying and Harassment for Employees
2.     Work Health and Safety Fundamentals
3.     General Evacuation Training
4.     Identifying, Reporting and Responding to the Abuse of Older People in Care
5.     Basic Life Support
6.     Equal Employment Opportunity for Employees
7.     Manual Tasks for Workers
8.     Infection Prevention and Control
9.     Manual Handling
10.  Manual Tasks in Aged Care
 Find more information on the Kineo courses here.
The partnership will also see Go1 and Kineo working together to support clients looking for an enterprise platform solution, in particular Totara.
Kineo's Head of Strategic Alliances, Craig Parr, added that the company is tremendously excited about the potential the partnership brings and making their courses accessible to Go1 users.
"As a City & Guilds Group business we're part of a powerful global group, leading the way in skills development, technology and credentialing. However, at Kineo we couldn't do what we do without the help of great relationships – with our customers and delivery partners like Go1."
Together Kineo and Go1 are united by a single purpose - helping people and organisations develop skills for growth.
"We are working together to offer end-to-end digital learning solutions to customers around the world," said Craig Parr.
* Kineo courses will not be available through the Go1 Premium subscription and are to be purchased separately.
To access Kineo's elearning courses, get in touch with one of our team members today.