The hospitality industry is fast-paced, creative and unpredictable. In such an energetic environment, ensuring staff members are up to date with the latest training and compliance can be a challenge.
With the anti-social hours most employees work, and the physical nature of the job, finding the time for training can be difficult. The team is exhausted at the end of a busy shift, and when the customers are in, the focus is on their experience. 

Essential areas of training for hospitality staff
Work Health Safety:
Hospitality environments are often stressful and fast-paced. Kitchens are places where a lot of accidents can happen, so safety of staff and customers should always be paramount. Training in this area will supply learners with the knowledge and skills required to apply solid WHS practices.
Workplace Bullying:
Being up to date with guidelines on workplace bullying is crucial for those in hospitality management. The high-pressured service industry often creates a climate of perfectionism, and in such conditions, it can be easy for staff members to take out their stress on each other. Training will encourage staff to reflect on how they should act in certain situations and what to do about bullying incidents.
Harassment and Discrimination:
Linked to training on workplace bullying, harrassment and discrimination can easily arise when a workplace cutlure becomes unfriendly.  In times of stress, it can be difficult to remain civil and treat other employees and customers with the respect they deserve. However, customers will notice if staff members or other customers are being treated poorly. 
Food Safety and Hygiene:
Knowledge in this area is a basic prerequisite for any establishment preparing food for customers. Making mistakes can result in businesses paying the ultimate price and being shut down. Training your team with real-life scenarios will educate them on the importance of food safety, and the consequences of their actions if mistakes are made.  
Manual Handling:
The hospitality industry can be physically draining.  The heat of the kitchen, constantly being on your feet and lifting stock can be extremely taxing on the body. Those responsible for staff welfare need to be sure that the team understands how to stay safe. They need healthy bodies to do the work to the best of their ability! Training will provide learners with the skills they need to look after themselves in the workplace. 

Tips for hospitality staff to make the most of online learning: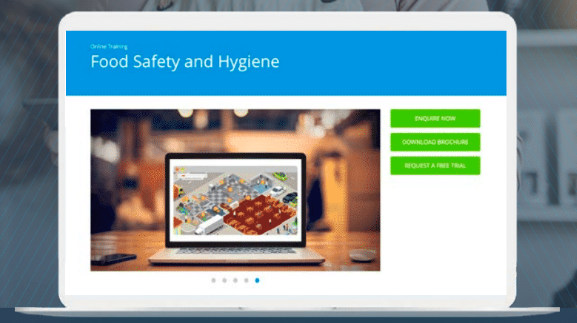 As the person responsible for ensuring your staff is compliant, it can be difficult to know whether the information from an online course has been taken on board. It can also be tempting to tick the box once the course has been completed, but your staff needs to apply what they've learnt to a practical context. 
If you are the manager or owner, you will already have a lot on your plate to keep your business running.  It might be helpful to designate a trusted employee to oversee and implement training. Then, you can be sure your staff members are not only well-trained, but also have a senior member of staff to ask for help should they need it.
However you decide to ensure your team is up to date with the latest training, here are our tips to be sure your staff members make the most of their online learning experience:
Explain the bigger picture:
When setting staff the task of completing online training, it can sometimes be difficult for them to see the bigger picture or understand why it is important.  They have physical and often challenging work days, so they need to understand why they are making the extra effort.  
Many who work in the hospitality industry are driven by the desire to serve customers to the best possible standard.  If you can use this purpose to frame regular training updates, it will help staff to become invested and want to ensure they complete the training to the best of their ability. Ultimately, if your staff is not compliant in these areas, the customers will pick up on this and think twice about coming back to your establishment.
Familiarise yourself with the learning:
It is important that every member of staff is well-versed in the online training.  This includes those in management, or even investors. Anybody who has regular contact with the business should understand the rules and live by them.  A whole-team approach is key.  
Show staff examples of best practice: Whether you as the manager are responsible for training, or you have allocated this job to another member of staff, modelling best practice is the best way to ensure team members take their learning on board and begin to apply it in the workplace.  If those in leadership are not showing staff how things should be done, the online training will lack purpose.
Consolidate learning in the workplace:
Although it can be difficult to find the time to do so, taking the time to consolidate learning from online courses in a practical environment can be invaluable to staff members.  Every staff member needs learning put into the context of their daily work. This could be as simple as demonstrating steps throughout the day to ensure the safe handling of food, followed by reviewing the steps with staff members. 

To make the learning process easier, Go1 has partnered with Allara Learning to help you keep your staff up to date. Whether you run a bustling cafe or sophisticated fine-dining restaurant, well-trained staff members are guaranteed to improve customer satisfaction. Allara Learning's Hospitality Compliance Training Package is specifically designed for the Australian market, and is essential for reminding staff of their legal obligations.  The package can also be used to on-board new team members, and focuses on five key training areas. All are equally important for ensuring your establishment is up to scratch and meets the basic requirements.