8 teams, 48 hours, 6 time zones, and a whole lot of coffee & sugar consumed... that's what went down last week for our Product, Data, Design & Engineering team in their bi-annual hackathon. 
The event was again mostly virtual with teams taking part from around Australia, Vietnam, and Portugal. The challenge was "Experimentation: exploring the art and science of validating assumptions".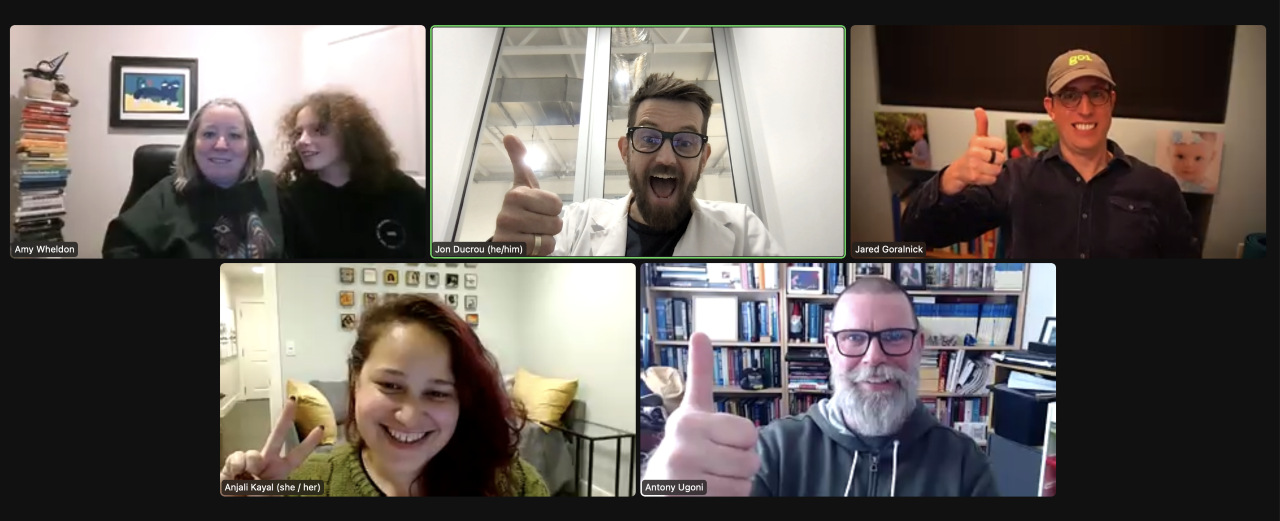 Pictured: Our Go1 Judges Amy Wheldon, Jon Ducrou, Jared Goralnick, Anjali Kayal, & Antony Ugoni. 
Some quotes from the judges: 
"I loved the variety of problems that teams chose to work on, experimenting with solutions for learners to our own Account Execs (with their support). I was also really impressed by the diversity of questions asked, and the deep thought that went across all aspects of our business." Anjali Kayal, VP Corporate Development 
"It was so exciting to see that our Product and Engineering teams are always working behind the scenes on our frontline challenges. And loved the innovations that were presented!" Amy Wheldon, Head of Customer Success. 
"I've always been involved in hackathons that have been local, and physical together. But this was my first Go1 Hackathon and I know that these events either succeed or fail based on the enthusiasm that people put into them. So I was really impressed that we are a remote workplace, we had so many people participating and throw themselves into it!" Antony Ugoni, Chief Data Officer.

Pictured: Our winners!
While many teams wowed the judges and the crowd, the winning team was "Team F5 (so refreshing)" with their experiment to reduce refresh rates by improving the loading experience for customers. 
The team consisted of Technical Lead Margaret Lydon, Senior Developers Alex Bergin and Aung Maw, Developer Guanhau Ding, Senior Product Designer Joyce Sueko, and Content Operations Associate Luke Donohoe. They won the coveted Golden Hoodies and the Hack Trophy, plus some serious bragging rights to boot!