Are you looking for leading cyber security training for your staff?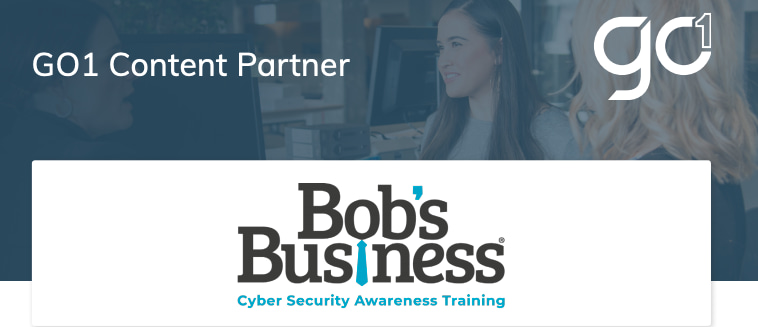 About Bob's Business
Bob's Business is a UK provider who offers cyber security courses to help keep workplaces safe and secure for staff, clients and customers. The Cyber Security Training package of three courses available in Go1 Premium is the right content to help you become more cyber aware and compliant with industry standards. These courses are modular training between 5-15 minutes of duration.
Course details:
Cyber Security Awareness Training
Led by Bob, the courses teach a wide range of topics including how to create the perfect password, the importance of backing up data, and what to do in case of a security breach.
GDPR
General Data Protection Regulation (GDPR) is the biggest data protection shakeup in history. With our GDPR training course, Bob will walk you through the new legislation and help you understand how it will affect the way you handle personal data.
Information Security Awareness
Information Security is essential for a large organisation that deals with personal and sensitive information on a daily basis. It can be a confusing topic to learn and can sometimes be a task all on its own to figure out where to start! It is important to us that our employees understand and feel confident that they know how to keep the information we process secure at every level of the business. We have created this introductory awareness course to help make Information Security a little less daunting. 
Available: Global Premium
Go1 makes it easy for businesses to train their staff, with the world's largest compliance, professional development and general training marketplace. You can now find all of Bob's Business courses available in Go1 Premium.