We are excited to announce that Go1 content is now LIVE in Docebo! 
Docebo Content, an all-new learning content solution available directly within the Docebo Learning Platform, is filled with a complete course catalogue full of off-the-shelf and mobile-ready e-learning courses, without the need for third-party integrations or licences.
"With Docebo Content we wanted a partner with an international presence that isn't just a content vendor, but one that provides solutions to content needs," said Mirko Puliafto, Product Director at Docebo. "Go1 achieves this by aggregating top-notch content, across a range of topics, from the best providers around the world. The team at Go1 shares a number of core values with Docebo, including a commitment to innovation, particularly in the areas of Artificial Intelligence, to make enterprise learning experiences more engaging and memorable, and therefore more effective."
"The partnership will help bring quality, impactful learning to a wider audience," Go1 co-founder and COO Chris Eigeland said. "Go1's library of high-quality courses on Docebo Content will enable a new level of autonomous learning in the flow of work by encouraging learners to browse and select courses for themselves at the push of a button and start learning immediately. Continuous, impactful learning benefits both companies and their staff, and is a key competitive advantage for any organization."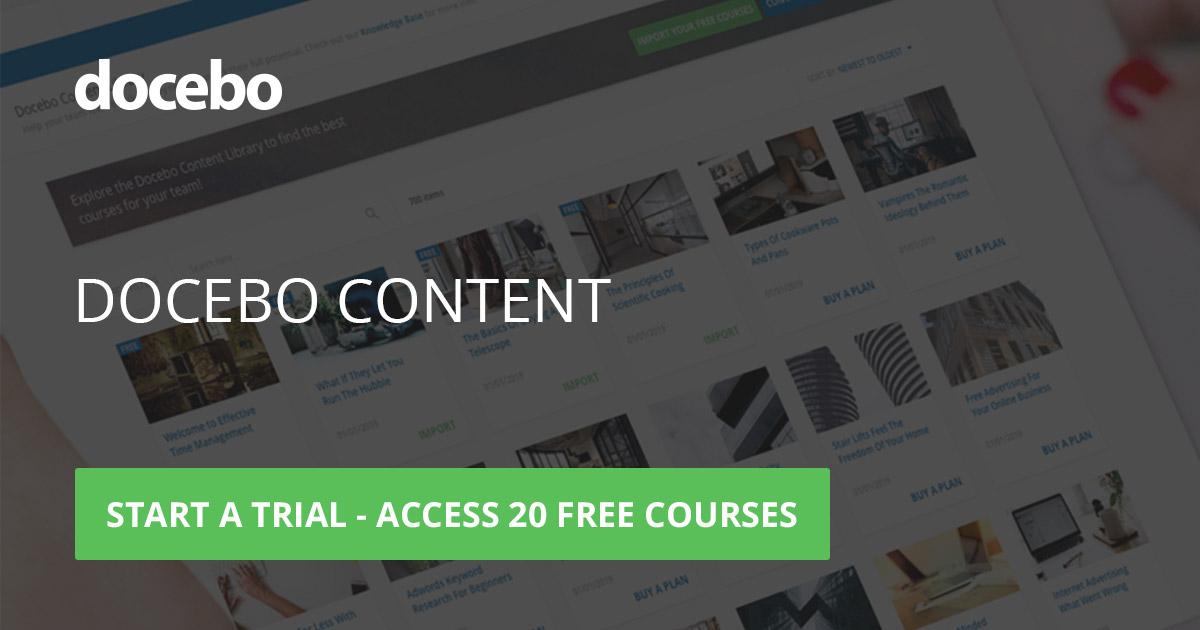 Every free Docebo trial comes pre-loaded with 20 free courses hand-picked by industry to give administrators a feel of the potential Docebo Content can provide. Existing Docebo customers will also find 20 free courses pre-loaded into their existing platforms.
Docebo Content will be available in two plans to satisfy the needs of learning programs of all sizes.
Docebo Content 50 includes 50 tokens to allow administrators to personally select courses relevant and pertinent to their learners.
Docebo Content 700 provides complete access to the entire Docebo Content catalogue.
Selected courses can be seamlessly imported directly from the catalogue into the Central Repository (CLOR) as learning objects, or as courses directly into the Course Management area of the platform.
Learning administrators can provide full visibility to the entire catalogue enabling a new level of autonomous learning in the flow of work by encouraging learners to browse and select courses for themselves at the push of a button and start learning immediately.
About Docebo

Trusted by more than 1,600 companies in 68 countries, the Docebo Learning Platform brings together the enterprise LMS you need, the social learning experience your learners want, and the power of Artificial Intelligence to make learning your competitive advantage.
About Go1

Go1 makes it easy for businesses to train their staff, with the world's largest compliance, professional development and general training marketplace. By providing a single platform that extends from first aid training through to degree bearing courses, Go1 makes it easy to find and compare the best training options available. The marketplace features over 500,000 courses and other learning items created by local and international experts. Customers include SEEK.com.au, Oxford University, State and Local Governments and St John Ambulance.
Since launching in 2015, Go1 has grown to be a world leader in online learning and education. Local and overseas investors include Y Combinator, SEEK, M12, Tank Stream Ventures, Black Sheep Capital, and Our Innovation Fund.
For more insights, subscribe to the Go1 newsletter to stay on top of all the latest L&D trends. Or, you can book a demo today to find out how Go1 can help with your team's learning needs.