Go1 is excited to announce that we have won the Partner of the Year award from Chart Learning Solutions Sweden AB.
After consistently delivering high usage numbers with satisfied customers in Australia, US, Canada, India, Singapore, UK, and Malaysia, Go1 has successfully rolled out the Chart award-winning soft skills training in Leadership Development, Sales Excellence, Customer Service and Building Performance Teams.
Andrew Barnes, Go1 CEO, said:
"We are proud to have a strong partnership with Chart Learning Solutions. We hear from many of our larger customers that they enjoy the consistent high quality of their courses and the range of soft skills content. The fact that each of Chart's courses are prepared for blended learning is also attractive to many of our customers."
Peter Hörwing, CEO of Chart Learning Solutions, said:
"Our objective is to provide researched skills development in e.g. leadership development. As of today, there are 13 core competencies that every leader must master in order to be long-term successful. Building these assets in the early career foster the best global leaders. Go1 has developed great analysis tools for us to understand how we can continuously improve. We are happy to award "Partner of the Year" to Go1."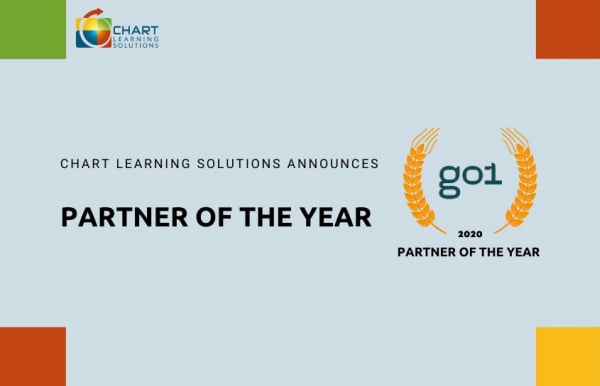 About Chart Learning Solutions
Chart Learning Solutions is a performance improvement company through online learning. They develop people in Leadership, Sales, Customer Service and Team Performance. They do this through their Assessments, Online learning with virtual coaching.
CHART's Performance Assurance System (PAS) provides you with a five-time award-winning learning process that has revolutionized how organizations can achieve exceptional engagement results from training initiatives. In their PAS process, your organization will build high-performance results with collaborative Learning Communities and live coaching.
About Go1
Go1 makes it easy for organisations to learn, with the world's most comprehensive online library of learning resources. Go1 pulls the world's top online learning providers into one place, delivering all the learning an organisation needs in a single solution. With over 1.5 million learners – and growing – Go1 is a world leader in online learning.
Go1.com has raised over US$80 million in total funding from investors including M12 – Microsoft's venture fund, Madrona Venture Group, SEEK, Salesforce Ventures, Shark Tank investor Steve Baxter and Oxford University.
For more insights, subscribe to the Go1 newsletter to stay on top of all the latest L&D trends. Or, you can book a demo today to find out how Go1 can help with your team's learning needs.