Australia's CEO Challenge (ACEOC) is an organisation that provides domestic and family violence (DFV) training for companies all across Australia. Their aim is to make sure workplaces are aware and responsive to domestic violence, and have in place a strategy to raise awareness and support their staff who may be living with violence, abuse and control at home.
The organisation's Workplace Prevention Program empowers and educates businesses to recognise the signs of domestic violence, respond appropriately and refer employees affected to professionals who can help. By recognising that business and industry have a role in social change, we can create responsive workplaces and become part of a 'whole of community' solution.
We recently sat down with ACEOC's Chief Executive Officer, Jacque Lachmund, to talk about the importance of DFV training and how the organisation is working with Go1 to deliver a Workplace Domestic and Family Violence Training Package.
The company
Your workplace partner against domestic violence
Australia's CEO Challenge is a recognised, award-winning non-profit organisation that supports the business sector to help break the silence surrounding domestic violence. They work with businesses – of all sizes and from all sectors – to become more aware and responsive to DFV, ensuring greater support for staff directly impacted. Through quality education, policy development, expert training and partnerships, they provide organisations with the tools they need to better respond to DFV in their workplaces.
Workplaces can play a critical role in responding to DFV. These days, the reality is that many of us spend more time with our co-workers than with family and friends. These are the people who see us day in, day out, five days a week. So, it's often our managers or workmates who will notice the first warning signs of DFV or get a sense that something is not quite right.
ACEOC's Workplace Domestic and Family Violence Training Package helps to ensure that organisations get a succinct message, and a succinct way on how to respond to colleagues and to others.
The partnership between Go1 and ACEOC
The very first touch point of ACEOC's engagement with Go1 was when the Queensland Government made a commitment to work with workplaces, starting with their own, to address DVF.
As Jacque explains, "they were doing face-to-face training and realised that other training options were needed," and so a natural partnership was formed to roll-out across government - ACEOC's eLearning.
"The challenges we faced and the journey we went on was fantastic. The team behind the scenes worked with us with each agency to ensure that we got it right. We didn't always get it right- some of our agencies in government had different learning management platforms we had to work around. But at each point, Go1 provided us with a solution-based focus which helped us jump those hurdles."
Since partnering with Go1, ACEOC's clients in the private sector have also jumped on board with their eLearning solution, providing "a whole organisational response to DFV."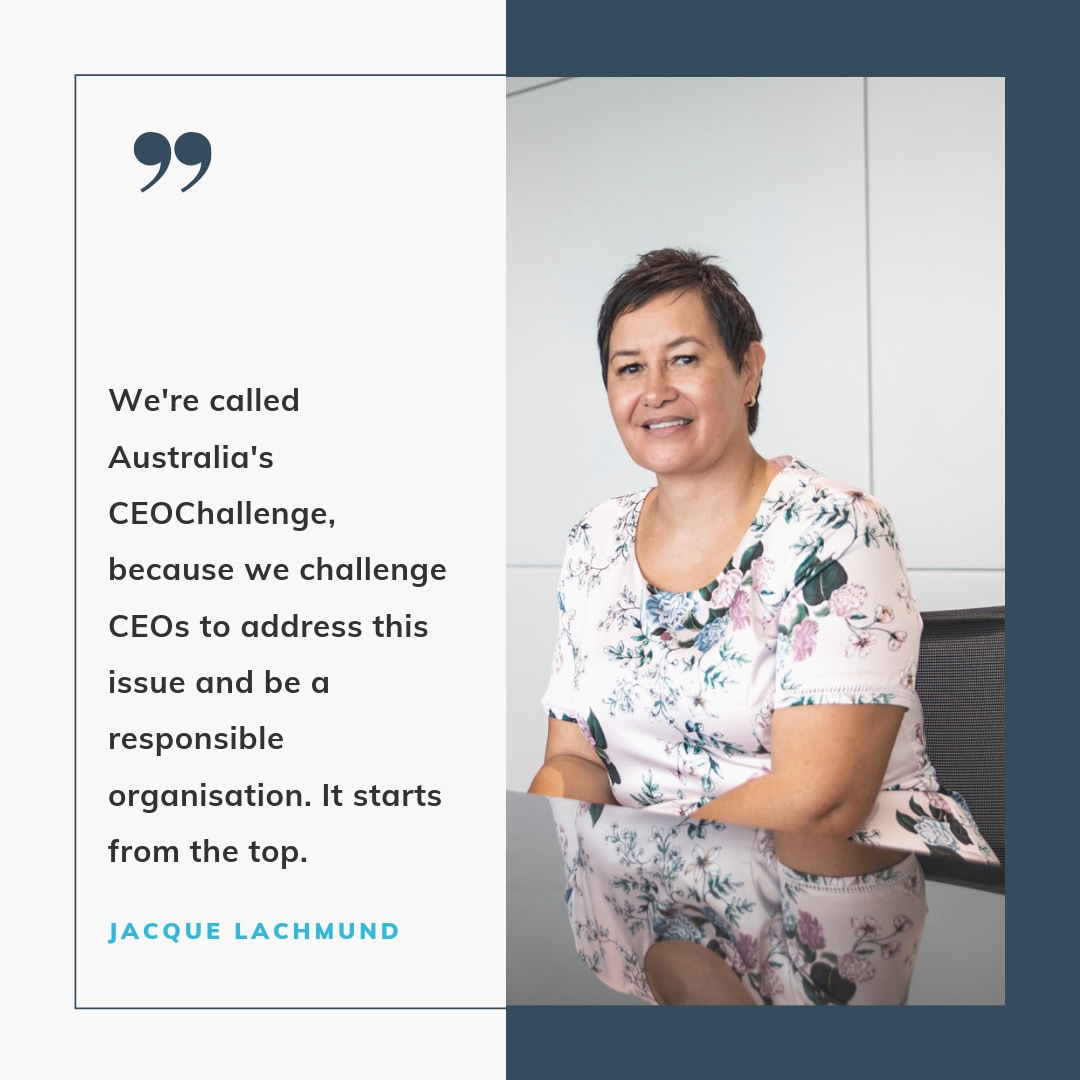 At Go1, we love working with companies who are all about positive impact – so we are very happy to be working together with Australia's CEO Challenge.
And as Jacque said, she is pleased with the level of support ACEOC has received from the Go1 team and looks forward to continuing the journey.
"We couldn't have asked for a better team to work with. An organisation who's professional, who is engaging and who have delivered on our commitment and contract with government and our organisations that we work with each and every day.
We are thankful that we have an organisation that gets it. That is socially responsible. That wants to give back and has partnered with a not-for-profit organisation. It's fantastic and we look forward to continuing the journey."
We thank Jacque for sharing her time and thoughts with us and encourage you to check out the Workplace Domestic and Family Violence Training Package from Australia's CEO Challenge, available in Go1 Premium now.
You might like to also read our earlier article on our partnership with ACEOC, which includes some helpful advice from ACEOC on how managers can respond to Domestic and Family Violence in the workplace including specific responses you can use to someone who is confiding in you.
Note: Freecall 1800 RESPECT (1800 737 732) is a 24-hour counselling line available to all Australians who have experienced, or are at risk of, DFV.