The clammy hands. The cracking voice. The flushes of red, repeatedly lighting your face. This is glossophobia, or the fear of public speaking.
Presenting can be a nightmare for many, many people. Rather than something to look forward to and anticipate, the act of presenting is instead filled with trepidation and horror. Rather than seeking out the limelight at a business breakfast, many hide from it.
It's time to put an end to that!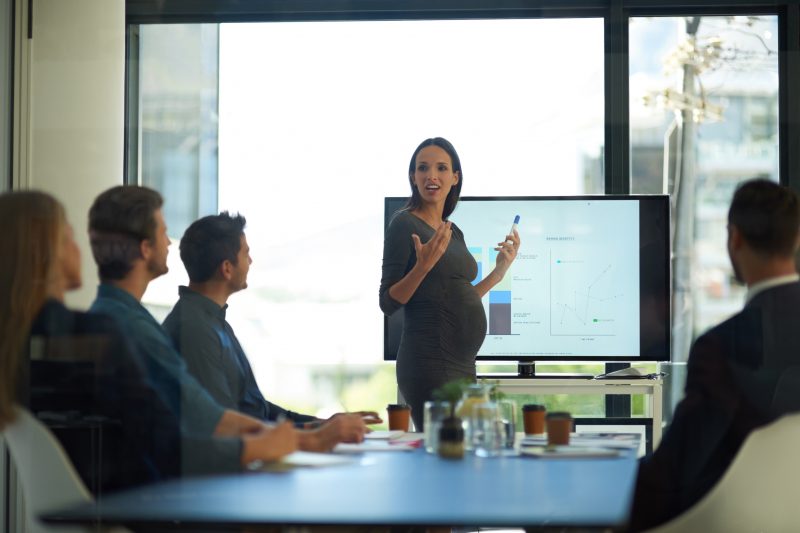 The Presenting with Power course aims to give you the knowledge to approach public presentation feeling assured. Taking tip from the world's best speakers will cool your nerves to allow you to perform to your best abilities.
As an often vital tool in your work skills armory, it's important to be able to speak well.
While the benefits of presenting well may be obvious, here is a little run down:
Building credibility – A person who speaks well in front of groups automatically gains credibility. Others can see that you are listened to and respected, an important characteristic of leadership
Gain responsibility – A good public speaker is given more responsibility due to their greater credibility. This benefits both your personal and professional life.
Networking capabilities – A good public speaker always impresses, and this can be a great boon for expanding your professional network. You'll see the benefits when strangers who have enjoyed your talk tell you about it afterwards.
The course
The Presenting with Power course attacks the topic from a variety of angles and in new, novel ways. Here's a brief breakdown of its methods.
Introduction: The Importance of Public Speaking – The best way is always to start at the beginning, and so the course does with an introduction explaining the importance of public speaking.
With a nod from the world's first self-help book, this section sets you out on the path the communicating your thoughts in the most memorable and engaging way. Knowing what it is you are trying to get across is key to the audience's understanding, as is the ability to distinguish clearly and succinctly.
But remember, rather than a natural talent as most think public speaking is, this is a skill to be trained and perfected. Your confidence will grow the more you do it.
6 Skills to Create Powerful Presentations – Here the course goes over the nuts and bolts of what it is you need to do to pull off a top-notch, quality presentation.
First of all comes the planning. This is vital because, as the course explains, the content of a presentation of is what should drive its design.
You shouldn't simply be filling slides by numbers; each should have its place in the unfolding of the story you will tell.
The timeless truism of practice making perfect makes an appearance here. Practising your presentation over and over again produces a clean, confident product.
Also talked about is the "Three Act Story" method to offer a presentation that jumps off the page and attracts the attention of the audience. With this, you can keep them hooked.
And remember: have fun! Enthusiasm is contagious.
Overcome the Fear of Public Speaking – This section of the course may well be the most important for a lot of people. The blind fear of public speaking is what may be holding you back from your best.
But the point is this: public speaking is necessary at some point in life, so you can either choose to run from it or address it head on. There are ways and means to reframe your thoughts in regards to public speaking, and that is what this section will teach you.
The 10-20-30 Rule – The last section of the course wraps things up by explaining the fundamental approach to public speaking. Guy Kawasaki, a famed venture capitalist, has a solid gold way to go about this.
You will be taught Guy's approach to understand how to implement it into your presentation giving. While it isn't rocket science, some explanation as to why it's so effective is needed. That's what you'll get here.
What's included?
The Presenting with Power course offers core training to improve the quality of your presentation skills and give you the foundation upon which you begin to hone your skills.
One way that students on the course will learn and track their progress is through the completion of the 32-page workbook. The workbook is used to expand on what has been taught in the video lessons, and to give each student the room to apply their thoughts to what is being taught.
The videos are the core of the course and are the major source of teaching here. The videos are conversational in tone but also pack in information and suggestions to guide students in their personal improvement.
Last but not least, there are infographics to offer an alternative context to the main points taught in this course.
Why strong presentation skills matter
No matter what line of work your find yourself in, the ability to present with a flourish and distinguish yourself through it, is a huge advantage. Not only will you be considered someone who is capable of responsibility, but you'll stand out from the crowd too.
The confidence you will gain from confidently speaking in public is also a great benefit. In your personal and work life, confidence can drive you on to the next challenge.
Completing this course gives you the tools to achieve great things. You know you're up to the job.