Happy New Year from Go1! 🎉
After receiving extensive feedback from our Early Access participants and following the full release of the new content player 1-Player, we are excited to announce a number of enhancements.
🚀 New improvements to our Content Player
The below improvements to our new 1-Player display have been released to all portals over the last several weeks:
Visibility of due dates for courses, modules and learning items so that learners are always aware of any deadlines
Module descriptions, removing the need to return to My Progress or exit the 1-Player
An expandable side navigation which allows users to easier read long descriptions
General enhancements such as unifying button text, better fitting text on to buttons and providing clearer icons for some features to reduce confusion
Improved link embedding, with many links now embeddable, instead of being taken to a separate tab
Enrol directly via 1-Player, allowing external LMS users and users sharing 1-Player links to be able to enrol through 1-Player without having to go back to Explore or the content's Overview, simplifying the process to access learning content, better meeting external LMS needs, and making sharing easier
Parameter-based configuration options for external LMSs, allowing external LMS customers to customise 1-Player's behaviour to meet their needs and LMS user interface (e.g. hiding the X close button, title, overview and close behaviours)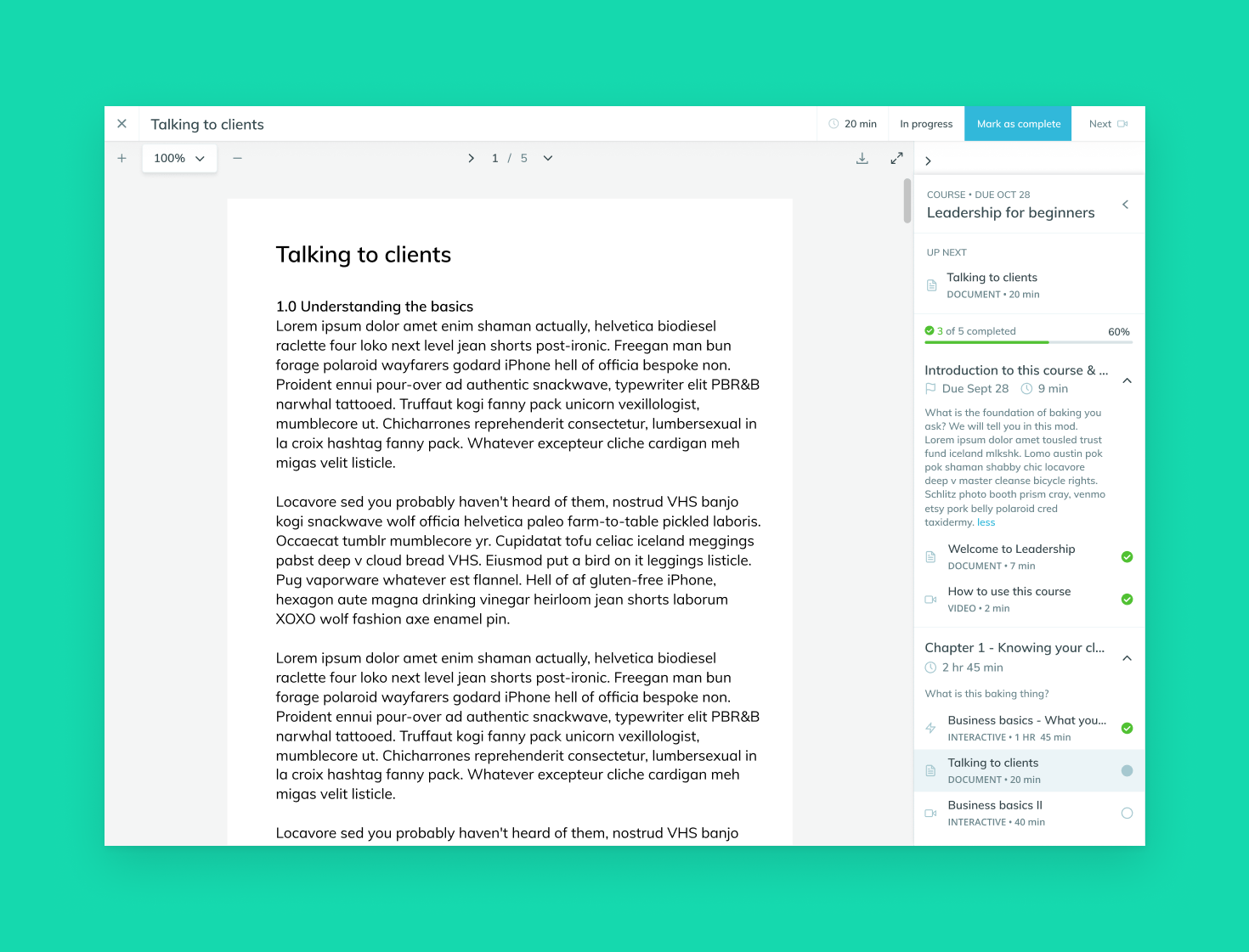 Upcoming
Look forward to seeing the following improvements in the near future:
Clearer communication to learners when they have submitted all items in a course and are waiting on their assessor to mark an assessable item. This messaging will show when submitting or finishing the last unfinished item in a course
The mobile course overview will display the item description by default
Locked learning items will display a modal on-hover
🚀 Early access: Start learning faster through our improved user flow
We have been working to simplify the journey for learners to access course content. Until now, learners could only access our improved 1-Player via the My Progress page of a course. 
Streamlining the path to accessing learning content
Now that the 1-Player contains all of the useful information previously only found on a course's My Progress page, when a learner enrols in a course they will now jump straight from the course's Overview page to the 1-Player. Learners will also be directed straight to the 1-Player from all other areas of the platform if they are already enrolled in the course.
Note: The My Progress page will stay available during EAP to ensure no functionality is taken away from learners without warning, and to gather valuable feedback on whether the new flow is meaningful and valuable for all learners.
To register your interest, sign up here and if you have any questions, please email us at product@go1.com.