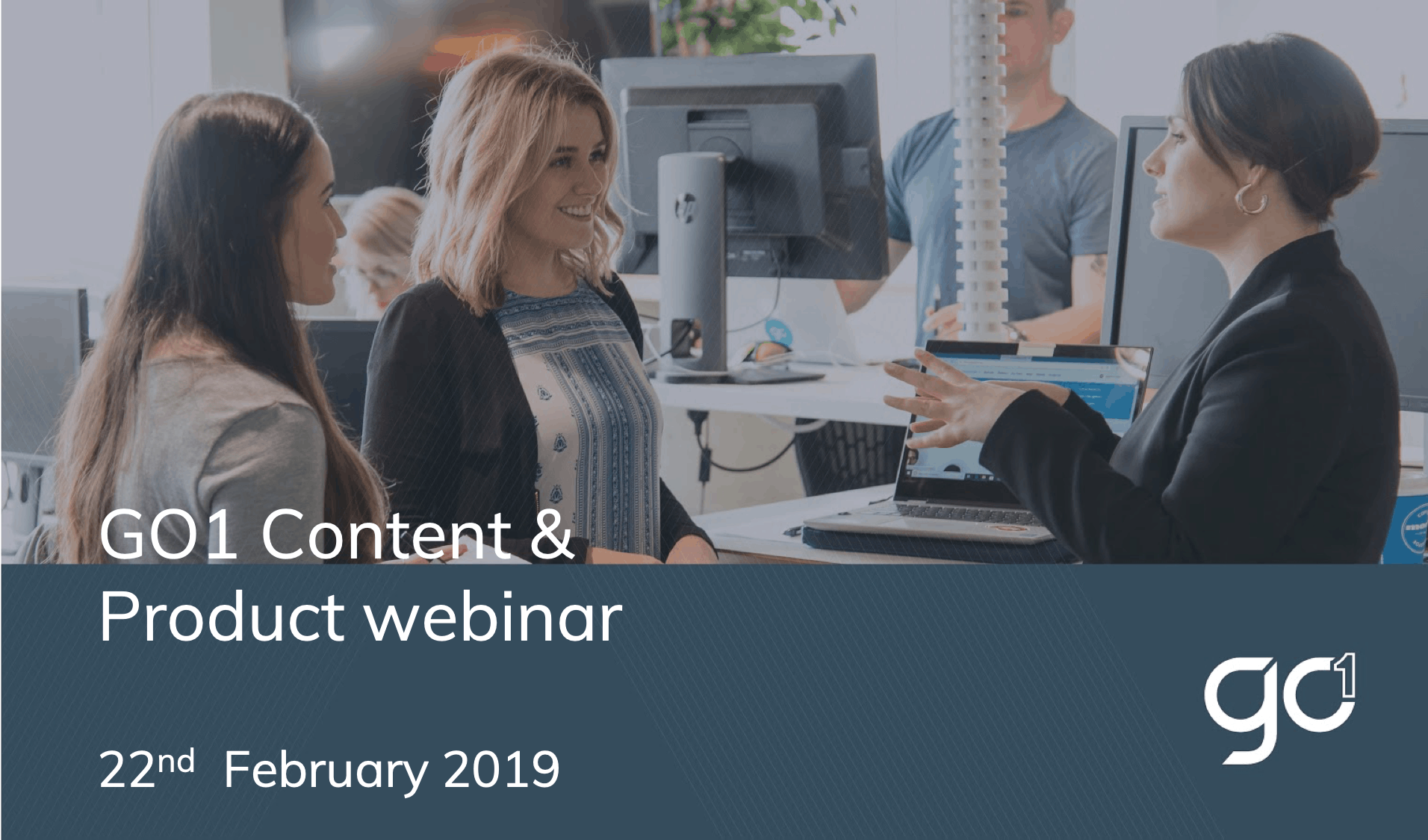 Webinar catch-up: February Product and Content update
Catch-up on the February webinar!

Since our last update, the Go1 Team have been working on a range of new features, and adding more content than ever before to the Premium library! We understand that not everyone is always able to make it to our webinars, so catch up on the webinar recording to find out about the latest product and content updates! See below for more information about the webinar and the FAQ's from the webinar.
Watch the webinar here:
In this webinar, the Product team walked you through the new Groups functionality set to go live first, to our Early Access Community in March! The demonstration highlighted, how the new and clean user interface will make it easier to use Groups to assist you in sharing learning and content to your users.
We also explored the new course editor experience, which is being rolled out to our customers across the platform. The new course editor makes it easier for you to create courses and learning items, and this feature also includes the new ability to re-use standalone learning items and Premium files.
Read more here about re-use and the course editor.
Wrapping up the webinar Mitch Sabine (Go1 Content Manager), discussed the latest Premium updates, showcasing the diversity in content now available.
What's New?
13,000 learning items in Global Premium
53 providers
Relevant, localised content for 6 regions
More than 15 languages
CPD accredited training
Evergreen content library
More focus on More microlearning and video-based content, as well as Global compliance and WH&S.
New Providers in Premium:
Cegos (multi-lingual soft skills)
Mind Channel (multi-lingual soft skills, microlearning)
Jenison - (business skills, MS Office training)
Expert Academy (general professional development)
Vital Learning (soft skills, general professional development)
Channel 1 Media (video-based, WH&S/compliance, microlearning)
RSM Consulting (compliance, WH&S)
KnowHowDo (lifestyle learning)
CPD For Me (CPD accredited, legal, tax and accounting webinars)
Kognent (Chain of Responsibility)
FAQ's
Check-out the answers to some of the questions we were asked in the webinar:
Q: How can we learn more about each of the providers and the topics they specialise in and regions they are available in?
A: This a great question! At the moment, when a new provider launches we publish an overview flyer, which provides a background to the partner and highlights their top courses.
This is the information you can find (the folders are updated when Providers go live):
United States Premium Providers
Premium Providers available globally
To better address the interest and the questions we were asked in the webinar, the Content team are now looking into how we can make the information you want to know about our partners available to you, in a succinct way! Watch this space! As well as that, the work the Product Team are doing into search and recommendations, will ultimately make it easier to sort and find the content you want within the portal.
Q: Is there a feedback and/or rating option to help see what other Go1 users are liking (regionally relevant as well)?
A: As highlighted search and recommendations improvements are underway. There will be some new features coming soon to help you find the most relevant content based on what has been rated highly by your peers.
Q: Is this new group functionality available now in Go1? Or will it be rolling out at a designated date?
A: All Early Access Community members will start receiving access to the new Groups feature: Monday 4th March.
Go1 webinars:
Our Go1 webinars take place every month and cover everything you need to know about the latest feature available on the platform, including a Q&A session where you can ask any questions you might have around anything to do with Go1.
Go1 helps millions of people in thousands of organizations engage in learning that is relevant, effective and inspiring.
Latest stories and insights