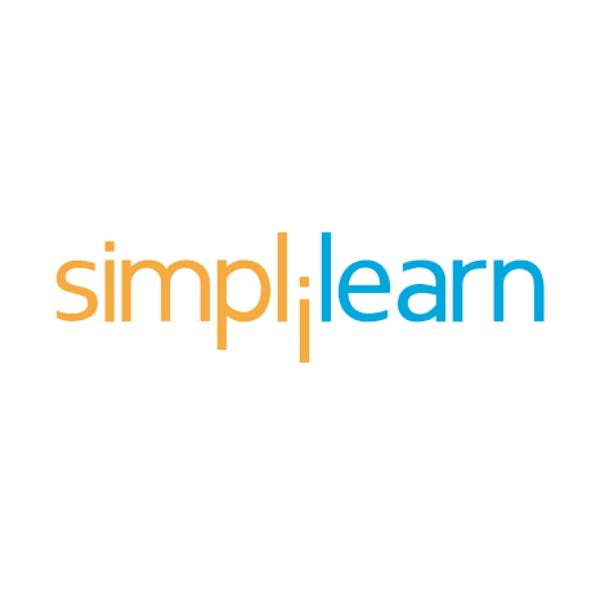 Simplilearn
APAC ・ EMEA ・ North America
Business Skills, Computer Science and Engineering, Data & Analytics, Devops, Design and Animation, Devops, Digital Marketing, Education and Training, IT Skills, IT Software, Leadership
​Simplilearn is the world's #1 online bootcamp for digital economy skills training, focused on helping individuals and corporate teams acquire the skills they need to thrive in the digital economy.​
Simplilearn's mission is to help companies ride the Digital Wave by setting up Digital Transformation Programs involved in re-skilling, ​
up-skilling teams across cutting edge technologies.
Digital skills courses
Data & AI
Introduction to Artificial Intelligence​
Introduction to Data Analytics​
Machine Learning​
Big Data Hadoop and Spark Developer​
MongoDB Developer and Administrator​
Data Science with Python​
Data Science with R Programming​
Technology
CCSP-Certified Cloud Security Professional​
CISSP-Certified Information Systems Security Professional​
CompTIA Security+ 501​
Introduction to Cyber Security​
Introduction to IoT​
Introduction to Robotic Process Automation (RPA)​
AWS Database Migration​
CompTIA Network+​
Blockchain Developer​
Salesforce Administrator & App Builder​
Programming Refresher​
Digital Business
Digital Marketing for CXOs​
CCBA – Certification of capability in Business Analysis​
Digital Transformation Course for Leaders​
Introduction to Business Analysis​
Digital Marketing 101​
HubSpot Email Marketing Certification Training​
Digital skills in Data and AI​
Digital Marketing for Leaders​
Advanced Pay Per Click (PPC) Program​
Advanced Search Engine Optimization (SEO) Program​
Advanced Social Media Program​
Digital Strategy for Brand Marketing​
Mastering SEO, Content Marketing, PPC and Digital Analytics​
Mastering Social Media, Mobile Marketing and Digital Strategy​
Advanced Web Analytics​
Advanced Content Marketing​
Advanced Email Marketing​
Advanced Mobile Marketing​
Advanced Website Conversion Rate Optimization​
Digital Operations
Agile Scrum Foundation​
CAPM – Certified Associate in Project Management​
Introduction to Project Management​
Lean Management​
Microsoft Project 2013​
Minitab​
Lean Six Sigma Application in Information Technology​
Lean Six Sigma in Healthcare​
Certified Business Analysis Professional (CBAP<sup>®</sup>)​
Agile Scrum Master​
PMI-ACP<sup>®</sup>​
Lean Six Sigma Black Belt​
Lean Six Sigma Green Belt​
Go1 helps millions of people in thousands of organizations engage in learning that is relevant, effective and inspiring.
© Copyright 2022 · All Rights Reserved